What to wear hiking in hot weather: 6 tips to help you beat the heat
Out tips on what to wear hiking in hot weather will help you stay cool and sunburn-free when the rest of your hiking cohorts are cooking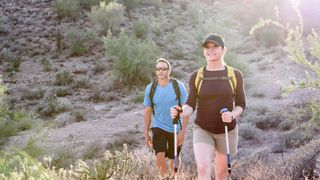 (Image credit: Kolostock (Getty))
With summer just around the corner, most of us are looking forward to longer nights, friendlier temps, and days on the trail with backpacks unencumbered by the bulk and weight of beefy down jackets, insulated gloves, and wooly hats. Depending on where you are in the world, however, the advent of better weather might not be all to the good but merely a shift in the type of meteorological challenges to be lived with and overcome.
This guide on what to wear hiking in hot weather offers tips on everything from choosing the best base layer fabrics and best hiking socks for warm-weather wandering through to the minutiae of UV and UPF ratings for sunglasses, shirts, and pants, and focuses on kit that will keep you cool in the heat. For three-season hiking, check out our more general guide on what to wear hiking.
What to wear hiking in hot weather: six tips to stay cool on the trails
1. Choose your fabrics with care
The best fabrics for hiking in hot weather are those that are light, breathable (see: breathability ratings explained), and quick-drying. Natural fabrics like merino wool tick all of these boxes, though nylon and polyester – which are usually cheaper – are also good choices. While cotton is highly breathable, it's generally considered a poor choice for outdoor pursuits because it's one of the worst "wickers" there is, meaning it soaks up sweat rather than transporting it to the surface of the fabric to evaporate.
Beyond the type of fabric, it's also worth considering the density. While this spec is rarely given in synthetic products, merino garments almost always specify the fabric's "weight," which doesn't refer to its overall heft, but rather the amount of merino – in grams – used per square meter (e.g. 200 gsm). The best merino base layers for high temps, as you might imagine, are those with a lower "weight" – ideally in the 100-170 gsm range. Simply put, garments in this weight class have a lighter, looser weave that lets ambient air pass through the weave from outside to in and, at the same time, allows your body heat and sweat to pass through from inside to out.
Finally, be sure you plump for light colors rather than dark ones, as the former will reflect the sun's rays and the latter will absorb them. White, beige, khaki, tan, and olive green are good options.
2. Cover up
While it's natural to think that vests or short-sleeved t-shirts are the best option for hiking in hot weather, the added coverage provided by long-sleeved shirts and pants (see our best hiking pants) will provide necessary protection against the sun's UV rays.
3. Wear a hat
A good sunhat can be worth its weight in gold on sunny days, providing necessary protection for your face, ears, neck, and dome. The best hats for hiking are those with a wide, 360-degree brim, though if you prefer a baseball cap you can increase coverage by tucking a bandana under the back of the cap to add extra protection for your ears and neck.
4. Wear sunglasses
When deciding what to wear hiking in hot weather, many of us are apt to forget that eyecare is every bit as important as skincare. Wherever you happen to be doing your hiking, however, taking care of our lookers is absolutely vital, mainly because the potency of the sun's UV rays increases by around 4% for every 1000-foot gain in altitude.
But what kind of glasses are best for hiking? If you're hiking on regular trails below the snow line, category 3 lenses that block 80%-90% of the visible light will do the trick. If you're venturing above the snowline or into glaciated terrain, however, the best option is a category 4 lens that blocks out more than 90% of visible light. While style is a very subjective thing, the most effective style of sunglasses for hiking in hot weather are the wrap-around variety or even those with side shields (leather patches) that block out glare reflected by the surrounding terrain.
5. Choose clothes that maximize ventilation
Choose togs that have ventilation zippers in the thigh, armpit, or elsewhere, and be sure to keep these down so air can circulate around your body. With your pants, airflow can also be boosted by pulling up the ankle zippers or even, if you're not too shy, downing the front zipper – every little helps!
With regard to footwear, a low-cut shoe may be a better option than a boot, but this will largely depend on the terrain you're hiking in, as explained in our guide trail walking shoes vs hiking boots.
6. Wear UPF-rated clothing
The UPF rating system for clothing measures how much UV radiation can pass through fabrics. If a garment has a UPF rating of 30+, it will block about 96% of UV radiation, while a product with a rating of 50+ will block about 99%. If any garment doesn't have a UPF rating, it's worth bearing in mind that synthetics like nylon and polyester provide more sun protection than natural fibers.
All the latest inspiration, tips and guides to help you plan your next Advnture!
Former Advnture editor Kieran is a climber, mountaineer, and author who divides his time between the Italian Alps, the US, and his native Scotland.
He has climbed a handful of 6000ers in the Himalayas, 4000ers in the Alps, 14ers in the US, and loves nothing more than a good long-distance wander in the wilderness. He climbs when he should be writing, writes when he should be sleeping, has fun always.
Kieran is the author of 'Climbing the Walls', an exploration of the mental health benefits of climbing, mountaineering, and the great outdoors.