Climbing blind: Jesse Dufton on sending it against the odds
We sit down with blind climber Jesse Dufton to discuss his incredible achievements on the wall, how he does it and what's on the horizon for him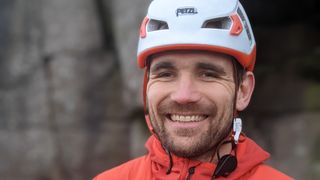 (Image credit: Molly Dufton)
Jesse Dufton started climbing at the tender age of two, which is probably not long after he learned to walk, but it was also several years before he would learn he was going blind. As it turned out, that wasn't going to stop him. We recently got to sit down with the record-setting blind climber to find out how and why he stays on the wall and keeps pushing his limits.
"When I was young, my eyesight was terrible, but because that's all I knew, I'd got very used to masking it. It was only when I was five years old and I started school that we got my eyesight properly diagnosed," recalls Dufton of his early years. It was at that vision test that his parents finally understood why their young son had always sat so close to the television screen – all he could see was the smallest line on the eye chart, and that turned out to be the high point of his vision. By the age of 11, Dufton had about 20% of blurry central vision and no peripheral vision left, and today has lost his remaining useful sight. It wasn't until he met his future wife at university, and spoke to her about his sight that he even discovered other people could see leaves on trees.
"I could see a tree but never knew that everyone else could see the individual leaves and it's not just a green blob to them," remembers Dufton.
For many people, this might spell the end of hope for any fledgling climbing career, but Dufton's parents simply loved climbing, so together, they kept doing it.
"My dad's really super optimistic and has a can-do attitude and that really shone through," recalls Dufton of his father, who had been in Mountain Rescue and was part of a mountaineering club. The pair would go away for weekends of trad climbing and bouldering adventures in France and throughout the UK, fuelling Dufton's skill and passion for climbing.
"When you're born with something like a visual impairment, you don't know what you're missing, so you don't know that it's not normal," supplies Dufton to explain his perseverance in a sport many of us would assume a keen sense of sight would be required for.
Dufton attended the University of Bath, where he followed in his father's footsteps and joined the mountaineering club, taking up alpine and ice climbing and finding a network of climbing friends that he continues to climb with today, learning to rely on their support while his eyesight continued to deteriorate. Make no mistake, however, Dufton's climbing career isn't just hanging out at the wall with friends.
To date, Dufton has completed an expedition to Greenland, where he claimed two first ascents of unclimbed mountains in challenging sub-zero conditions. He has also led well-known routes on the Isle of Skye, Joshua Tree National Park and the Peak District, and picked up 17 trophies at various Climbing World Cups and other highly regarded competitions, leading him to be selected for Great Britain's Paraclimbing team. He is best known as the first blind person to lead climb the Old Man of Hoy, which is the focus of Alastair Lee's multi award winning documentary, Climbing Blind.
So, what is it that has led Dufton, seemingly against quite a lot of odds if not all them, to not only pursue climbing, but to excel at it?
"I'm stupid and stubborn," he jokes. "And it gives me something that I hugely enjoy and a reason to keep on going. Now that I've lost all my useful sight, it's not really going to get any harder for me. I can't lose any more sight, so it's just down to me to hang in and go and do the stuff I want to do, really."
In addition to his refreshingly upbeat attitude, he's found that unlike other sports, rock climbing is distinctively appropriate to being blind.
"I think climbing is a sport that's quite suitable to my disability. I've tried blind tennis for example and that just seemed like totally the wrong thing for a blind person to be doing. That's taking a sighted sport and trying to get a blind person to do it, and it doesn't really work," he explains, adding "With climbing, if I can find the holds, I'm not doing it any differently to anyone else."
But while the actual moves might look and feel just the same, it's finding the holds and placing the climbing gear that add a whole level of extra challenge to a blind climber like Dufton.
"For most climbers, placing gear is a really visual thing. They look at the crack, they select the piece of gear, then they put it in and then they check it to see if it's any good. I have to feel the crack with my fingers and then kind of visualize in my mind what it's like," he explains of his process for choosing whether to use a nut or a cam, for example.
"Then you have some rules of thumb for how big the crack is relative to your hand and therefore which size gear you need. If I get a hand jam, then I know that's a size three cam for me and if it's a wide hand jam it's a size four."
Then there's his sense of proprioception – that's your body's ability to sense movement and location – which has to be much more developed than it does for a sighted climber.
"Basically, you have to have a 3D map of your surroundings. One thing that makes climbing easier for me is that if I use a hold as a hand hold and I climb up, in a couple of moves time I'm probably going to stand on it, so I try to remember where that hold is in 3D space and then I can put my foot straight on it without having to look at it. That makes life a lot easier."
Consequently, crack climbing is one of Dufton's favorite types of climbing, because the holds are easy to find – they're in the crack – while traversing is much more difficult, because when he's moving sideways he doesn't get to feel the foot holds before he has to stand on them.
Finally, when he's finished a climb, Molly, who's also his sight guide, will clean the gear and inspect his placement as she goes, so he can at least get retrospective feedback to help him continue to improve.
So do these carefully-honed systems and methods totally remove the fear factor of climbing for Dufton? Not at all, as it turns out.
"Often people think that being blind is an advantage because when you look down, you can't see the ground. But that's not something that was ever a major problem for me and the more you do that, the more you get desensitized to it anyway. Ultimately, I'm not unaware of the drop. You still know the drop's there and you still get scared if there's significant danger. The fact that you can't see it almost makes it worse, because often if you've placed a piece of safety equipment, you don't know if it's any good," explains Dufton.
But despite that added fear and unknown factors, the benefits of climbing still outweigh the disadvantages for Dufton.
"Especially when I'm leading, I get a sense of independence. I'm doing it pretty much for myself. In quite a lot of things, when you're disabled, you have to accept help from people to do even the most mundane tasks. With climbing, it's literally on me and there's quite a lot of responsibility which is mine, and it's quite refreshing to have that."
And that's why, with no sight left to lose, Dufton plans to climb on, with ambitions to tackle routes in Norway, on the sea cliffs in Scotland's Outer Hebrides and in Utah's National Monuments in the (hopefully) near future. Learn more at www.jessedufton.com
All the latest inspiration, tips and guides to help you plan your next Advnture!
Julia Clarke is a staff writer for Advnture.com and the author of the book Restorative Yoga for Beginners. She loves to explore mountains on foot, bike, skis and belay and then recover on the the yoga mat. Julia graduated with a degree in journalism in 2004 and spent eight years working as a radio presenter in Kansas City, Vermont, Boston and New York City before discovering the joys of the Rocky Mountains. She then detoured west to Colorado and enjoyed 11 years teaching yoga in Vail before returning to her hometown of Glasgow, Scotland in 2020 to focus on family and writing.