The best approach shoes 2023: for technical approaches, scrambles and via ferratas
The best approach shoes give you the precision of a climbing shoe and the comfort of a hiking shoe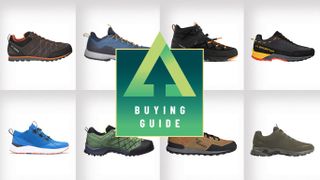 (Image credit: Future)
The best approach shoes are curious beasts that find their natural habitat in the rocky middle ground between climbing and hiking. A relatively new species, they evolved from the climbing shoe but mutated to gain many of the characteristics of a hiking shoe too.
Soon after first appearing, they formed a kind of symbiosis with simple organisms known as "rock climbers". This mutually beneficial pairing would allow the rock climber to tackle the often technical approaches to a chosen climb in comfort, before switching to the less comfortable but more precise climbing shoe.
Another organism, known by many as "hikers" and thought to be distantly related to the rock climber, soon formed a bond with the approach shoe too, sometimes preferring them to even the best hiking boots. In this new found partnership, the primitive hiker's behaviour became much bolder on rocky scrambles and via ferratas, thanks to the way the approach shoes are adapted for maximum traction on rock. Why these odd organisms known, rock climbers and hikers, behave in this way, ascending precipitous ridges and buttresses, has stumped leading scientists for many years.
Many generations since the species first developed, the best approach shoes are today the natural selection for anyone who enjoys rocky scrambles, via ferratas and technical hiking trails. There's great variation within the species, with some approach shoes featuring the protective adaptations of the best hiking shoes, while other sub-species are more closely related to the climbing shoe. Just don't feed them after midnight.
The best approach shoes
Best approach shoes all-round
A fully-featured beast of an approach shoe that's just as happy and capable on wet and wild trails as it is on sun-drenched rock
Specifications
Weight (per shoe):
400g / 14.1oz (men's mid) / 300g / 10.6oz (women's low)
Materials:
GORE-TEX extended comfort lining, Vibram Approcciosa Megagrip outsole, doube density eva + pu midsole, Ortholite hybrid footbed
Colors (men's):
blue/orange, black/orange, green or yellow
Compatibility:
Hiking, easy climbing, scrambling, fastpacking, via ferrata
Reasons to buy
+
Extremely robust and durable
+
Innovative lacing for versatile fit
+
Waterproof
+
Gear loops for harness attachment
Reasons to avoid
-
Slightly heavier than most leading approach shoes
-
Only one women's color option
AKU's Rock DFS GTXs are certainly towards the hiking shoe end of the approach shoe spectrum, complete with a durable Vibram sole, mid ankle height option and waterproofing provided by GORE-TEX. All of this means that they stand up to the rigors of wild, backcountry hiking and long walk ins to the crag.
However, once you hit the rock, there are myriad features that help to elevate what appears to be a premium hiking shoe into the realms of the high-performance approach shoe. The "DFS" in the name stands for Dual Fit System, which is new and exclusive technology and very much the standout USP. Traditional lacing gives you a comfortable fit when walking, while a second fast-lacing system towards the front of the shoe enables you to tighten things up even further for climbing precision once you start to take on rocky scrambles and steeper crags.
All in all, these are the perfect shoes for taking on long, rocky scrambles, via ferratas or easy multi-pitch climbs. At the crag, if swapping out for climbing shoes, they easily attach to a harness thanks to their gear loops. They are also durable and robust enough to act as a full-time hiking shoe, even if you never intend on hitting graded terrain, making a mockery of the approach shoes vs hiking shoes debate.
Read our full AKU Rock DFS GTX review
Super lightweight, high performance approach shoe suitable for the most rugged mountain environments, and designed to be easy to clip onto a harness or pack
Specifications
Weight (average, per shoe, men's):
387g / 13.65oz
Weight (average, per shoe, women's):
330g / 11.6oz
Materials:
Ortholite Approach last; breathable non-slip mesh lining; water repellent nubuck leather upper; dual-compound Vibram MegaGrip and IdroGrip tread sole, with a climbing zone at the toe and Impact Brake System blocks at the rear
Colors (men's):
Carbon & yellow / Clay & kale
Colors (women's):
Clay& Kale, Carbon & Yellow / Cloud & LovePotion
Compatibility:
Hiking, climbing, scrambling, fastpacking
Reasons to buy
+
Gear loops make it easy to attach onto a harness
+
Super lightweight
+
Anti-rubbing loops at the toe and overlap tongue for maximum bandaging of the foot
Reasons to avoid
-
Fit can be small and slightly snug
Combining the light feel and tight-fitting capability of a high-performance rock climbing shoe with the desired stiffness and extra protection of a decent approach shoe, the La Sportiva TX Guide Leather is proving a popular choice for outdoor users who care about weight.
Keen technical fans will note that the climbing-inspired protective edge is made of lightweight PU-TECH Lite material. Uneven and rocky terrain is easily tackled thanks to the double Eva midsole with shock-absorbing compression on the heel and stabilizer on the forefoot, also co-molded with a TPU layer that acts as a stabilizer at the climbing zone, medial shank and rock-guard layer on the forefoot. Similar to the Scarpa Crux, the TX Guides use Vibram MegaGrip but alongside an Idrogrip sole to provide both grip during climbing, and durability and confidence when you need to brake going downhill.
The TX Guides certainly pack a punch – and as an approach shoe that combines technology with low weight and high comfort, it's one of the best approach shoes for taking you in pursuit of those high-octane adventures.
The trainer's soft high collar and padded liner keep you comfortable, but will you keep them clean and mud free? That depends on the adventures you take them on, but let's face it, if you're using them as intended, there's zero chance of these boots staying super pristine for very long.
Read our full La Sportiva TX Guide Leather review
A precise-fitting, stiff-soled, comfortable and technically capable approach shoe
Specifications
Weight (per shoe, men's):
395g/14oz
Weight (per shoe, women's):
345g/12oz
Materials:
Exa Shell Over Injected 3D Cage upper with a breathable Gore-Tex mesh; EVA midsole; Ortholite footbed; Pomoca Speed Mountain outsole
Colors (men's):
Black / Black olive & walnut / Green & black / Myrtle & flux green
Colors (women's):
Blue/Grey
Compatibility:
Technical approach
Reasons to buy
+
Great Support
+
Fantastic design
+
Climbing lacing
+
Vegan construction
Salewa ooze alpine coolness, and the Wildfire blends traditional approach-shoe components with modern, climbing-shoe influenced design to result in a shoe built for agility and confidence on technical scrambling approaches and day walks (as opposed to long, arduous days out in scorching weather).
A dual-density compression-molded EVA midsole cushions your feet nicely on rugged trail surfaces. The breathable mesh upper and well-designed EXA shell over injected 3D Cage provide both protection, stretch and torsional stability for feet.
The Wildfire has a climbing zone at the toe, which ensures good edging performance – ideal in committing technical terrain. The Pomoca Butilic compound rubber outsole provides great grip on rock in both dry and wet conditions – supplying sure-footed climbing precision on technical mountain approaches, scrambles, traverses and climbs – while the aggressive tread lugs offer improved traction on mud and softer terrain.
The Gore-Tex lining provided sufficient waterproof and breathable protection, which meant my feet felt comfortable despite their narrow fit. Climbing lacing further supports the foot with a wrapping fit, especially at the forefoot and allows you to fine-tune the toe for greater precision in technical terrain.
Inside, the breathable OrthoLite footbed provides superior cushioning and wicks away moisture, helping to keep your feet cooler and drier. Best-suited for technical approaches when a B1 boot might be deemed overkill, the Wildfire is a full-featured approach shoe that has the technical design and performance to provide security to tackle the next ridge you walk along.
Read our full Salewa Wildfire Gore-Tex review
A precise-fitting, comfortable sneaker-like approach shoe
Specifications
Weight (per shoe):
150g / 5.3oz
Materials:
Non Sew TPU Hybrid-Shell upper with Gore-Tex membrane; TPU midsole; EVA wedge & Base Cage self-cleaning gripex tri-traction outsole
Colors (men's):
Marine / Black / Olive
Colors (women's):
Black / Dark deep taupe
Compatibility:
Approach, hiking and climbing
Reasons to buy
+
GTX Waterproof membrane
+
Stops foot from rolling
+
Comfortable sole
+
Super light
If you're looking for the best approach shoes on the market right now, the Mammut Ultimate Pro Lows are definitely up there. These shoes provide some pretty distinctive comfort-focused features in the form of a lightweight padded tongue, foam cushioning and lightweight, round laces.
A hybrid shell and protective rubber border combines trainer-like comfort with the durability of a traditional approach shoe, yet the Ultimate Pro Lows have none of the bulk and awkwardness of a chunky shoe.
Having worn these shoes over a long testing period, they also felt one of the most comfortable thanks to the shoes' TPU support elements in the center of the midsole area, which provides support over the longitudinal arch of the foot while increasing sure-footedness, comfort and reducing fatigue.
Finally, for people with feet that have a tendency to pronate, the Ultimate Pro Low GTX differ from super rigid approach shoes by incorporating a patented Mammut sole concept that allows the foot to naturally roll, rather than preventing any foot movement, thus reducing overall fatigue and the danger of twisting ankles.
The Gripex outsole technology also copes with tricky rocky conditions, from scrambling up the side of a coastal mountain to downclimbing to an abseil station. It's clear the features have been designed for the outdoor user who doesn't want to swap shoes between their activities – this is a high-performance shoe that's lightweight and comfortable. A great all-rounder.
Read our full Mammut Ultimate Pro Low GTX review
Heel-hugging comfort – a reliable pair of approach shoes for sunnier climates
Specifications
Weight (per shoe):
312g/11oz
Materials:
EnduroKnit upper; Web lining; Tuned EVA midsole; Nylon rock plate; BlackLabel-Mountain sticky rubber outsole
Colors (men's):
Eclipse blue & amber / Nickel & ultra blue
Colors (women's):
Anthracite & wisteria / Ice Blue & alloy
Compatibility:
Approach, walking, climbing, lifestyle
Reasons to buy
+
Laces are spread out across the shoe and provide some decent foot support
+
Not too narrow, not too wide.
+
Protected rubber rand
+
Webbing loops
Reasons to avoid
-
Not that waterproof – absorbs water
-
Laces are round and so easily slip out
Roses are red, violets are blue, Black Diamond have decided to make a purple shoe... Whatever one's preconceptions about a women's specific purple (Wisteria) colored shoe might be, these approach shoes are as far from a fashion-orientated piece of apparel as you can get. Putting comfort and grip at the heart of the design, these are reliable shoes that combine innovative features with laces that bind over the arch of the foot, using an evenly distributed system to ensure the pressure isn't just focused on the lacing near the top of the foot and can be easily adjusted without having to dig your fingernails in.
Webbing 'grabs' the lacing, meaning the laces also last for longer and ensure a tight, snug fit. The Black Diamond mission LTs are many people's go to approach shoes thanks to the Black Mountain rubber offering high performance grip.
A highly breathable chassis is made with Black Diamond's signature EnduroKnit, which is a one-piece, ultra-breathable upper for lasting temperature regulation that's hyper-durable for season after season of abuse. A tuned EVA midsole provides ample stiffness for technical precision, while remaining comfortable. The nylon rock plate provides extra protection.
Read our full Black Diamond Mission LT review
Best approach shoes for scrambling
Lightweight, ultra versatile approach shoes that cope with dirt, gravel and water
Specifications
Weight (per shoe, women's size 38):
370g/13.05oz
Materials:
stretch textile lining; Vibram Vertical Megragrip sole; 1.8mm water-resistant suede upper
Colors (men's):
Shark / tonic
Colors (women's):
Shark/Blue radiance
Compatibility:
Technical approaches, scrambling, hiking
Reasons to buy
+
Comfortable
+
Easy to put on
+
Vibram Megagrip sole
Reasons to avoid
-
Can let moisture in particularly in submerged wet conditions
-
Hard to clean mud off
-
Quite warm in hot weather
Nimbly walking the line between high performance and extreme comfort, the Scarpa Crux Women's approach shoe offers stability, protection, grip and a snug fit in roughly equal measure, although the scales are tipped slightly in favor of grip. The combination of two rubber materials in the outer sole adds muscle to the grip, and it's worth noting these approach shoes use the Vibram Megagrip outsole, the stickiest of all the Vibram rubber compounds, making them perfect for technical scrambling.
The folks at Scarpa have made sure to design the Crux to cope with covering a range of uneven terrain. ACTIV impact technology at a construction level ensures the materials are able to absorb the negative impact of groundshock to avoid placing greater stress on the lower limbs, while a full rubber rand around the toe which gives excellent grip as well as protection and durability against scuffs and confidence to trust the shoe to perform in scenarios which require precise footwork.
Lastly, Scarpa's technologies include eco considerations in their choice of processes and materials, specifically chosen because they have been deemed environmentally friendly.
Read our full Scarpa Crux review
Best approach shoes for climbing
Brash and bold approach shoes for dirtbag-inspired coolness and wide comfort
Specifications
Weight (per shoe):
400g / 14.2oz
Materials:
Leather upper; Textile lining; EVA Midsole; Stealth S1 rubber outsole
Colors:
Night cargo, Coe black & active orange / True green & real magenta / Khaki, core black & hazy yellow
Compatibility:
Approach, climbing, outdoor general
Reasons to buy
+
Attractive, bold design
+
Options for different laces
+
Elasticated upper to slip on shoes
+
Affordable
Reasons to avoid
-
Wide footbed won't suit everyone
-
Grip on lugs limited to dry conditions
-
Ankles can feel unsupported going uphill
The original approach shoes – the Five Ten 'Tennies' – are back (now owned by adidas) and they've danced into the room in dazzling display of colors. For dirtbags who like their approach shoes as relaxed as their outlook, these are comfortable, wide-footbed approach shoes that feel almost slipper-like, meaning they are perfect for running in and out of the van, and messing about below the crag.
Having evolved into a multi-functional shoe, Five Ten 'Tennies' are now seen on mountain-biking tracks and forest trails, as well as on the feet of people walking in to sample some gritstone.
They're easy to slip on and off, thanks to the elasticated cuff at the top of the foot, with a padded tongue. The laces are flat and chunky, meaning they hold well and are easily adjusted, thanks to the eyelets that hold the shoe well. A rubber rand, typical of the Tennies, help with the shoes' overall resistance to scuffs to rough terrain.
Tennies have evolved plenty over time, and while it can be easy to dismiss them in favor of more 'technical' approach shoes now available, they still pack in a lot of features. The high-friction Stealth S1 rubber outsole, for example, provides unbeatable grip in wet or dry conditions, and supplies security when walking across dry rocky terrain, whether it be a quartzite boulder or a rocky strewn path.
Whilst they are up against La Sportiva and Salewa shoes designed more for high-octane adventures than the more casual lifestyle the Tennies were conceived to facilitate, these iconic shoes still have a place as a single pitch, easy-going comfortable approach shoe, and will continue to have a firm following.
Read our full Adidas Five Ten Tennies review
Best sneaker style approach shoes
Modern, breathable hiking style shoe that's super flexible and able to cope with rough terrain
Specifications
Weight (per shoe, men's):
310g / 11oz
Weight (per shoe, women's):
260g/9.2oz
Materials:
Synthetic textile upper with Gore-tex lining; OrthoLite insole; Contagrip MA rubber outsole
Colors:
Almond cream, stormy weather & black / Flint, ebony & tropical peach/Black & Quiet shade / Blue indigo, navy blazer & icy morn
Compatibility:
Walking, Running, Approach
Reasons to buy
+
Great laces
+
Supportive mid sole for tired feet
+
Grip is great for muddy trails
+
Gore-Tex membrane
Reasons to avoid
-
Soles hold onto mud
-
No webbing loop
-
Quickly looks dirty
When does a running shoe become a hiking shoe? And when does a hiking shoe become an approach shoe? Although making no over claim to be an approach shoe, Salomon delivers a bit of both in the form of the OUTline Prism GTX, which adapts to any of the tough tricky terrains where one shoe that's able to cope with a multitude of settings is exactly what's needed.
A lightweight, breathable shoe that's got the flexibility of a running shoe, waterproof Gore-Tex membrane protection and the active all-terrain grip of a hiking shoe – as well as some built-in protection against scrapes and bumps – the OUTline Prism GTX will tolerate a great deal of abuse when hitting the rough and unexpected paths. High performance EVA foam delivers shock absorption, stitch-free upper construction provides a smooth, glove-like fit and feel, and an OrthoLite insole supplies superior cushioning, breathability and durability, upgrading the comfort and performance of the footwear. It's feature- and tech-heavy, yet combines high performance with modern looks to feel like a well-designed sneaker.
Read our full Salomon OUTline Prism GTX review
A running shoe–influenced, design-conscious, waterproof approach shoe
Specifications
Weight (men's):
390g/13.5oz
Weight (women's):
290g/10.5oz
Materials:
Ballistic textile upper with welded overlays; OutDry breathable waterproof membrane; Techlite midsole; Omni-Grip non-marking traction rubber outsole
Colors (men's):
Abyss & right red / Dark grey & bright gold / Black
Colors (women's):
Deep purple & dolphin / Dark Grey & dolphin
Compatibility:
Hiking and urban adventures
Reasons to buy
+
Super lightweight cushioning
+
Stitch-free welded design
+
Great traction with advanced traction
+
HGS heel stabilizing system for optimal performance on the trail
Reasons to avoid
-
Feels like more of a fashion statement than a serious outdoor shoe
-
Some foot movement
-
Tongue allows water ingress
Columbia has brought a new vision, design ethos and construction approach to running and hiking footwear markets and, true to form, the new Facet 15 OutDry Trainer pushes all sorts of boundaries. This visually arresting trainer (which might remind you of a futuristic bouldering wall) is constructed from a high percentage of recycled materials, and it's made in a manner that pushes the edges of trainer technology.
Offered in various bold colors, the Facet OutDry isn't only interested in making a fashion statement. While not strictly designed as an approach shoe, it has features that lend it to crag approaches and trail walking, including foot-cradling cushioning, a stabilizing heel for optimal control, and grippy outsole with a traction pattern that provides a secure, stable platform for hiking on uneven terrain.
A generous midsole, padded liner and elasticated, reinforced tongue keep the wearer comfortably cushioned on long days out – whether on the trail or off-piste on claggy mud – but we found the fit a bit sloppy (best suited to people with wide feet).
As the name suggest, the Facet 15 OutDry is waterproof, using a one-piece breathable waterproof membrane to help keep muddy puddles and damp grass out. On test, however, we found the padded tongue allowed water to penetrate and seep in from the ankle.
Read our full Columbia Facet 15 OutDry Trainer review
Approach shoes comparison table
Swipe to scroll horizontally
The best approach shoes comparison table

| | | | | |
| --- | --- | --- | --- | --- |
| Approach shoe | RRP | Weight (per shoe) | Style | Compatibility |
| AKU Rock DFS GTX | $180 (US) / £180 (UK) / €185.90 (EU) | 400g / 14.1oz (men's mid) : 300g / 10.6oz (women's low) | Approach shoe / hiking shoe hybrid | Hiking, easy climbing, scrambling, fastpacking, via ferrata |
| La Sportiva TX Guide Leather | $150 (US) / £140 (UK) / €185.90 (EU) | 387g / 13.65oz (men's) : 330g / 11.6oz (women's) | Lightweight approach shoe | Hiking, climbing, scrambling, fastpacking |
| Salewa Wildfire Gore-Tex Shoes | $170 (US) / £160 (UK) / €170 (EU) | 395g / 14oz (men's) : 345g / 12oz (women's) | Stiff-soled approach shoe | Technical approach |
| Mammut Ultimate Pro Low GTX | $149 (US) / £140 (UK) | 150g / 5.3oz | Ultralight, trainer style approach shoe | Approach, hiking and climbing |
| Black Diamond Mission LT approach shoes | $140 (US) / £103 (UK) | 312g / 11oz | Dry weather approach shoe | Approach, walking, climbing, lifestyle |
| Scarpa Crux approach shoes | $130 (US) / £120 (UK) | 370g / 13.05oz | Comfortable approach shoe | Technical approaches, scrambling, hiking |
| Adidas Five Ten Tennies | $120 (US) / £100 (UK) | 400g / 14.2oz | Classic approach shoe | Approach, climbing, outdoor general |
| Salomon OUTline Prism GTX | $130 (US) / £120 (UK) | 310g / 11oz (men's) : 260g / 9.2oz (women's) | Lightweight, trainer style approach shoe | Walking, running, approach |
| Columbia Facet 15 OutDry Trainer | $162 (US) / £115 (UK) | 390g / 13.5oz (men's) : 290g / 10.5oz | Trainer style approach shoe | Hiking and urban adventures |
How to choose an approach shoe
Working out how to choose the best approach shoes for you is a fairly involved process, but only because the range is so rich and personal preference is such a big factor.
Of course, what constitutes the best approach shoe depends on whether you're planning on using them just for walk-ins to the crag, or as general all-purpose trail walking shoes or the best trail running shoes too.
Versatility
Ask yourself how much you would like your shoes to do – do they need to be versatile enough to use across a range of activities, from day-to-day wear, to hillwalking and technical, rocky scrambling. Depending on their features, approach shoes can take on a range of applications.
Are you a hiker who enjoys to take on rocky scrambles? Then you may need approach shoes that give you ankle support and waterproofing. If summer trad climbing is your thing, you may not need to splash out on a pair designed with GORE-TEX and big lugs for muddy trails. Instead, you'll be after something with a stiffer sole for those technical approaches.
Support, rigidity and weight
Approach shoes generally don't offer as much ankle protection as a hiking boot, but many such shoes provide a greater range of rigidity to allow the ankle to move with the terrain, preventing over-pronation.
For those who enjoy technical scrambling, a stiffer sole might suit you best, while people who are aiming to go fast and light may prefer a more trainer-like feel to their approach shoe.
Protection
If you are intending to do a lot scrambling and ascents that involve edging, then good toe and heel protection is every bit as important as rigidity, and it's worth paying a weight penalty to have all of these features. The ability to keep your feet dry is good, so a breathable waterproof membrane like GORE-TEX is a massive bonus.
Many approach shoes have a rubber rand that protects the foot from abrasion against the rocks. This is music to those who enjoy an afternoon of easy sport climbing.
Grip
If your local trails are steep, rocky and often wet, then prioritising a shoe with good lugs that offers great grip is an excellent idea. If you're going to be doing a bit of running enroute to your nearest trails, perhaps choose a shoe with a slightly less aggressive outsole, that can cope well with a wide variety of surfaces in a mixture of wet and dry conditions.
Gender
Just as with the best women's climbing shoes, approach shoes after often gender specific. Women's approach shoes tend to be lighter than their male equivalents and are often shaped with the female plantar anatomy in mind.
All the latest inspiration, tips and guides to help you plan your next Advnture!
Alex is a freelance adventure writer and mountain leader with an insatiable passion for the mountains. A Cumbrian born and bred, his native English Lake District has a special place in his heart, though he is at least equally happy in North Wales, the Scottish Highlands or the European Alps. Through his hiking, mountaineering, climbing and trail running adventures, Alex aims to inspire others to get outdoors. He is currently President of the London Mountaineering Club, training to become a winter mountain leader, looking to finally finish bagging all the Wainwright fells of the Lake District and hoping to scale more Alpine 4000ers when circumstances allow. Find out more at www.alexfoxfield.com