Rock climbing gear list: a guide to the 12 essentials
Our rock climbing gear list covers everything you need as a beginner plus additional kit for once you start getting adventurous on the crag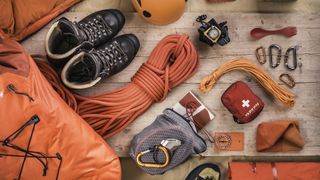 (Image credit: Manuel Sulzer)
Curious about getting into rock climbing? You're going to need some new gear. While rock climbing requires a bit of an initial investment to get started, once you've built your kit the good news is that you can mostly climb for free, save for the cost of gas and perhaps National Park entrance fees. Our rock climbing gear list covers 12 essential pieces gear needed for rock climbing. If that sounds like a lot, don't worry – you won't need all of these straight away and not all of the gear on our list is required for all types of climbing.
Rock climbing gear for beginners
Whether you're starting with sport climbing or trad climbing, indoor or outdoor, you'll need the following items just to get started.
Climbing harness
Unless you're going bouldering, you'll need a climbing harness. A rock climbing harness goes around your waist and thighs and allows you to attach to the rope for both safe climbing and rappelling and to belay your partner. It will also have loops for you to attach other gear. Make sure you get a new harness from a reputable company for safety with good padding for comfort.
Belay device
The chances are, in the beginning, you'll be climbing with a partner. When you're rappelling back down the rock after a climb, you'll feed the rope through your belay device, and when it's your turn to stay on the ground and belay your partner as they climb, you'll feed the rope through it when it is attached to your harness. We go into more detail on all this in our article on how to belay, but for now it's helpful to know that you'll need one. These are usually made from aluminium and come in simpler manual braking versions, and more complicated assisted braking devices that take some of the work off you.
Locking carabiner
To attach your belay device to your harness, you'll need a locking carabiner and you'll probably want a second one to attach your chalk bag too. A carabiner is a little piece of D shaped metal with a locking gate. Once you start setting up your own anchors and lead climbing, you'll need more carabiners.
Chalk bag and climbing chalk
A chalk bag is just a little canvas bag that has a loop and usually attaches to the back of your harness via a carabiner so if your hands get sweaty, you can reach back and get some chalk.
Climbing chalk is loose chalk that comes in resealable bags. You can pour a little into your climbing bag before you leave the house.
Helmet
As with many sports, a helmet has become an essential part of climbing and for good reason – climbing carries inherent dangers. No matter how good you get at climbing, there will always be falls. After all, you'll want to keep pushing yourself and trying new and more challenging routes. When you fall, you'll swing around a bit on the rope and it's common to bash yourself up against the crag. Usually this doesn't cause more than some scrapes and bruises, and it's a good idea to bring a first aid kit for those, but you want to keep your head protected to avoid concussion. A helmet also protects you from another common climbing risk: falling rocks.
A climbing helmet will be lighter weight than your skiing helmet and harder than your bike helmet so make sure you get a specific climbing helmet for proper protection and wear it at all times at the crag.
Climbing shoes
In the early days of climbing, climbers used mountaineering boots, but these days, we use lightweight, tight-fitting rubber shoes that look a bit like a ballet slipper. These allow you to jam your toes into small gaps and find better holds as well as gripping nicely to the rock. Climbing shoes fit rather snugly and the right size can seem too small, so make sure to read our article on how climbing shoes should fit.
Some climbers choose to wear socks with climbing shoes, but if you're in the majority that don't, you'll also want to know how to clean your climbing shoes when they get smelly. Do note that you won't wear your climbing shoes to hike into the crag – you'll want your best hiking shoes for that.
Backpack
Chances are you'll need to hike to the crag with your gear so you'll want a good backpack. In the beginning, you can use your regular hiking backpack, however once you get ropes and more gear, you'll want a climbing specific rope bag.
Rock climbing gear for improvers
Once you start to advance in rock climbing, you'll need to add a bit more gear to your kit. Note that not all of the items that follow are required for all types of climbing, so make sure you read through each one to determine if you really need it before you splurge.
Climbing rope
Even though a rope is fundamental to being able to climb, you probably don't have to have one on day one. You often don't need one at all for indoor climbing where ropes are already set and if you're heading outdoors, as a new climber you want to be going out with someone more experienced so chances are, you'll use their ropes to start and work your way up to acquiring one.
There's lots to know when it comes to ropes, but starting out, you'll want a dynamic rope that has a little stretch to absorb falls, and not a static rope which is meant for rescues and hauling gear. You'll want to start with a single rope, which simply means it can be used on its own without a second rope (half and twin ropes are for multi-pitch climbs and mountaineering).
Thinner ropes are lighter but not as durable so they're not the best for climbing on rock, while very thick ropes are heavy and best for indoor use. For regular outdoor sport and trad climbing, look for a rope between 9.5mm and 9.9mm. For length, a 60m or 70m rope will usually do for climbing outdoors, but do be aware that you will not be able to use this rope for climbing routes longer than 30m.
If you start doing multi-pitch climbs in the future, you'll want two ropes. Once you have your own rope, it is really fun to head to the crag with a group and set up multiple ropes at once so more than one person can be climbing at a time.
Slings
Nylon climbing slings are lightweight, versatile pieces of gear that you will often use to tie yourself in while you clean an anchor at the top, but they can also serve as extensions to attach other protection devices to the rope, to build or extend anchors, to make emergency harnesses and for self-rescue so it's worth having one or two.
Quickdraws
If you're sport climbing, once you start leading routes you'll want at least eight quickdraws. These look like little nylon swings and have a locking carabiner at each end. One end attaches to the bolt in the wall and the other end attaches to the rope, so if you fall, you won't go far. You can also use two quickdraws to build a top anchor.
Cams
If you're trad climbing, there won't be any metal bolts drilled into the rock to clip quickdraws into and you'll need cams. Cams are expensive and relatively heavy pieces of metal gear where you can slide one end into a crack in the rock and expand it so it stays put, then clip the other end into your rope. Cams usually come in sets of 6-8 in varying sizes and you'll want a whole set to start. These are especially useful for crack climbing.
Nuts
Climbing nuts (also called chocks) are like a cheaper, simpler and lighter version of cams and are also used in trad climbing. A metal wedge goes into a crack in the rock and a metal wire attaches to your rope via a quickdraw. Typically when you're leading, you'll use a combination of cams and nuts as you ascend and it's good to have another 8-10 of these in your kit.
All the latest inspiration, tips and guides to help you plan your next Advnture!
Julia Clarke is a staff writer for Advnture.com and the author of the book Restorative Yoga for Beginners. She loves to explore mountains on foot, bike, skis and belay and then recover on the the yoga mat. Julia graduated with a degree in journalism in 2004 and spent eight years working as a radio presenter in Kansas City, Vermont, Boston and New York City before discovering the joys of the Rocky Mountains. She then detoured west to Colorado and enjoyed 11 years teaching yoga in Vail before returning to her hometown of Glasgow, Scotland in 2020 to focus on family and writing.