What is ice climbing? We uncover this wild, adrenaline inducing pursuit
What is ice climbing? We break the ice to reveal the many facets of the thrilling world of ice climbing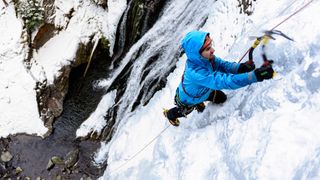 (Image credit: Getty)
We're often asked: what is ice climbing and how does it differ from winter or alpine mountaineering? Ice climbing in its purest form is exactly as it sounds: the pursuit of climbing frozen water. The sheer ethereal beauty of glistening ice, spectacular, wild mountainous terrain and the thrill of reaching the top of a difficult climb make ice climbing a hugely rewarding experience.
It's a pursuit that evolved from traditional alpine mountaineering, where ice would frequently be encountered and climbed with the aid of crampons, ice axes and ropes. In the same way that a rock climbing pitch might constitute part of a mountaineering route, ice climbing pitches often form a part of a longer alpine route. A key difference here though is that, just like a doomed snowman, the potential ice route could be there today but gone tomorrow.
However, those that 'go ice climbing' are usually headed for specific feature as their main objective for the day, such as a particular frozen waterfall or gully, rather than loading up their best hiking backpack with a specific mountain in their crosshairs. As in rock climbing, the focus is on the climb itself, not the summit. Rather than bolts, nuts or cams providing protection, ice screws are used instead.
The ephemeral nature of water ice adds to this appeal. There's something undeniably special about climbing something that's impermanent and unique, of being there in that harsh but impressive environment, in that particular moment on that particular day. There's excitement among climbers when the mercury drops and routes come into season. They grab their best ice axes and go. When everything comes together, the results are magical.
Break the ice – how to get into ice climbing
On the face of it, there are many barriers that would-be ice climbers face when getting into the pursuit. For a start, unless you're already into mountaineering, there's the equipment (see further down for details) and clothing to consider, all of which isn't cheap. Then, there's access to the environment. If you live in an area that annually takes on the guise of Frozen's kingdom of Arendelle for months on end, then you're in luck. If you live in Florida, you've got a lot of long journeys ahead of you if you want to get into ice climbing.
Experience of rock climbing or winter mountaineering is a desirable foundation but not essential, though knowing how to belay is a good start for partner work. The best way to begin your ice climbing journey is to book a day or two with a qualified instructor to show you the ropes. You might be able to rent some of the more specialised tools, such as technical axes and crampons, allowing you to get a taste for the climbing without the financial investment. You'll likely have to bring your own warm clothing, such as a quality down jacket, as it gets rather nippy when stood belaying.
There are places you can practise ice climbing indoors with guidance from instructors. The village of Kinlochleven in the Scottish Highlands is home to Ice Factor, the world's biggest indoor ice climbing wall, with over 500 tonnes of real snow and ice to get the front points of your crampons into. Still in Scotland but more accessible for many, there's also a smaller ice climbing wall at Snow Factor in Glasgow. Up until the Coronavirus Pandemic, a company called Vertical Chill operated indoor ice walls in both London and Manchester. However, these have sadly since permanently closed, partly because of their large energy consumption.
In the US, Colorado's Ice Coop is a unique gym that's been designed specifically with dry tooling in mind. Dry tooling is where ice tools are used to climb even when there's no or little ice. These techniques come into play on mixed climbs, where you take on sections of snow, rock and ice. Although there's no ice to be found at the Ice Coop, it's still a great place to learn how to use an ice axe and many other techniques associated with ice climbing.
Where are the best places to go ice climbing?
Perhaps this should be where and when to go ice climbing. After all, what is ice climbing – or what does it become – in summer? It's called ghyll scrambling in England's Lake District, which is the act of climbing up a free flowing waterfall, which certainly gets your hiking shoes wet. So, the places where ice climbing takes place obviously have to be comfortably sub-zero. Some of the world's most famous ice climbing venues are those that are consistently cold throughout the season, meaning the routes stay in good nick.
There are many legendary ice climbing spots dotted across the globe. Valdez in Alaksa was the subject of a chapter in Jon Krakauer's excellent Eiger Dreams. It's reputation as North America's greatest destination for the pursuit is hard to argue with, with vast glaciers, towering mountains and even its own ice climbing festival.
Also in the US, Ouray Ice Park is a destination that's been ingeniously engineered into an ice climbing venue. The climbing takes place in a natural gorge but on ice formed by water fed from pipes, which have been carefully placed to give the finest climbing lines.
Rjukan in Norway is one of Europe's premier destinations, with an almost endless wall of ice in its deep ravine. It's not a place for lovers of vitamin D; the town sees no sun during the winter months, which pretty much guarantees solid ice. Cogne in the Italian Alps is a popular destination where 142 mapped routes can be found in the twin valleys of Valnontey and Lillaz.
However, many climbers are also attracted to places that only fleetingly come into condition for a safe attempt at an ice climb, as it makes the event all the more special. Scotland is renowned for these kind of climbs, partly due to the region's rich ice climbing history, the unpredictability of the conditions and the impressive scenery.
What equipment do you need for ice climbing?
The main difference between the equipment needed for an ice climb and the equipment used in standard winter mountaineering is that the ice tools are generally more aggressive, for steeper, more technical climbing. This has implication on the kind of winter hiking boots you wear, as they need to be rigid enough to take a pair of C3 crampons. You also need a set of ice screws, rather than the cams and chocks used for protection in trad climbing.
Here's a list of standard ice climbing equipment:
Technical ice axes: Ice climbing requires the use of two technical axes. In a pair of technical axes, one will usually come with an adze, used to clear rime during a climb, and the other with a hammer, used to bash protection into cracks. A technical axe's shaft is noticeably shorter and more curved than a standard mountaineering axe, making it ideal for solid pick placements.
C3 crampons: Designed for the most challenging climbs, C3s are step-in crampons that feature aggressive, serrated points, giving you superb grip on steep ice. Unlike C2's there's no flex and they attach to specific kinds of boots. Which brings us to…
B3 boots: Boots crafted with mountaineering in the Greater Ranges or super technical ice climbs in mind. Stiff roles and uppers give you unbeatable traction, while their rigidity is perfect for combining with C3 crampons.
Climbing rope: For winter conditions, rope of between 8.5mm and 9mm thickness is recommended. Any thinner and they become more difficult to use effectively when iced up. 50 to 60 metres is advisable for most ice climbing situations.
Helmet: A standard climbing helmet will suffice.
Harness: Again, a standard climbing harness with at least four gear loops will do the job nicely.
Belay device: Assisted braking devices, such as a Grigri, are not recommended for climbing in freezing conditions. This is because ropes tend to ice up, which can be difficult to manage with an assisted braking device. A manual braking device, such as the Petzl Verso, DMM Mantis or Black Diamond ATC, is therefore recommended.
Quickdraws: Usually between 10 and 25 cm in length, these consist of two snap-link carabiners linked by a tape sling.
Ice screws: Lightweight metal screws with sharp teeth and an external thread. The longer the screw, the more secure the placement, though this also depends on the quality of the ice. An ice screw's length is generally between 10cm and 20cm. How many you will need will depend on the length of your route but having a dozen or more is not uncommon.
All the latest inspiration, tips and guides to help you plan your next Advnture!
Alex is a freelance adventure writer and mountain leader with an insatiable passion for the mountains. A Cumbrian born and bred, his native English Lake District has a special place in his heart, though he is at least equally happy in North Wales, the Scottish Highlands or the European Alps. Through his hiking, mountaineering, climbing and trail running adventures, Alex aims to inspire others to get outdoors. He is currently President of the London Mountaineering Club, training to become a winter mountain leader, looking to finally finish bagging all the Wainwright fells of the Lake District and hoping to scale more Alpine 4000ers when circumstances allow. Find out more at www.alexfoxfield.com