Pilates for running: 5 tips from an expert
Pilates for running is an incredible way to restore balance to your body and can be an effective tool to help you run further and stronger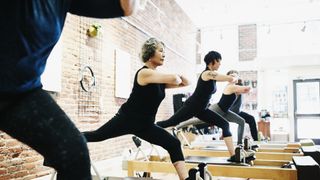 (Image credit: Thomas Barwick)
As a runner, you've no doubt noticed some imbalances in your body as the result of your sport, even with the best trail running shoes on your feet. Whether it's tight hamstrings and hips or low back pain, the amazing cardiovascular benefits of running can be offset by the repercussions of high impact and repetitive movements, but this doesn't mean you have to quit – far from it. Pilates for running is an incredible way to restore balance to your body and can be an effective tool to help you run further and stronger.
Pilates is a physical fitness system developed in the early 20th century by Joseph Pilates that focuses on core strengthening and joint mobility using low impact movements. It can be done on a mat or on equipment such as a reformer.
We spoke to pilates instructor Jen Kaplan, a long-distance runner herself who trains elite athletes at her studio, Pelodog Pilates + Indoor Cycling, in Lake Tahoe. Kaplan, a former lawyer who has also taught pilates in San Francisco and Vail, finds that pilates is extremely effective for activating and strengthening the muscles that runners use the least:
"It's really about identifying where the muscle imbalances are in your body and then starting to correct those imbalances. If you look at pretty much any runner from a pro level marathon runner to a novice, almost every single one of those people is going to be quad dominant and pretty weak in the core and glutes."
The result of this is often limited range of motion through the hips and can lead to back pain and even disc compression, according to Kaplan. With her running clients, she focuses on creating space in the muscle structure for bones then strengthening the muscles to move in a more balanced fashion.
"If you think of a runner who's super tight in their hip flexors, that is actually going to pull the pelvis forward from a bone perspective, so that person is going to be living in a pelvic tuck which means you won't have the range of motion available to extend your hip and that's going to compress discs over time."
In addition to opening the muscles such as the hip flexors, Kaplan focuses on strengthening the posterior muscles that are underused in running – the back muscles, hamstrings and glutes as well as the abdominals that are needed to stabilize your spine when you're going up and downhill.
Furthermore, Kaplan pointed to the emphasis on lateral muscles in pilates – the outer glutes, inner thighs and obliques – which aren't used in the linear movements running but are needed to stabilize your hips and back. Strengthening these muscles is all about allocating the work amongst different muscle groups, which will actually help to improve your running technique and stamina, according to Kaplan.
"You'll be able to run further without injury and you'll be able to run with more power because more muscles are going to be coming to the party."
Then there's the effects of improved joint mobility and better posture, which are key benefits of practicing pilates.
"If you're able to run with a more open chest and a strong upper back you're going to be able to go longer," says Kaplan.
When it comes to doing reformer pilates, which involves operating equipment, you'll want to take a few lessons with a trained professional. However, there are a few simple moves you can safely start today that can make a big difference when it comes to your running.
The pelvic curl
Similar to a yoga bridge, Kaplan says she does 6-8 pelvic curls before every running race to improve the mobility of her spine and hip flexors, those muscles on the front of your hips that contract to lift your leg up with every stride.
"Pretty much every single runner is going to be dominant and tight in their hip flexors so if you stretch their hip flexors and then spend some time strengthening their lowers abs and glutes then they're going to be more free in the front of the hips to be upright and then they're going to share the load on the hip flexors with the abs and the glutes," she explains.
Lie on your back with your knees bent and feet hip width
Compress your abdominals to flatten your low back into the floor
Lift your hips and activate (squeeze) your glutes to stretch your hip flexors
Roll your spine and hips back down then let your pelvis return to a neutral position
Repeat 6-7 more times
Spinal twist supine
In addition to improving the mobility of your spine and strengthening your obliques, this movement helps to strengthen your inner thighs, stabilizing your hips, and also helps to open up your chest and shoulders which are often tight on runners due to poor posture.
"A lot of the runner clients I have come in, their quads are huge, their glutes are super small, they tend to work in offices so they're rounded in their shoulders and really weak in their upper backs. So you open them up enough so they're open in the chest, and then strengthen the muscles in their upper back and all of a sudden they can run in an upright position," Kaplan explains.
Lie on your back with your arms out wide
Bend your knees and left them over your hips so your shins are parallel to the floor
Squeeze your inner thighs together and flatten your lower back into the floor
Slowly lower your knees to the right keeping your abs engaged and without letting your knees rest on the floor
Lift your knees and slowly lower them to the left
Repeat 3-4 more times
Plank
Almost every fitness professional will extoll the benefits of good old fashioned planks and for good reason – in pilates, this posture is referred to as "full body integration" because It activates all of the postural muscles. According to Kaplan, you can plank on your forearms or your hands, but the most important part is to actually engage your abdominal muscles in an inward fashion while fighting gravity.
From all fours, step your feet back and lift your knees off the ground
Push your hands or forearms down and activate your legs
Curl your pubic bone up towards your navel to activate your abdominals
Hold and breathe for up to 30 seconds
Stretching
Running is certainly one of the most tightening activities you can do and runners are often drawn to stretching, which can be incorporated into any pilates session. However, Kaplan advises saving stretching for after your run not beforehand
"At the end of a run or sometime later that day, do any sort of a simple runner's lunge and hamstring stretch to stretch things out."
For some ideas, check out our article with yoga stretches for runners.
Foam rolling
"I would say rolling is almost more important than stretching for runners," asserts Kaplan when it comes to post-run tissue recovery. Foam rolling is a type of deep tissue self-massage using a foam cylinder that is believed to increase blood flow and the elasticity of muscle tissue, joints, and connective tissue, which helps with mobility.
Specifically, Kaplan recommends spending about 90 seconds on each IT band – the band of connective tissue that runs up your outer thigh from hip to knee and gets very tight on runners – and making sure you don't miss the sweet spot.
Roll your IT back from the knee all the up to the hip
Roll your IT band again, moving the roller a little more towards your hamstrings
Roll your IT band one more time, moving the roller a little more towards your quads
Finally roll out your glutes and quads
All the latest inspiration, tips and guides to help you plan your next Advnture!
Julia Clarke is a staff writer for Advnture.com and the author of the book Restorative Yoga for Beginners. She loves to explore mountains on foot, bike, skis and belay and then recover on the the yoga mat. Julia graduated with a degree in journalism in 2004 and spent eight years working as a radio presenter in Kansas City, Vermont, Boston and New York City before discovering the joys of the Rocky Mountains. She then detoured west to Colorado and enjoyed 11 years teaching yoga in Vail before returning to her hometown of Glasgow, Scotland in 2020 to focus on family and writing.