Running with a partner: 5 great reasons to find a trail buddy
Running with a partner has a lot of great perks, including safety, motivation and getting some feedback on your technique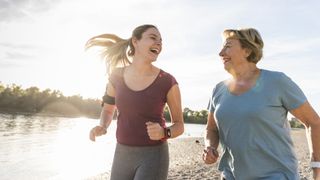 (Image credit: Westend61)
Sure, for lots of us, running is all about unplugging, getting away from it all and spending some quality time with just you and the trail. But running with a partner has a lot of great perks too, including safety, motivation and getting some feedback on your technique. The best news is, if you love running alone, you don't have to run exclusively with a partner to reap these benefits, but you should definitely consider mixing a day or two a week of running with a partner into your training routine.
1. Safety
As we've previously discussed, running with a partner is a great way to ensure better running safety. Not only are people and wildlife like bears much more likely to give you a wide berth if you're running as a pair, if you should get into any trouble such as getting lost or falling foul to a sprained ankle or another common trail running injury, you'll have someone to help walk you out or call for help.
2. Motivation
Probably the best reason for running with a partner is the additional motivation you receive. When your alarm goes off at 5 am on a dark, cold winter morning, it's much easier to hit snooze if there isn't someone else out there that's going to be waiting for you to show up at the trailhead. Not only does a running partner help you get your trail running shoes on in the first place, the social bonds created through group exercise can lead to better performance on your part too, according to a 2015 study by University of Oxford researchers, no doubt the result of some healthy competition.
3. Camaraderie
Speaking of social bonds, doing any type of exercise with other people has been found to increase the benefits. Spending time with someone engaging in a healthy activity like running was shown by researchers for the American Osteopathic Association to significantly lower stress and improve quality of life among student doctors. Plus, between work, family and running, there isn't always a lot of time for socializing, and you know it's important, so why not combine it with your favorite activity?
4. Feedback
Running with a partner doesn't have to be all gossip and idle chit chat – it can be a really great way to get some rare feedback on different aspects of your running form, such as your gait, and ultimately improve your running and reduce the chances of injury. Make sure you and your partner take turns leading so the person taking up the rear can critique the other's form.
5. Pace
Finally, running with a partner can be an effective way to learn to pace yourself when running, or to modify your pace. If you're hoping to up your pace, you'll be more successful if you run with a partner who is slightly faster than you and try to keep up. Likewise, if you know you need to be training more in a lower heart rate zone to improve recovery or increase fat burn, you can run with someone slightly slower than you and match their pace.
What to look for in a running partner
Of course, if you're serious about running, not just anyone will do. Your running partner can be a stranger or someone close to you, but there are a few characteristics to look out for when choosing a running partner.
Choose someone reliable who will show up consistently to keep you motivated not frustrated.
Pick someone whose pace isn't drastically faster or slower than yours and be willing to adapt to their pace as needed.
Find someone who you enjoy spending time with.
Run with someone who is supportive and uplifting, even if they display a little healthy competition too.
Make sure their training times with with your schedule.
All the latest inspiration, tips and guides to help you plan your next Advnture!
Julia Clarke is a staff writer for Advnture.com and the author of the book Restorative Yoga for Beginners. She loves to explore mountains on foot, bike, skis and belay and then recover on the the yoga mat. Julia graduated with a degree in journalism in 2004 and spent eight years working as a radio presenter in Kansas City, Vermont, Boston and New York City before discovering the joys of the Rocky Mountains. She then detoured west to Colorado and enjoyed 11 years teaching yoga in Vail before returning to her hometown of Glasgow, Scotland in 2020 to focus on family and writing.