What to do if you sprain your ankle on a hike
We talk to two experts about what to do if you sprain your ankle on a hike to help you avoid a common mistake and get to safety without making matters worse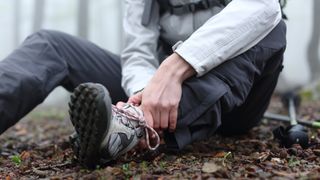 (Image credit: Pheelings Media)
Picture this: you're walking down a steep, scree-covered slope after a long mountain hike. The hike was longer than you'd anticipated, you're getting tired, and you just want to get back to the car, take your hiking boots off and get a bite to eat as quickly as possible. In your exhaustion and haste, you take a misstep and feel a sudden, sharp pain in your ankle. You don't think it's broken, but it definitely could be a sprain, and it's difficult to put weight on it. You're still miles from the trailhead, so what do you do? In this article, we speak to two experts about what to do if you sprain your ankle on a hike to help you avoid a common mistake and get yourself to safety without making matters worse.
What is a sprained ankle?
First, we've all heard of it, but what even is a sprained ankle? According to the Cleveland Clinic, an ankle sprain occurs when the ligaments in your ankle are torn or overstretched. There are three grades of ankle sprain, ranging from slight stretching of the ligament fibers to complete tearing. This tends to be the result of a fall, or if you roll or twist your ankle, so it stands to reason that it is a common hiking injury. In fact, a 2011 study of 590 hikers published in the Journal of Orthopaedics, Trauma and Rehabilitation found it had an incident rate of almost 10% and most ankle sprains occur in scree and on downhill slopes, though being overweight, older and having a previous ankle injury also increase your risk of a sprain.
Mike Pescod of Abacus Mountain Guides is a member of the Lochaber Mountain Rescue Team in the Scottish Highlands and reports that ankle injuries are among the most common callouts they receive.
"In the rescue team, a lot of our rescues in the summer are people that have just got tired legs or twisted knees and ankles and have underestimated the impact on their legs coming down."
Though you won't know for sure that you've sprained your ankle until you get a physical examination and imaging test, carried out by a medical provider, if you're suffering from any of the following symptoms after rolling your ankle on a hike, you should proceed as though you've sprained it:
Pain, especially when weight bearing
Tenderness to the touch
Swelling
Bruising
Difficulty walking
What to do if you sprain your ankle on a hike
So what should you do if you suspect you've sprained your ankle on a hike? Ice it in a freezing cold river? Fashion a support brace cut from your backpack? As it turns out, there's not a lot you can do in the field, but knowing what you can do will go a long way to ensuring you don't worsen the injury.
1. Don't take your boot off
Though your first instinct will definitely be to sit down, take your hiking boot off and inspect the damage, this is absolutely the last thing you should do, according to Ted Weber, a physical therapist in Vail, Colorado.
"The one thing I wouldn't do is take your shoe off and leave it off for too long because I've seen people swell up and not be able to get their footwear back on," says Weber, noting that your ankle can often swell up immediately. Though this might make things feel even more uncomfortable, your boot will then actually provide a little support until you can get treatment, and not being able to get it back on or lace it up properly can cause further problems.
"Either you can't get your boot back on, or you do this crazy lacing technique where you really open up your boot to make it fit and then you get blisters because your boot is rubbing," warns Weber.
2. Don't walk without support
If you feel like you can bear a little weight on your ankle and think you can hobble out, you'll definitely need some support since you want to limit the use of your ankle until you see a doctor so you don't further injure it. Obviously if there are a set of trekking poles available in your group you should use those to help you take the weight off your injured ankle as they will be the most sturdy and reliable. Otherwise, you can get your arms around a friend or two to help you. If you're hiking alone without poles, try to find two similar sized sticks to turn into walking poles
3. Know when to call for help
If you've started hobbling but it's going to take far too long to get to safety and you're putting others at risk, or if you really can't bear any weight on your ankle, it's time to call mountain rescue. We know, the idea might make you shudder, but according to Pescod, you could actually make matters worse if you don't.
"We try to be self-reliant and this extends to rescues as well. However, there is a point beyond which it is better to call for help. If you injure yourself more in trying to self-rescue, not only will it take longer to recover but it will be harder for the rescue team as well."
Remember that mountain rescue is definitely not like calling for an Uber and can involve several hours of waiting, so it's important to always be prepared with emergency kit like an emergency blanket and bothy bag.
How do I protect my ankles when hiking?
Sprained ankles can simply be the result of pure, bad luck, but there are some preventative measures you can and should take, not least because once you've sprained your ankle once, you're likely to do it again, according to Weber:
"The rate of re-injury is quite high with ankle sprains – around a quarter of people will reinjure their ankle within the year."
The jury is still out on whether you can get ankle support for hiking by wearing hiking boots, but certainly a good pair, properly laced, won't hurt. Then there are ankle strengthening exercises you can do, which Pescod advises and are surprisingly accessible.
"Brush your teeth standing on one foot for one minute, then the other foot for the other minute – doing this twice daily really strengthens the ankles. You can make it harder as required by standing on a soft surface, a thin cushion for example, standing on your toes or going up onto your toes from flat. Doing it with your eyes closed is the ultimate, but the sink hurts when you hit it on the way down!"
Finally, he recommends using your hikes as a training ground, by walking over rough ground and doing what he calls skillful walking which involves exercises like placing your feet as quietly as possible and walking drills where you pause balance between every step.
All the latest inspiration, tips and guides to help you plan your next Advnture!
Julia Clarke is a staff writer for Advnture.com and the author of the book Restorative Yoga for Beginners. She loves to explore mountains on foot, bike, skis and belay and then recover on the the yoga mat. Julia graduated with a degree in journalism in 2004 and spent eight years working as a radio presenter in Kansas City, Vermont, Boston and New York City before discovering the joys of the Rocky Mountains. She then detoured west to Colorado and enjoyed 11 years teaching yoga in Vail before returning to her hometown of Glasgow, Scotland in 2020 to focus on family and writing.