Heart rate zones explained – and how to use them to reach your running goals
In heart rate zones explained, we outline the five heart rate zones, what's happening in your body in each zone and how to use them in your training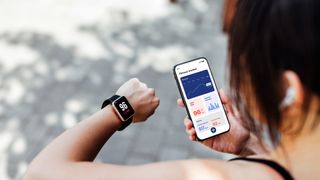 (Image credit: Oscar Wong)
Has your fitness tracker been giving you information about your heart rate zone but you've no idea what it all means? Is zone five better than one? Is the goal to get to the highest zone as often as possible or should you progress through all five in every workout? In this article, heart rate zones explained, we describe what the five heart rate zones are, what's happening when you're in them and how to use them for better training so you can put all those hours spent in your trail running shoes to the best possible use.
What are the five heart rate zones?
You've probably already figured out that not all cardiovascular activity is created equally. There's the moderate pace of hiking that gets your heart moving a little but you probably feel you can sustain for hours, and then there's more vigorous movement like running at a medium pace which you might only be able to continue for 20-30 minutes, especially if you're just starting out. As the field of exercise physiology evolves, a more refined understanding of different heart rate zones has emerged that can help you achieve your goals as a runner.
The five heart rate zones refer to different levels of activity and are all based on a percentage of your maximum heart rate.
Swipe to scroll horizontally
The 5 heart rate zones

| Zone | Workout intensity | Percentage of maximum heart rate |
| --- | --- | --- |
| 1 | Very light, effortless | 50 - 60% |
| 2 | Light, easy | 60 - 70% |
| 3 | Moderate | 70 - 80% |
| 4 | Hard, vigorous | 80 - 90% |
| 5 | Maximum | 90 - 100% |
How do you calculate your maximum heart rate?
To find out your maximum heart rate, you can have it calculated for you in a lab-type setting during a VO2 max test where you get on a treadmill and work as hard as you can, however most people get a rough estimate with the following formula: 220 minus your age. It's not recommended to train beyond your maximum heart rate.
Heart rate zone 1
In heart rate zone 1, you should be feeling as though you're only breathing slightly more heavily than normal and you're only just aware of your heart beating more than usual. You'll typically be in heart rate zone 1 during brisk walking, easy hiking and biking. It will feel pretty effortless, as though you could do it all day, and you can easily chat to a friend. This heart rate zone is great for recovery, warming up for more intense training and cool down.
According to the Cleveland Clinic, though you're burning fewer calories at this lower intensity level, most of the calories you're burning are from fat, so it's good training ground for weight loss, especially when you do it for longer periods to increase that total calorie expenditure.
Heart rate zone 2
When you pick up the pace a little, perhaps to a light jog, you'll move into heart rate zone 2 which is still light and easy and should be sustainable for a long period of time. You'll still be able to hold a conversation though you might not be able to speak for more than a couple of sentences at a time. You're still burning a decent amount of fat and, over time, increasing your cardiovascular fitness and endurance. This is an important zone to train in for general fitness as well as if you want to start running longer distances.
Heart rate zone 3
This zone, sometimes called "marathon pace", is is considered moderate intensity, so it won't be as sustainable as the previous two. You won't be won't be totally comfortable here and it will be difficult to hold a conversation. In fact, it's probably the first time that you really feel like you're doing something, so it may be tempting to keep trying to get here and stay here. But, this is where lactic acid starts to show up, so it can also be quite fatiguing, so if you constantly train here, you may always feel tired and never progress.
According to Live Science, the benefits of training here are improved circulation, muscle strength and endurance. You'll still be in the aerobic zone, so you'll be using oxygen for fuel, and you'll be burning both fat and carbohydrates.
Heart rate zone 4
Now you're really moving – running fast, getting out of breath quickly and there's no way you can talk. In fact, you're moving into anaerobic exercise here where you don't have enough oxygen to metabolize fat and will switch to burning carbs instead. This pace won't be sustainable for very long and these are those short bursts that you do for a few minutes at a time in interval training that are thought to help you continue to burn calories after you stop. These intervals are really helpful to help you pick up the pace when it comes to race day. If you are training for a race, you want to spend about 10-25% of your training time in this zone, according to Heart Zones.
Heart rate zone 5
Finally, comes the dreaded zone 5 which is mostly reserved for elite athletes training to improve their sprint time. As you can imagine, it involves very short bursts of very intense training – perhaps only for seconds at a time – and is not really necessary if you're not a professional athlete.
How can you use the five heart rate zones for training?
Assuming you're healthy and have no heart issues, you can consult a coach to create a training program around the heart zones that's appropriate for and specific to your needs, age and weight. You can learn more about this in our article on normal heart rate when running. Of course, training will vary according to you and your goals but generally, it's recommended for healthy runners to train in zones 1 - 4 regularly. Once you know what zones you want to train in on a specific day, you can use either a fitness tracker or a heart rate monitor to help you stay in the zone.
All the latest inspiration, tips and guides to help you plan your next Advnture!
Julia Clarke is a staff writer for Advnture.com and the author of the book Restorative Yoga for Beginners. She loves to explore mountains on foot, bike, skis and belay and then recover on the the yoga mat. Julia graduated with a degree in journalism in 2004 and spent eight years working as a radio presenter in Kansas City, Vermont, Boston and New York City before discovering the joys of the Rocky Mountains. She then detoured west to Colorado and enjoyed 11 years teaching yoga in Vail before returning to her hometown of Glasgow, Scotland in 2020 to focus on family and writing.