How to go trail running with your dog: everything you need to know
If you love getting out on the trails, running with your dog in tow could make you enjoy it even more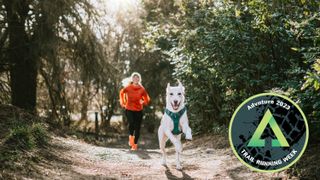 (Image credit: Getty / Future)
If you own a pooch, you've probably wondered about the possibility of going trail running with your dog. Is it good for them? At what age is it appropriate to start with him/her? What leash system works best?
While there are factors to sift through and boxes to check before taking your four-legged friend into the woods with you, it can be a rewarding experience for everyone. Read through our tips for getting the most out of trail running with your dog:
Know your breed
Plenty of dogs love running, but not all are well designed for it. Bulldogs and pugs, for instance, have very short muzzles, which make breathing hard from exercise difficult and even dangerous. Others are great runners thanks to their long legs, high energy levels, and ability to work hard for long durations. Think Vizslas and Weimaraners, for instance, but also don't discount working breeds like labs, who have more endurance than you might expect.
Don't push pups too hard
In their first year of life, puppies are busy building bones and muscles, and developing their growth plates. For this reason, most vets – and the American Kennel Club – recommend waiting at least a year before taking them out running. Keep your dog injury free, and you'll have a happier animal, avoid big vet bills and enjoy many years of trail time with them.
Listen to your dog
When you head out trail running with your dog, let them dictate the pace and duration. If they begin sitting down or panting hard, respect that and consider it time to turn around. This is especially true if your dog is new to the trails – ease them into mileage just as you did yourself when starting out.
Remember, if they're running off leash, they will be racing around and doing many more miles that you are, with no idea what the plan is. Also pay attention to the temperature and have water (and a collapsible bowl) to hand if it's at all warm outside.
Don't attempt to set records
Trail running with your dog may slow you down slightly – accept this as part of the deal. If they're on a leash, then give them time to do their business (and take the time to make sure no mess is left on the trail) and have a sniff around.
Be aware of wildlife and farm animals
It's important to keep your dog under control when you're running with them – especially around farm animals and in areas where they might chase vulnerable wildlife. Respect areas that don't allow dogs, or which ask you to keep them on a leash.
Think about the best gear
If you've ever been to a pet store, you know the choices in collars, leashes and harnesses can be overwhelming. On the trails, it's helpful to have a harness instead of a collar to make the going more comfortable for your pup, and to give you a bit more control if he or she tries to take little diversions. Many trail runners point to waist-mounted/hands free leashes as their go-to option. Consider buying a lightweight pack that your dog can wear so that you can transport his gear in it –waste bags, a collapsible water bowl and/or treats are all good to bring along.
Once you get your dog used to going out on the trails, don't be surprised if it becomes his/her favourite outing. Many dogs will react with glee at the sight of you putting on your running gear, or get excited when they hear the beep of a smartwatch. Seeing their wagging tail and 'smiling' face will only encourage you embrace trail running with your dog, no matter what the weather is doing.
This article is part of Advnture's Trail Running Week 2023 (running from Monday 27 March to Sunday 2 April), our in-depth look at how to train smarter, choose the right gear, and have fun when things get muddy.
All the latest inspiration, tips and guides to help you plan your next Advnture!
A US-based freelancer with a penchant for dirt, when she's not writing about the outdoors, Amanda is in it, running trails with two-legged and four-legged friends alike. You can find her work in the Washington Post, Outside magazine, REI's Co-op blog and many other outlets. Visit Amanda's website to read some of her latest pieces.