Who was Edmund Hillary? The beekeeper who made it to the top of the world
We take a look at the astonishing accomplishments of this legendary climber, from scaling Everest to his humanitarian work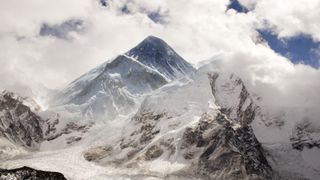 (Image credit: jmaehl)
Sir Edmund Hillary's status as one of the first two mountaineers to reach the summit of Mount Everest is enough to put him on any map, but even without that historical achievement, he cut an inspirational figure as a mountaineer, pioneer, philanthropist and politician.
Though his name is synonymous with Everest, Hillary remained humble about his conquest and maintained that his greatest achievement was actually helping Nepal's Himalayan Sherpa people. Here we explore his early life, impressive expeditions and lasting legacy to get the full picture of this legendary figure. So who was Edmund Hillary?
Humble beginnings
"I have had the world lie between my clumsy boots and seen the red sun slip over the horizon after the dark Antarctic winter. I have had more than my share of excitement, beauty, laughter and friendship."
Hillary's words in his 1975 autobiography Nothing Venture, Nothing Win point to a life of vast adventure and rich exploration, but like many legends it all began quite simply. Hillary was born in Auckland, New Zealand to a teacher and a beekeeper in 1919. According to the book High Adventure, Hillary first became interested in climbing at the age of 16 during a school trip to Mount Ruapehu, an active stratovolcano on the North Island that is home to New Zealand's ski resorts today.
The book goes on to recount that after this experience, he became more interested in the outdoors than studying. Though he attempted a degree in mathematics and science at Auckland University College, he abandoned his studies after two years and returned home to become a beekeeper with his father and brother.
The beekeeper's life turned out to be conducive to climbing, as he was able to perform his duties in the summer and go climbing in the winter. In 1938, he and his family became members of Radiant Living, a philosophy of physical, psychological and spiritual health that fit with their philosophy of peace and equality for all. Through this association, he joined a tramping club which further developed his love of the outdoors.
In 1941, he completed his first major climb, summiting Mount Ollivier in New Zealand's Southern Alps, and during this time became friends with mountaineer George Lowe, who would join him on his famed Everest expedition. The outbreak of World War II saw him initially abstain from fighting as a conscientious objector, before enlisting in military service. In 1942 he joined the New Zealand Royal Air Force as a navigator and was deployed to Fiji and the Solomon Islands two years later where he was badly burned in an accident.
After the war, he returned to climbing and took up ice climbing, summiting New Zealand's highest peak Mount Aoraki (Mount Cook) via the south ridge in 1948. Having made a name for himself as a skilled mountaineer, he was invited to join a British reconnaissance expedition of Everest and made his first attempt at it in 1951
On top of the world
In March 1953, along with a team that included over 400 support staff, Hillary set out to attempt to summit Everest. Days before beginning their final ascent, Hillary was climbing down some dangerous icefall on a training run with Sherpa Tenzing Norgay when the block of ice Hillary stepped on broke off and sent him hurtling towards a crevasse that would have claimed his life if not for Norgay tightening the rope between them and stopping his fall. This quick thinking act secured Norgay's reputation as a skilled mountaineer and his position as Edmund's partner on the expedition.
On the morning of May 29 the pair set off from high camp and overcame the final near-vertical pitch of rock and ice using only ice climbing gear. The two became the first mountaineers to reach the highest point on earth at 11:30am, where they spent 15 minutes taking photographs before beginning their long descent. There are no pictures of Hillary at the summit, which was his wish according to Norgay's biography.
According to his autobiography, upon meeting Lowe back at camp, Hillary who was known for being taciturn, famously remarked only, "Well, George, we knocked the bastard off." However, public reception to the enormous feat was considerably more enthused; by the time they returned to Kathmandu, Hillary had already been appointed a Knight Commander of the Order of the British Empire while Norgay received the lesser George Medal – a source of some controversy.
The 39ft near-vertical rock face leading to Everest's Summit was named The Hillary Step in honor of the first man to conquer it, but it was destroyed by an earthquake in 2015.
After Everest
Mount Everest will forever be synonymous with the name Edmund Hillary, but later in life, the man himself lamented the spectacle that climbing Everest has become today, telling the Guardian in 1993 he felt that contemporary climbers lack the sense of exhilaration he experienced going up.
"I find it all rather sad. I like to think of Everest as a great mountaineering challenge, and when you've got people just streaming up the mountain - well, many of them are just climbing it to get their name in the paper, really."
Nonetheless, his climbing legacy continued through his son Peter, who joined Jamling, Norgay's son, in climbing Everest in 2003 on the 50th anniversary of their fathers' climb.
More summits
Unlike many other climbers, who either retired or perished after attempting Everest, Hillary kept climbing. In addition to his philanthropic work, he managed to climb ten other Himalayan peaks in the 1950's and 1960s and reached both the North and the South poles, becoming the first man to stand at both poles and on the summit of Everest. This accomplishment is known today as the Three Poles Challenge.
He also had his failures; a five-month expedition to attempt to summit Mount Makalu in the Himalayas, the world's fifth highest mountain, bore no fruit.
Humanitarian work: his greatest achievement
"Human life is far more important than just getting to the top of a mountain," mused Hillary, who was also a philanthropist, his work benefitting young New Zealanders, Sherpas and mountaineers across the globe.
As a 35-year patron of the Sir Edmund Hillary Outdoor Pursuits Centre he was a champion for introducing young New Zealanders to the outdoors just as he had been in his teenage years. Hillary also established the Himalayan Trust in 1960 and devoted himself to assisting Nepal's Sherpa people through the construction of many schools, bridges, airstrips and hospitals. It was here he believed he made his greatest impact on humankind.
Finally, Hillary served as the Honorary President of Mountain Wilderness, an international NGO dedicated to the worldwide protection of mountains.
Political aspirations
Though a notoriously humble man, Hillary showed a propensity for leadership throughout his life, from mountain climbing to government. He supported the Labour Party in the 1975 election in an unsuccessful bid for Governor General, and served as vice president for the Abortion Law Reform Association of New Zealand, a national pro-choice advocacy group. A decade later he was appointed New Zealand High Commissioner to India, spending four and a half years based in New Delhi.
Death and legacy
Hillary wrote in his autobiography, "If my life finished tomorrow I would have little cause for complaint – I have gathered a few successes, a handful of honours and more love and laughter than I probably deserve."
In 2007, he suffered a fall in Kathmandu and was hospitalised upon his return to New Zealand. Nine months later, he died of heart failure in Auckland at the age of 88.
The South Ridge of Aoraki was renamed Hillary Ridge in his honor in 2011. Of his life, Hillary was as matter of fact as ever, saying, "The truth is, I'm just a rough old New Zealander who has enjoyed many challenges in his life."
All the latest inspiration, tips and guides to help you plan your next Advnture!
Julia Clarke is a staff writer for Advnture.com and the author of the book Restorative Yoga for Beginners. She loves to explore mountains on foot, bike, skis and belay and then recover on the the yoga mat. Julia graduated with a degree in journalism in 2004 and spent eight years working as a radio presenter in Kansas City, Vermont, Boston and New York City before discovering the joys of the Rocky Mountains. She then detoured west to Colorado and enjoyed 11 years teaching yoga in Vail before returning to her hometown of Glasgow, Scotland in 2020 to focus on family and writing.