Watch workers building the Red Bull Dual Ascent climbing route on a 210m tall dam
We hope you've got a head for heights. This behind-the-scenes video for the Red Bull Dual Ascent contains some dizzying images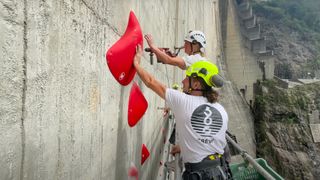 (Image credit: Noah Kane)
Climbers will be gathering at the Verzasca Dam in Ticina, Switzerland in just over a week for a titanic climbing challenge – the second ever Red Bull Dual Ascent.
The competition takes place through 1-4 November, with teams of athletes competing against each other on two parallel identical 180m vertical courses up the 210m dam. Each route is made up of six pitches, and every hold is identical between the two routes – exactly the same hold in exactly the same place.
But how do the organizers go about creating such a dizzying and challenging route? It's a mammoth task in itself, and the video below takes you behind the scenes of the preparation for this year's event. You may need a good head for heights.
Documentary maker Noah Kane explains that while he watched last year's inaugural event amazed at the climbing skills on show, "the most impressive thing to me was the route itself. It was beautiful and creative and just monumental."
Kane chats to Heli Putz, main event organizer who also installed the famous Stairway to Heaven in the Austrian Alps, and the head route setters Katja Vidmar and Simon Margon, who previously designed the route for the world's tallest artificial climbing wall on a disused 360m chimney in Trbovlje, Slovenia back in 2021.
The Red Bull Dual Ascent is a multi-pitch challenge. As the official site explains: "Climbing a multi-pitch route is done in teams of two or more. One person 'lead climbs', the same as on a sport route, taking the risk of climbing above the bolts that would catch them if they fall, while the other belays. For the next pitch, they'll switch, with the belayer climbing the next pitch while the first climber rests and belays. A 'pitch' is normally defined as what can be climbed using one standard rope, which is typically 60-70m in length, so a pitch is often around 30-40m high. The world's most legendary multi-pitch route is probably The Nose on Yosemite National Park's El Capitan."
All the latest inspiration, tips and guides to help you plan your next Advnture!