What is multi-pitch climbing? Get to know big wall adventure
What is multi-pitch climbing? We cover all the basics you need to get more vertical feet out of your days on the crag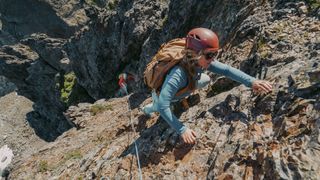 (Image credit: Alex Ratson)
So you've been hanging out at the crag every weekend, honing your gear-placement skills, flexing on those power moves, and you've been invited out on your first multi-pitch climb. Naturally you agree, because you love rock climbing and that sounds cool, but secretly, you're a bit confused. What is multi-pitch climbing? That wasn't covered in types of rock climbing, was it? Don't panic – we've got you covered with a simple guide to multi-pitch climbing plus everything you need to get started.
A quick note before we get started – this article is not intended to be a replacement for training with a professional, and we recommend that you do your first multi-pitch climb with an experienced guide.
What is a pitch in rock climbing?
In rock climbing, a pitch refers to a section of the wall that you can be protected by one rope length. If you've been trad climbing or sport climbing on single pitch routes, or indoors, you may not have heard the term because there's no need to know it. You just rock up to the wall, someone lead climbs it, sets up a top rope anchor, then you and your buddies can work on that route until you're ready to try a new line or your fingers are too sore to continue.
But what if the route you want to climb is longer than your rope? In that scenario, you'd typically approach the climb in sections, known as pitches. If there's two of you, the lead climber starts out and finds the best place for an anchor, ideally with a good ledge where two climbers can stand. Next, the lead climber belays the follower from above – carefully coiling the rope on the ledge – and the second climber follows, cleaning the gear as they go. The two climbers meet on the ledge and discuss who is going to lead the next pitch. The chosen lead then starts climbing again, finding another good spot for the next anchor, and you continue in this way until you're finished.
A multi-pitch climb refers to any climb with more than one pitch involved, so it could be as little as two pitches or, if you were tackling something epic like the Dawn Wall on El Capitan, you'd be looking at 32 pitches and several nights of camping on the wall.
There is one other reason why you might break a climb up into different pitches other than how long it is, and that's when it's kind of a meandering route where the rope drag would be burdensome or dangerous.
If you love rock climbing, the idea of being able to keep going vertically for hours on end probably sounds like paradise, but how do you get down at the end of the day? Well ideally, you have a walk-off descent from a multi-pitch climb, since multi-pitch rappelling is complicated and increases your risk level quite substantially. If you are looking at a multi-pitch rappel, make sure you go with someone experienced or a professional guide, and tie knots in both ends of your rope.
How long is a pitch in rock climbing?
This is a bit like one of those 'how long is a piece of string?' questions, except the piece of string is a climbing rope. There is no set length for a pitch in rock climbing, but since it refers to a section of the wall that you can be protected by one rope length, you're looking at something no longer than the length of your climbing rope. Climbing ropes come as short as 40m (131ft) and as long as 80m (262ft) but your average climbing rope is 60m - 70m (196ft - 229ft). However, a pitch can also be quite a bit shorter than your rope, as you're going to be approaching it based on the best spot for your anchor, not necessarily climbing till you run out of rope.
Can you multi-pitch climb with three people?
Yes, even though we gave the example of climbing in a pair, which is easiest, you can multi-pitch climb with three people, though it takes a little more logistical planning. Though it might slow you down a little as compared to climbing in a pair, the lead climber can actually belay the second and third climbers at the same time, climbing a few meters apart, so it doesn't necessarily slow you down as much as you might think. The advantages of climbing as a trio are that you can spread the load of your climbing gear out over three people and lighten the individual load, plus you have more company when you're on belay.
What do I need for a multi-pitch climb?
For the most part, you will use the exact same kit you already use for sport or trad climbing, but multi-pitch climbing does require some specific skills and gear to keep you safe, so even if you're well-kitted out, make sure to read through this entire list to ensure you are amply prepared.
Climbing shoes plus approach shoes for the hike in and out
Helmet to protect you from rockfall
Chalk bag and climbing chalk
Rope – You don't necessarily need a second rope for a multi-pitch climb, unless you intend to rappel down, but you should be looking for one at least 60 meters long
2 - 5 locking carabiners
Quickdraws
Slings / webbing – Useful for making use of rock spikes, trees as runners or anchors
Chocks, cams and nuts – a dull set if you're trad climbing
Nut key – To help remove awkwardly placed protection
Communication devices – It can be extremely difficult to hear your partner on a multi-pitch route, especially if it's windy, so many climbers bring walkie talkies for safety.
Headlamp – you don't want to be coming down in the dark, but if things go wrong, be prepared (see our guide to the best headlamps for some good options).
Backpack – bring a backpack that you can climb in to carry everything, or make sure you can clip it all to your harness
Weather protection – You're going to be on the wall for much longer than usual, so bring plenty of sunscreen, sunglasses, gloves and light layers.
All the latest inspiration, tips and guides to help you plan your next Advnture!
Julia Clarke is a staff writer for Advnture.com and the author of the book Restorative Yoga for Beginners. She loves to explore mountains on foot, bike, skis and belay and then recover on the the yoga mat. Julia graduated with a degree in journalism in 2004 and spent eight years working as a radio presenter in Kansas City, Vermont, Boston and New York City before discovering the joys of the Rocky Mountains. She then detoured west to Colorado and enjoyed 11 years teaching yoga in Vail before returning to her hometown of Glasgow, Scotland in 2020 to focus on family and writing.