Biggest carp ever landed in UK
Huge controversy surrounds a potential British carp record captured in August 2016.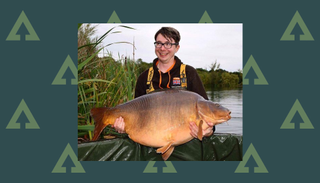 (Image credit: Angler's Mail)
Welcome to Advnture, the new home of AnglersMail.co.uk
It was legally imported from abroad and then hand reared on 2 kilos of boilies plus pellets every day from 39 lb to its record weight.
Investment banker Tom Doherty was fishing RH Fisheries syndicate water The Avenue, when he caught the previously unknown mirror after a 20-minute battle.
The monster called 'Big Rig' weighed in at 69 lb 13 oz on one set of scales that have been verified, and 70 lb 4 oz on another…. but the weight has now been confirmed at 69 lb 3 oz.
It was only fishery regular Tom's second session on the particular lake and the 35-year-old PB Products consultant told The Sun national newspaper that because of the controversy he half regrets the capture.
Tom told The Sun: "All I did was cast a bait into the lake. You can only catch what is in front of you."
Careful management for biggest carp
Although known for its big head of large carp The Avenue's biggest fish previously only went 60 lb 4 oz, a fish called Jona that sadly died a couple of years ago.
The ten acre lake stands in the grounds of the owner Rob Hales's own house and dates back to the late 17th century, but was hugely extended in 2007, and developed as a big carp water only.
It has been deliberately de-stocked in the past to allow the bigger fish to grow on and has 28 fish over 40 lb, with six going over 50 lb.
All the other lakes at the fishery have some degree of open access, and do also contain fish of over 50 lb.
RH Fisheries owner Rob Hales is an avid carper himself who, when he's not trying to create the best big-fish waters in the country, likes to target the demanding Rainbow Lake in France.
The out-and-out big fish hunter has caught a string of large carp from the world famous venue, including the lake's largest mirror at a staggering 90 lb 4 oz.
The current UK record is held by a carp of 68 lb 1 oz caught from Cranwells Lake, Wasing Estate, Berkshire, caught in January 2016 by Dean Fletcher.
All the latest inspiration, tips and guides to help you plan your next Advnture!