Bob Church tributes flood in as his funeral takes place
Tributes have been paid to one of angling's true greats.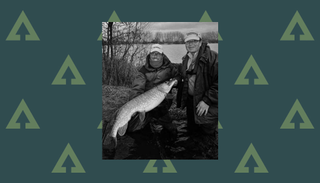 (Image credit: Angler's Mail)
Welcome to Advnture, the new home of AnglersMail.co.uk
The funeral for all-rounder Bob Church was held this week (Monday, September 30, 2019), after he sadly passed away at the age of 83.
Northampton-based Bob made the successful change over from coarse specimen hunter to top game angler.
He became one of the biggest names in the sport and was widely respected.
Bob's medal tally for the England trout team included team gold medals at the World Fly Fishing Championships in 1987 and 1988. He also won European team gold in 1990.
He also created a successful tackle and clothing business with first wife Beryl and son Steve. And he was president of the Northampton Specimen Group.
Bob received an MBE in the Queen's Birthday Honours in 2015 for services to angling.
Bob's specimen fish list was impressive and varied.
It included barbel to 15 lb 2 oz, perch to over 4 lb, 20 lb-plus pike, zander 12 lb, bream 10 lb 10 oz, chub 6 lb 3 oz.
On the game fishing scene he caught rainbow trout to 27 lb 2 oz, ferox trout 17 lb.
And his favourite capture came from the sea… a 300 lb porbeagle shark.
Bob also held the English brook trout record in the 1970s with a 3 lb 3 oz 4 dr fish from Avington in Hampshire.
He even caught a British record small-eyed ray in the 1960s but ate it before realising its significance.
He also loved fishing abroad and visited many countries including the Bahamas, Canada, New Zealand, Tasmania, Sweden, Finland, Lapland, and Iceland.
Bob also wrote 12 books and was a regular columnist in game fishing magazines.
Top anglers tributes to Bob Church
Steve Collett is probably today's No.1 all-round angler in the UK, and he was a big fan of Bob Church.
Steve said: "It was very sad news to learn that we have lost a good pal and hero, angling legend Bob Church MBE following a lengthy battle with Parkinson's Disease.
"There is nothing he hasn't done, caught or taught, a real angler, a top bloke. Rest in peace Bob."
Angler's Mail columnist and all-round ace John Bailey said: "Bob was just about the nicest guy I have met in fishing.
"Bob played a massive, generous part in my life when I was in my 20s and 30s, starting on my angling career."
Angling Projects founder Les Webber said: "Bob was a real hero of mine and a total angling legend. And he was a very special angler."
Ace float make Andrew Field added: "An angling hero. The greatest of anglers."
Bob Church was hooked on football, too
Away from fishing, Bob Church was a decorated Northampton Town Football Club member.
He became a director in 1986 and served on the board for ten years, before becoming the club president.
Cobblers chairman Kelvin Thomas said: "This was really sad news.
"Bob was very proud of his role of club president and even though he suffered from ill health in recent years, he still came to every home match that he could."
A sad day today as we say farewell to Club President Bob Church MBE. Thank you for a lifetime of support Bob. Rest well. pic.twitter.com/XNz6Y1LAA3September 30, 2019
Kelvin added: "We will all miss Bob and his wonderful fishing stories.
"He remained a big supporter of the club and it won't be the same without him here on a match day.
"Our thoughts are with Jeanette and the family, and we will be working with them to show our love and appreciation for Bob in the coming weeks."
All the latest inspiration, tips and guides to help you plan your next Advnture!
Running from 1964 until 2020, Angler's Mail was the UK's leading weekly magazine devoted to coarse fishing, telling readers everything they needed to know about which fish to catch, where to catch them, and what kit they needed to do it. Now, loads of the magazine's expert advice can be found on Advnture.com, as a helpful resource for angling newcomers and experts alike.