Farewell AONB, welcome to Landscapes for Life
The UK's Areas of Outstanding Natural Beauty get a makeover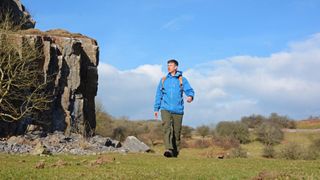 (Image credit: Pat Kinsella)
You've seen the signs, warmly welcoming you to an 'Area of Outstanding Natural Beauty', but do you actually know what an AONB is? Plenty of people are completely confused by the acronym, or so concluded a recent review into the state of Britain's national parks and AONBs, and so they are going to be renamed.
Henceforth, designated AONBs will be known as Landscapes for Life – a change recommended in the influential 2018–19 Julian Glover landscapes review – to help improve the British public's understanding of what they are.
Around England, Wales and Northern Ireland there are 46 Areas of Outstanding Natural Beauty (AONBs) – green spaces where the local wildlife, exceptional landscape and distinctive character of the terrain is afforded protection, similar to the safeguarding measures given to places that fall within the country's 15 national parks.
Much beloved by walkers, wildlife lovers, trail runners, mountain bikers and outdoor explorers of all kinds, the UK's 46 Areas of Outstanding Natural Beauty combine to cover 18% of the British countryside, including more than a fifth of the English coast. In all, over 12,000 miles of footpaths and bridleways cross these protected landscapes, and collectively they have committed to creating or restoring 100,000 hectares of wildlife-rich habitat outside protected sites by 2030.
The move to rename AONBs coincides with the annual Landscapes for Life week, a campaign that every year champions the qualities of these special places, the trails, tracks and footpaths that wend across them, and the conservation and maintenance work done by the tireless rangers who look after them.
This year, all 46 Landscapes for Life are using the hashtag #MyNationalLandscapes in an online social-media–led celebration of the natural beauty of the places they oversee, sharing news, stories and photographs captured by the people who enjoy them, which is a large proportion of the population. Every year, some 156 million people visit the places formerly known as AONBs, spending over £2 billion and supporting thousands of local jobs and businesses.
The change is a soft-touch make over – these places are naturally beautiful after all – just a renaming exercise, rather than a rebrand, and most of the imagery will remain the same. Signage will gradually be updated, but the work performed by AONB/Landscapes for Life teams across the country will continue apace, and is more important than ever, with the British countryside experiencing record numbers of visitors as domestic tourism and staycations become ever more popular in the wake of the lockdown and COVID-19 pandemic.
You can virtually explore the UK's 46 Landscapes for Life online, find an AONB near you and plan future trips, by visiting the newlook umbrella website: landscapesforlife.org.uk, or connect with them on Twitter.
All the latest inspiration, tips and guides to help you plan your next Advnture!
Author of Caving, Canyoning, Coasteering…, a recently released book about all kinds of outdoor adventures around Britain, Pat has spent 20 years pursuing stories involving boots, bikes, boats, beers and bruises. En route he's canoed Canada's Yukon River, climbed Mont Blanc and Kilimanjaro, skied and mountain biked through the Norwegian Alps, run an ultra across the roof of Mauritius, and set short-lived records for trail-running Australia's highest peaks and New Zealand's Great Walks. He's authored walking guides to Devon and Dorset, and once wrote a whole book about Toilets for Lonely Planet. Follow Pat's escapades on Strava here and instagram here.