How to break in hiking boots: top tips for getting your footwear ready for the hills
By Pat Kinsella
Knowing how to break in hiking boots will help you get the most out of your footwear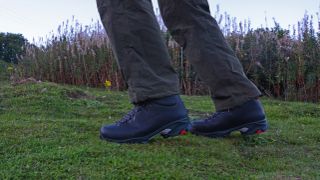 (Image credit: Pat Kinsela)
Wondering how to break in hiking boots? Not so long ago the sage advice from military types was to urinate in their boots to soften them up. Don't do that. Do follow these far more sensible and sanitary tips and tricks. Thankfully, the materials, technology, design and construction of modern boots has evolved enormously from the days when everyone was hoofing around in cardboard-stiff, full-leather boots with negligible padding and non-existent thermal protection. 
Walking through the wilderness is more than just a healthy exercise, it can be a life-affirming experience, a much-needed break from the daily grind and a chance to clear your head of hustle-bustle and stress. But you're unlikely to enjoy any of the mental or physical benefits of a hike if your hooves are in agony.
Choosing the right hiking boot for your foot is one thing, but breaking them in is another. Unsurprisingly, almost all boot brands claim their products offer your feet supreme comfort and superb support – like slippers with grip. And this might even be true – once your feet have become accustomed to the new footwear. Straight out of the box though, some boots might require a little getting used to and wearing in.
Intelligent design and boot evolution
Most quality boot makers these days employ intelligent ergonomic design in the last (the fake foot template used to shape shoes) so the resulting chassis cradles your foot and prevents movement.
They also use sophisticated, high-performing materials to make outsoles robust, innersoles comfortable and midsoles impact absorbing…to some degree or another. The uppers are typically made from a hardwearing fabric (suede, leather or a manmade material) encased in a waterproof and breathable lining, such as Gore-tex or eVent. All of this increases out-of-the-box comfort, as well as making them high-performance pieces of kit.
But that does not mean you should ever strap on a brand new pair of boots on the first morning of a multiday backpacking experience – because in that direction lies a trail of tears.
People's feet come in all sorts of shapes and sizes, and various brands have a tendency to make footwear with certain eccentricities, from tight toeboxes to lacing systems or heel wells that can cause hotspots. Interpretation of sizes isn't quite as uniform as you might think, and just because your last boot fitted your foot like a glove – or your trail buddy has been raving about the comfort levels of their boots – it doesn't mean the next pair you purchase will feel so snug.
To make sure your boots are suitable for you, and broken in sufficiently for you to take to the trail with confidence, follow these easy steps:
Why should you wear hiking boots before you buy them?
Get your feet inside some of the boots you're looking at purchasing and see how they feel. You might instantly discover that they're too narrow for your feet, or the cut of the cuff is causing discomfort – these are the kind of problems that no amount of wearing in will resolve, so cast your eyes wider and try another model or brand.
Why should you read hiking boot instructions?
Let's be honest, no one likes to do this, but believe it or not, reading those little booklets that come with boots can cut out problems before they even present. Instructions can include specific recommendations on how to break the accompanying boot in, along with other pointers on how to get the best out of your new footwear.
How to break in your hiking boots at home
Once you have the boots at home, strap them on (along with some walking socks, obviously) and go for a hike around the house. If you experience any initial discomfort, take some time to ensure they're laced correctly, that your foot is properly in place, with the tongue adjusted as it should be. If you have stairs or steps, stride up and down them a few times, occasionally placing only your toes on the front of the step.
How to break in your hiking boots outdoors
If all feels fine (aside from a little stiffness, which is to be expected), head on out around the streets a little bit, straying onto some unsealed surfaces such as fields and footpaths if you can. Deliberately tread across uneven terrain. Keep increasing your distance gradually. Wear a few different pairs of socks, to see what works best, and experiment with added insoles if you intend using them for longer treks in future.
Are weights good for breaking in hiking boots?
Load up a backpack and repeat the steps above. The more rough stuff you can roam across during this process, the better.
How long does it take to break in hiking boots?
If your future plans involve walking long distances, make sure you leave the boots on your feet inside the house for extended periods too, even if you're sat on the sofa watching the TV. Time will tell if the ankle cut and the height of the cuff is likely to cause issues, or whether the boot is going to bend around the shape your lower leg. (Note: mountaineering boots, as opposed to general hiking boots, should never bend – rigidity is what you need on technical peaks – but walking footwear should flex comfortably.)
Does breaking in hiking boots hurt?
If your feet start to tell you something is wrong, and there's no sign of any incremental improvement, listen to them. Some boots do need a bit of stretching in, but if problems persist, you will have to make a change to your footwear – it's better to do this from a position of comfort than halfway along a trail.
And remember, definitely don't take a leak in them – it won't help, and no one is going to exchange peed-in boots.
All the latest inspiration, tips and guides to help you plan your next Advnture!
Thank you for signing up to Advnture. You will receive a verification email shortly.
There was a problem. Please refresh the page and try again.