Friday 5: Mountain bagger extraordinaire Anne Butler
The Scotland-based mountain walker is the latest to answer our five quick-fire questions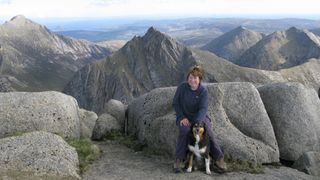 (Image credit: Anne Butler)
For more than two decades, Anne Butler has been ticking off mountain list after list.
She started hill bagging in 1998 while living in Devon with her first Munro, Ben Lomond. She has since moved to Aviemore in Scotland and has completed multiple rounds of Munros and Munro Tops, as well as the sister mountains, the Corbetts, Grahams and Donalds.
In 2018, she became only the 53rd person to claim a Full House, which includes a round of Munros, Munro Tops, Corbetts, Grahams, Donalds and Furths (Furths are the mountains with a summit of more than 3000ft across the rest of the UK).
Anne hopes to finish Munro round six this summer and she has 10 Corbetts to go for round two. She also aims to finish a second round of Donalds in the autumn.
Her dogs have always been an important part of her hill walking. Meg accompanied her on trips up from Devon and she was there when Anne finished her first Munro round.
Then came Molly, who, in 2012, became the first dog (known at the time) to have climbed all the Corbetts.
Anne now has Ralph, who she describes as "possibly the most exuberant hill dog ever".
Anne, a retired nurse, is the president of The Munro Society.
If you could only keep one item out of all your outdoor gear, which would you keep and why?
I love my walking poles. If somebody was to take away all my hillwalking gear but left me one thing, it would have to be my poles. I've got a dodgy back and trashed knees so I view poles as indispensable.
Not only do they help keep me upright over tricky ground, they are brilliant when crossing rivers, ploughing through deep snow, descending scree slopes or traipsing across miles of endless bog.
What's your pet peeve in the outdoors/adventure space?
I am not a tolerant individual and it doesn't really take much to set me off on a rant. It's impossible to narrow down my pet peeve to one thing.
Unfriendly and aloof people on the hills really get to me. Sometimes the last thing we want to do on the hill is to have to chat with the people we meet, but how hard is it to be civil?
Passing a lone walker on a remote Graham (Scottish mountains with a summit of between 2000ft and 2500ft) is a novel experience because there are usually so few people on these mountains, so you could at least manage to wave or say "hello" as you pass by.
People poo in the hills. Let's face it, when you have to go, you have to go. But those people who just poo and leave it there for everyone to see are simply ignorant beyond belief.
People like them have no respect for the beauty of the environment they are in or the others that use it and until they learn to do so, they should stay at home for all our sakes.
If you could be instantly transported to the start of any adventure, what would it be, where and why?
If I could be instantly transported to the start of an adventure it would have to be a midge-free camping pod on the Isle of Rum. The one thing that stands between me and the completion of a second round of Corbetts (Scottish mountains with a summit of between 2500ft and 3000ft) is a visit to Rum.
The trip was planned for last year, but we all know how that panned out. This year my pal Andy and I are ready to go and all we need is a ferry to get us there and a two-day weather window.
We're sitting round a campfire. Tell us a funny or entertaining story about one of your adventures.
Bikes and I don't get on. It was during an autumn trip to the mountains Sgurr Mor and Sgurr an Fhuarain when matters reached a head.
Andy and I had gone in from Glen Kingie rather than Glen Dessary to try out an alternative route. Parts of the track resembled a swamp and there was a lot of swearing, a lot of pushing and progress was slower than expected, so we got back to the bikes at dusk.
It was then we discovered that one of the group had lost her headtorch. So that was two people, one hyperactive collie and many miles of forest tracks to cover in the dark with only one headtorch between us. What could possibly go wrong? Well, a lot actually.
I fell off (quite a bit), while Andy spent quite a lot of time retrieving me and my bike from ditches and laughing far more than was necessary.
Is there any gear that's on your shopping list at the moment?
I have had to face the fact that if I am going to carry on climbing remote hills then I am going to have to overcome my dislike of all things bike, so I have bitten the bullet and ordered an e-bike. I have also bought my collie Ralph a dog trailer to pull behind it.
I am not sure if I will ever grow to love cycling but needs must. I have picked possibly the worst time ever to try to buy an e-bike as all the bike shops have limited supplies and a waiting list.
Mine will arrive in July and then I won't be able to put it off any longer, I'll have to get back in the saddle.
All the latest inspiration, tips and guides to help you plan your next Advnture!
Fiona Russell is a widely published adventure journalist and blogger, who is better known as Fiona Outdoors. She is based in Scotland and is an all-round outdoors enthusiast with favourite activities including trail running, mountain walking, mountain biking, road cycling, triathlon and skiing, both downhill and back country. Her target for 2021 is to finish the final nine summits in her first round of all 282 Munros, the Scottish mountains of more than 3,000ft high. Aside from being outdoors, Fiona's biggest aim is to inspire others to enjoy the great outdoors, especially through her writing. She is also rarely seen without a running skort! Find out more at Fiona Outdoors.