Friday 5: Ultra runner Damian Hall
The record-breaking long-distance athlete answers our quick-fire questions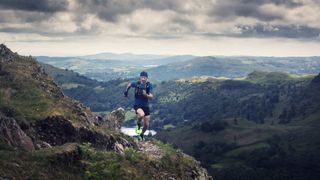 (Image credit: Damian Hall)
Damian Hall is a tea-guzzling ultra runner who broke three records / Fastest Known Times (FKTs) last year, including the 261-mile Pennine Way. 
His new book, In It For The Long Run, is out in May and available for pre-order from Vertebrate Publishing now. 
If you could only keep one item out of all your outdoor gear, which would you keep and why? 
Ooooh. I'd have to go for my inov-8 Terraultra G 270s. They fit me like a glove, they are more versatile than they should be, they have ace grip, the graphene grip is durable and they've helped me nab a couple of cheeky records, too. 
What's your pet peeve in the outdoors/adventure space? 
Hmmm. Being outdoors somewhere a bit green and lumpy is almost always such a positive feeling, it's hard to be negative. I guess litter is an obvious one, though.
If you could be instantly transported to the start of any adventure, what would it be, where and why? 
A crossing of Antarctica would be the dream... Sigh. It's just the ultimate wilderness and adventure experience, in my head at least. But then perhaps I've read too many Robert Scott biographies. 
We're sitting round a campfire. Tell us a funny or entertaining story about one of your adventures.   
Oh cripes. Erm, I once got lost at the top of a New Zealand mountain for an alarming amount of time in a white out, looking for a Fellowship Of The Ring filming location. Does that count?
Is there any gear that's on your shopping list at the moment? 
Sorry to be boring, but I'm really trying to cut down on gear/kit/equipment. We're all over-consuming and it's bad for the planet. The most sustainable kit is the stuff we already own. I'm trying to make mine last. That is really boring. Sorry.
All the latest inspiration, tips and guides to help you plan your next Advnture!
Thank you for signing up to Advnture. You will receive a verification email shortly.
There was a problem. Please refresh the page and try again.