Celebrating the life of Hamish MacInnes, Scottish mountaineer
An incredible contribution to mountaineering and Mountain Rescue across the world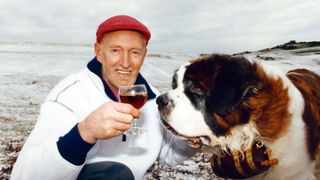 (Image credit: Getty Images)
The late and great Hamish MacInnes died on 23rd November 2020, aged 90, at his home in Glen Coe surrounded by mountains. When I heard the news, I vaguely knew that he was one of the mountaineering greats of the last century. I didn't know much but I kind of recognised the name. Perhaps MacInnes is a common surname in Scotland, I thought. But the more I read, the more I realised: no. MacInnes may well be a common Scottish surname, but all the times I'd heard it used were actually the same man.
As a member of Mountain Rescue myself, I'm astounded at how much Hamish MacInnes contributed. Imagine the eye-widening moment when I realise that this is The Mr MacInnes of the MacInnes stretcher – the classic Mountain Rescue stretcher used worldwide. Hamish MacInnes made it. And it's the same Hamish MacInnes who wrote the International Mountain Rescue Handbook. The same man who basically set up Glen Coe Mountain Rescue team, started SARDA (the Search and Rescue Dogs Association) and the Avalanche Information Service. Wow.
But as if completely changing the face of Mountain Rescue in the UK and beyond wasn't enough, this is also the man who invented the all metal ice axe. For those no in the know, this is rather like being introduced to the person who invented the egg box or the silicone spatula. Mountaineers made do with wooden shafted axes before, but you'd be considered a bit of a maverick to use one nowadays. Wood is nowhere near as durable or safe – and when you're relying on this bit of kit to save your life...
In a BBC film of his life, Final Ascent, Hamish MacInnes said the idea came after the death of three climbers on a winter route in Scotland. MacInnes was contacted by the police about the missing climbers and, after finding their bodies, discovered that they'd used an ice axe as an anchor. The wooden shaft had given way and they'd all fallen to their death.
Throughout his life, Hamish MacInnes wrote some 40+ books on topics relating to travel, rescue and mountains. To my shame I have never read even one of them and will be rectifying that as soon as possible. Perhaps I'll start with one of his narratives of exotic, exploratory climbs like Climb to the Lost World or maybe The Price of Adventure: Mountain Rescue Stories across Four Continents. Either way, I'm sure that the more I read, the more I will be amazed by this man's life and the breadth of his work.
All the latest inspiration, tips and guides to help you plan your next Advnture!
An adventure writer based on Dartmoor, England, Emily is an active member of Mountain Rescue and a summer Mountain Leader, but loves all things adventure – before her third birthday she had lived on three continents. Founder of Intrepid magazine, she works to help break stereotypes about women in the outdoors. Her expeditions have included walking all Dartmoor's 119 tors in a single two-week outing, cycling to Switzerland and back, and riding the Rhine from source to sea.