How to plan a backpacking adventure
Knowing how to plan a backpacking adventure will help you to get the most out of those on the hoof adventures.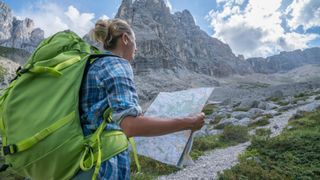 (Image credit: Getty)
If you don't know how to plan a backpacking adventure, your multi-day hiking or backpacking trip can quickly get out of hand. It appears on the surface like a release into the freedom and simplicity of a life that's just you and your backpack. But if you scratch the surface, it can quickly descend into a logistical nightmare.
Some trips will take more time to plan than others. Much depends on how long you're going, where you're going, and when. Plus, how much you like the added flavour of a full-blown last-minute panic before leaving?
Some trips you might need to start really slowly, booking a permit years in advance, while others can be done on a whim, by simply packing a bag and dashing out the door in the spur of the moment. Either way, there is a basic structure you can follow, just adjust the timescales to suit your backpacking trip.
A long time in advance
This is the time for general logistics – the big picture. Decide where you're going, roughly when and what sort of trip you want to do. A particular hiking trail might jump out at you, or you might make up your own itinerary. But don't jump straight into the specifics.
Explore possibilities and check that what you're thinking of is even a feasible combination of times, weather conditions and locations. While you're planning, remember this is the fun bit! Spend hours getting lost down internet alleyways. Cover your bedroom floor with maps.
Closer to the trip
Once you've got settled on your idea, it's time to start booking proper logistics. For most people this will generally be transport and accommodation. This step might come sooner rather than later, depending on your choices.
For example, booking a hut-to-hut trek in the Dolomites for summer season will require longer pre-planning, as huts book up quickly. If you're camping, make sure to book campsites or check the rules and regulations regarding where you can pitch. Let's not take the outdoors for granted.
At this stage, you're taking your plans from the general to the specific. You need to tighten down on your precise route, leaving some flexibility for when accommodation and transport options don't quite go as planned. Find out more about the specifics of your backpacking location - like local hazards (snakes, avalanches, bears…) - to allow you to prepare accordingly.
This is also the time to start checking your existing gear and collecting any extra necessary kit. You don't want any surprises when you come to pack your rucksack. Although some people might just call that more of an adventure…
The days before the trip
You're almost ready to step out on your backpacking trip. There should be a few items on your countdown checklist. Pack your backpack and make sure it all fits. Check the weather forecast (and again and again... ).
Ensure you've got a really detailed route for your trip, including where you intend to spend each night and where you can exit in an emergency. It's a good idea to leave a copy of this route card with someone back at home.
Most multi-day hikers will take some sort of communications device with them. Trackers and locator beacons like a SPOT or Garmin InReach are popular for people on longer and more remote hikes. They're particularly useful if you're going solo.
Either way, make sure that if you agree to send regular update messages back home it's something realistic. Don't agree to text every night only to find you're out of signal with no other means of communication. This is only going to cause unnecessary panics.
Make any last minute tweaks, change your mind about which snacks are best… and then you're ready. Turn off your light ready for tomorrow's adventure.
All the latest inspiration, tips and guides to help you plan your next Advnture!
An adventure writer based on Dartmoor, England, Emily is an active member of Mountain Rescue and a summer Mountain Leader, but loves all things adventure – before her third birthday she had lived on three continents. Founder of Intrepid magazine, she works to help break stereotypes about women in the outdoors. Her expeditions have included walking all Dartmoor's 119 tors in a single two-week outing, cycling to Switzerland and back, and riding the Rhine from source to sea.