Top backpacking hacks: a dozen tips to from the pros to use on your hiking adventures
These 12 savvy backpacking hacks will ensure your adventure into the wilderness is as fun, comfortable and safe as possible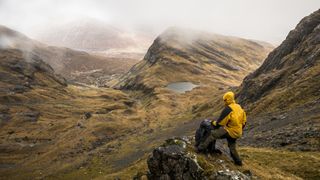 (Image credit: Preserved Light Photography)
It's natural that you'll develop smart backpacking hacks the more time you spend exploring the wilderness. These little efficiencies are not in themselves game changers but when you add them all up together over a day, suddenly you are having more fun and feeling much safer out there on the trails.
With the spring and summer hiking seasons beckoning, many of us are hatching plans for awesome escapes. It's likely you've got a few backpacking hacks of your own and you will probably have a chance to share some of them with your friends and family. We thought we'd do the same for you.
From ways to keep your best sleeping bag warm to tricks to keep your clothing dry on multi-day treks, we've compiled a dozen of the most useful backpacking hacks, supplied by avid backpacker Lynn Hall from Leadville Outdoors and Mountain Market in Colorado.
By following Lynn's advice, you'll be surprised at the difference these tricks can make when you next lace up your hiking boots and head for the hills. So, let's get on with it, here's twelve backpacking hacks to make your days out easier and more enjoyable.
Backpacking hacks: repackage your food before you pack it
Food can be one of the heaviest things you carry, so it's wise to make sure you take appropriate portions and don't add weight by carrying unnecessary packaging. Plan out your camping meals and snacks and then pack what you can into sealable bags. (If you have the capability of vacuum sealing those bags, it will optimize your packing abilities.) It will be easier to fit those into your pack and it will force you to err on the lean side when it comes to packing food, especially when it comes to snacks. For example, you might want to bring five carrots and apples, and a dozen cookies, but it might make sense to consider taking three carrots and apples and six cookies.
Backpacking hacks: download offline maps to your phone
You'll use your smartphone to take pictures, but you might need it as a safety device. Even if you don't have cell service, you can access offline maps if you download them ahead of time as gpx files or a similar format. You'll be able to read the maps and find your location with GPS service. We all take the wrong trail or get lost on occasion, but having one of the best navigation apps on your phone is a handy backpacking hack that can tell you precisely where you are at all times. If you desperately need service, you might be able to get intermittent service at the high points of the area you are in, such as a mountain pass, a hill or the high point in a valley.
It's also prudent to make sure you study maps and guidebooks of the area you'll be backpacking before you head out and always carry a map and compass.
Backpacking hacks: pack the right clothing
Cotton clothes and socks absorb and trap moisture, causing you to become potentially rather chilled, so you should instead opt for apparel made from soft, moisture-wicking synthetic materials or a blend of natural wool and synthetic materials. Synthetic and wool fabrics are more effective at pulling the moisture away from your skin and can speed the process of evaporation and drying. Plus, wool tends to naturally stink less than synthetics after several days of wear, while some synthetic fabrics have antimicrobial properties that also reduce the bacteria that can thrive in sweaty clothing. Another useful backpacking hack is to always pack a warm pair of gloves, a knit hat and a down jacket and opt for a thoroughly waterproof shell jacket as opposed to a water-repellent wind jacket.
Backpacking hacks: combat insects
There's little that can disrupt a fun backpacking trip the way mosquitoes or midges can. They can force you into your tent and even torment you in there. Covering your skin and clothes from head to toe with one of the best insect repellents can be a good first step, but you can also keep them at bay by burning sage leaves in your campfire, pitching your tent with the door flap facing the wind and by avoiding camping near swampy or wet areas. There are also numerous natural repellents to consider, including lemon eucalyptus oil, crushed lavender flowers, cinnamon oil and thyme oil.
Backpacking hacks, keep your gear dry
Surprisingly, most backpacks aren't designed to be waterproof by nature, though many do have a stowable rain cover. There are a couple of things you should do to keep your gear, food, clothing and toilet paper dry if you're hiking in rainy weather. First, insert a waterproof liner bag — large dry bags are ideal — into your large backpack storage compartment and put gear and apparel susceptible to getting wet inside of it. Next you can buy an inexpensive waterproof rain cover that can cover the entire exterior of your pack. Also make sure you pack all of the smaller items in your pack in small to medium-sized sealable plastic bags or smaller dry bags. Lastly, waterproofing sprays can effectively seal the fabric of your pack, but given all of the seams and openings in most packs, be aware those sprays aren't an infallible solution.
Backpacking hacks: always bring duct tape
Stuff can get damaged when you're backpacking and it's good to be able to quickly fix a bit of gear or carry out speedy tent repairs. You might rip a tent panel. The zipper pull on your jacket might break. You might snap a trekking pole. Is there a solution capable of repairing just about anything? Duct tape! OK, duct tape can't fix everything, but it can do wonders for you in a wide range of applications – even helping you temporary fix blisters on your feet. Don't take a full roll – which might be 50 yards (45 meters) of tape – but take enough. Wrap it several times around a plastic water bottle or each of your trekking poles. Also consider taking a tiny tube of super glue for those just-in-case scenarios that duct tape can't fix, and a few cable ties.
Backpacking hacks: predict the sunset
It's a lot easier to set up your campsite before the sun goes down, so it makes sense to complete your hike with at least 30 to 45 minutes left to spare. There's a good backpacking hack for knowing how long you have left. Extend your arm fully and horizontally, line up your fingers between the sun and the horizon line. Each finger width represents about 15 minutes, which means each hand width should be about an hour. If you can fit three fingers, that's 45 minutes. If you can fit eight fingers, that's two hours. Keep in mind it's just an estimate, but if you use it to your advantage you'll be happily set up before dark. You can set up a tent with the help of a headlamp (see our guide to the best headlamps for some good options), but wouldn't you rather be set up before the sun sets so that you can relax and enjoy the spectacle?
Backpacking hacks: make a clothes line
If your clothes get wet – no matter if it's your socks, gloves, hat or base layer– you should do everything you can to try to dry it because you might need to wear it again, and it's much heavier to carry while damp. The best way to do that is hang the wet items in the sun or next to a campfire. Carry a few clothespins or office binder clips and you can hang your stuff on your tent, tree branches or even off the back of your back as you continue to hike along the trail. Even if it doesn't fully dry, partially dry is much better than soaking wet.
Backpacking hacks: make sure you can start a fire
A campfire is an amazing resource – it can warm you, cook your food, dry your clothes and allow you to relax after a long day of hiking. But if you can't start a fire because the available kindling is damp, life can be miserable. If campfires are allowed where you're camping, increase your odds by carrying some fire starter sticks or a fire starter steel striker kit. You can also make a DIY version by soaking cotton balls or cotton pads in Vaseline or another form of petroleum jelly and carrying them in a sealable plastic bag. If you get into a bind without those items, tightly wound toilet paper or tortilla chips can also work as kindling in a pinch. Oh, be sure always carry a cigarette lighter or waterproof, strike-anywhere matches.
Remember to always adhere to the principles of campfire safety.
Backpacking hacks: pack baby wipes
Baby wipes are one of those products that can be applied for more than its intended use. When you're in the outdoors, you always get a little dirty and never really have the opportunity to get fully clean. Taking a packet of baby wipes can offer a quick freshen-up before you call it a night by helping you remove the layer of dust and grime you collected during the day. Yes, they're a luxury item and can add extra weight to your daypack, but you can reduce the packaging and weight carrying only two for each day you'll be camping in a sealable plastic bag.
Backpacking hacks: create your own lantern
It's one thing to have a flashlight or a headlamp when you're walking around your campsite, but once you're in the tent a lantern can more judiciously create ambient light. If you don't have a lantern, simply take off your headlamp and wrap the band around a transparent water bottle with the light facing inward. The water and translucent texture of the bottle will diffuse the light and allow it to radiate as a glow of ambient light in your tent. Try this on the lowest light setting of your headlamp, to avoid draining the battery too quickly – your eyes will quickly adjust to the half light. However, low lighting isn't bright enough to read with and could put a lot of strain on your eyes.
Backpacking hacks: keep your sleeping bag warm at night
On cold nights, boil some water just before you bed down for the night, then pour it into a water bottle and put it in your sleeping bag when you're ready to sleep. To prevent it from burning your skin, stuff it in a sock or wrap it with a bandana. The heat from the bottle will warm you and the inside of your bag up after you zip and seal yourself off the from the cold evening air. The bottle will eventually cool off, but by then your own body heat will keep your bag toasty warm. And, even in the morning, you'll have pre-boiled water, ready to drink.
All the latest inspiration, tips and guides to help you plan your next Advnture!
Brian is an award-winning journalist, photographer and podcaster who has written for Runner's World, The Times, Outside, Men's Journal, Trail Runner, Triathlete and Red Bulletin. He's also the author of several books, including Kicksology: The Hype, Science, Culture and Cool of Running Shoes. He lives in Boulder, Colorado, and loves to run, bike, hike, camp, ski and climb mountains. He has wear-tested more than 1,500 pairs of running shoes, completed four Ironman triathlons, as well as numerous marathons and ultra-distance running races.