Who was John Muir? The Scottish-American who fought to protect our wilderness areas
Who was John Muir? We take a close look at the life of the influential 'father of the National Parks' and consider his ongoing legacy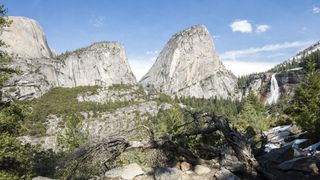 (Image credit: Getty)
Who was John Muir? You've probably seen his immortal line "the mountains are calling and I must go," quoted countless times on Instagram or printed on any number of hoodies or camping mugs. You may have heard of the John Muir Trail, a 340 km long-distance trek across the High Sierra backcountry and wilderness areas. You might even know him as the 'father of the national parks' or as 'John of the mountains'. So, what was it that ingrained him so deeply into the wider consciousness of the great outdoors community?
First and foremost, Muir was a lover of nature and the wild places, enjoying nothing more than donning his hiking boots and exploring the backcountry. It was this burning passion that drove him to campaign for the protection of certain landscapes. Through his writing, his activism and his exploits, he became the figurehead of the modern nature conservation movement. Fascinated by both the huge scale of wilderness landscapes and the minutiae contained within, he became an early authority on botany, glaciology and zoology.
Who was John Muir? A controversial figure
His campaigning led to the formation and the protection of the Yosemite National Park and he was the co-founder of the Sierra Club, a nationwide organization that promotes environmental policies.
However, despite the positive impact he has had on our wild places, Muir was recently denounced by the Sierra Club for holding racist views, along with many others involved in the early conservation movement. He was also prone to displays of machismo, such as climbing to the top of a tree for a front row seat amid a raging storm or literally attempting to ride an avalanche.
While his adventures gained him notoriety, it was his writing that made him famous. His words reverberate through the centuries, inspiring millions of people to grab their hiking backpacks and head out, as well as providing the blueprint for how to appreciate and care for our backcountry.
It's in large part down to Muir that vast swathes of wilderness were – and continue to be – protected. The very idea of what a National Park should represent came from him. Today, National Parks across the world welcome countless adventurers who follow his lead in terms of respect and reverence for the natural environment. An even better way to use his legacy as a positive is to also learn from his mistakes and ensure that, as a society, we are inclusive and welcoming to all walks of life in our most cherished natural places.
Who was John Muir? Early life
Muir was born on April 21, 1838 in the small town of Dunbar to the east of the Scottish capital of Edinburgh. Here, in the countryside and along the coast, he developed a love for wildlife and the outdoors, his main escape from the strict religious upbringing of his disciplinarian father.
When Muir was 10 years old, his family emigrated to Wisconsin in the US, starting a farm near the city of Portage. His religious teachings and fascination with nature became the twin pillars for a deeply spiritual outlook on life. The outdoors was fast becoming a sort of church for the young Muir. During his time at the University of Wisconsin-Madison, he developed a love for botany and the sciences. He studied chemistry alongside Ezra Carr and his wife Jeanne, with whom he would become lifelong friends. It was Jeanne who first introduced Muir to his future wife, Louisa Strenzel, in 1878, who he married two years later in 1880.
Back in the 1860s, he moved to Indianapolis and was working in a wagon wheel factory when, in March 1867, an event occurred that shook his whole perception of life and his purpose to its core. While working in the factory, an awl slipped and pierced his right eye, causing him to completely lose his sight. It took several weeks to return and it was during this time that he realised that he had to "follow his dream of exploration".
Who was John Muir? Following his dream and Yosemite
The September after his awful accident, Muir set out on a 1,600 km walk from Kentucky to Cedar Key in Florida. After arriving, he became once again afflicted, this time by malarial sickness, which he barely survived. Unperturbed, he boarded a ship bound for Havana, before sailing to New York and eventually booking passage to California and San Francisco.
The story goes that he was somewhat overwhelmed by the hustle and bustle of the city and asked local people to point him in the direction of somewhere wild. He was pointed in the direction of the Yosemite Valley. His arrival in this magnificent landscape changed his life; he was awestruck by the cascading waterfalls, towering granite cliffs, verdant woodland and astonishing vistas.
He soon made Yosemite his home, working initially as a sheep farmer. However, he soon developed a dislike for the sheep, denouncing them as "hoofed locusts". He recognised the negative impact of overgrazing on native woodland and natural diversity. Yosemite was a very different place back then, there was much in the way of logging and the area was owned by the state of California. It did not enjoy the same protection that it does today. Muir recognised that unless our natural spaces were appropriately shielded from human influence, we would one day lose them forever.
He revelled in exploration and scientific study. He climbed Cathedral Peak, put forward the idea that glaciation had forged Yosemite's stunning landscapes and conducted studies of the groves of giant sequoia. His adventures weren't limited to Yosemite either; he made several trips to Alaska, travelled to British Columbia and even climbed the iconic Mount Rainier in Washington.
Who was John Muir? Writing, conservation efforts and the Sierra Club
Throughout this time, Muir documented and wrote about his experiences and continued to collect and classify botanic specimens and fossils. He would send his findings to the fledgling University of California, and built a career as a successful writer. The tales of his adventures were told over six published volumes – and more were published posthumously – inspiring countless Americans to venture out into the wild in their hiking shoes and to stand up and fight for the protection of the nation's wilderness areas.
In June 1889, Robert Underwood Johnson, the associate editor of the progressive magazine The Century, implored Muir to write about his observations regarding Yosemite. Muir made recommendations for Yosemite's protection in his article 'Features of the Proposed National Park'. In 1890, Congress established Yosemite National Park, paving the way for the America's modern National Park system, though at this point Yosemite was still under state control.
In 1892, Muir founded the Sierra Club and was elected club president, which he would remain until his death 22 years later. The club was formed initially as a group for local mountain lovers but quickly became involved in various conservation campaigns, including efforts to ensure Yosemite National Park – including Yosemite Valley and Mariposa Grove – passed from state to federal control. The club also fought the proposed building of a dam in the Hetch Hetchy Valley, a battle which they eventually lost.
Muir also formed an unlikely friendship with US President Theodore Roosevelt, who accompanied Muir on a camping trip to Yosemite in 1903. Roosevelt found Muir's convictions so stirring and the landscape so magical that he was convinced that the exploitation of such places should end and that they should be shielded from such human influence. This was a pivotal moment in ensuring the protection and status of Yosemite and wilderness areas everywhere.
Who was John Muir? His legacy
Muir died from pneumonia at the age of 76. Following his death, yet more of his written works were collated and published. The impact of his words still resonates today, leading some to call him 'the patron saint of the American wilderness'. His reverence for and kindness towards nature has had a huge influence of people's perception and appreciation of our natural places, our national parks and our wilderness areas.
"Thousands of tired, nerve-shaken, over-civilized people are beginning to find out that going to the mountain is going home: that wildness is a necessity," wrote John Muir in 1875. It is telling that almost a century-and-a-half later, his words still ring true. However, thanks in part to his actions, vast swathes of wilderness still exists and, better still, they are that much more accessible than they were in the 19th century.
All the latest inspiration, tips and guides to help you plan your next Advnture!
Alex is a freelance adventure writer and mountain leader with an insatiable passion for the mountains. A Cumbrian born and bred, his native English Lake District has a special place in his heart, though he is at least equally happy in North Wales, the Scottish Highlands or the European Alps. Through his hiking, mountaineering, climbing and trail running adventures, Alex aims to inspire others to get outdoors. He is currently President of the London Mountaineering Club, training to become a winter mountain leader, looking to finally finish bagging all the Wainwright fells of the Lake District and hoping to scale more Alpine 4000ers when circumstances allow. Find out more at www.alexfoxfield.com