Hiker rescued after being stuck for 16 hours in 12-inch-wide crevice
A 29-year-old woman was trapped in a narrow rock passageway 100 feet underground in a cave in San Diego County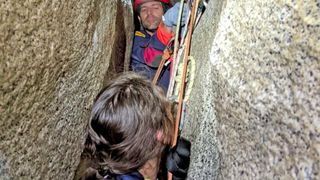 (Image credit: Fox 5 San Diego)
A female hiker has been rescued after being stuck for 16 hours in a narrow crevice just 12 inches wide in caves near San Diego, California.
The woman, who was rappelling underground with a group of friends, was exploring the Carrizo Gorge Wilderness when she became trapped in a gap about a foot wide around 100ft underground.
Her friends tried to get her out, but having failed, they called 911 for help. The following rescue became a long and massive effort. "It takes hours to hike into the caves, and rescuers had to inch their way into very narrow passages while slowly passing along their gear and equipment," said Lt Jeff Ford of the San Diego County Sheriff's Department.
The closest rescue team member that night was help David Angel of the San Bernardino Sheriff's Department's Technical Rescue Team, and even he was 40 miles away guiding another group of cavers. It took a 90-minute hike just to get to the trapped hiker, and then actually extracting her was a far from straightforward operation.
"You find yourself stuck between two walls of the cave where it is so tight you can't even turn your head to the side," said Angel, describing the woman's predicament, which he reckons, could have happened to anyone. "It was a series of small mistakes, something any of us could have done," he said.
Deputies, volunteers with the sheriff's Search and Rescue Division, personnel with the state Office of Emergency Services and a cave-rescue team with the San Bernardino County Sheriff's Department were all involved in the rescue.
"We were really concerned about hypothermia with the patient and so we got some heat packs on her," said Angel. "We tried to bring her up and out of it but it was too tight for her to go up. So we had to haul her out her sideways."
Even after extracting her from the rock, the woman was so exhausted that Angel and other rescuers had to bring her to the surface. From first becoming trapped at 4pm to finally reaching the surface again at 10am the next day was a 16 hour ordeal.
She was then airlifted by a Cal Fire helicopter to a safe area where a waiting medical team treated her for exhaustion, scrapes and bruises.
All the latest inspiration, tips and guides to help you plan your next Advnture!