Hong Kong woman sets record for fastest ascent of Mount Everest
Former teacher Tsang Yin-hung reaches the summit of Mount Everest in 26 hours, recording the fastest ascent by a woman of Earth's tallest peak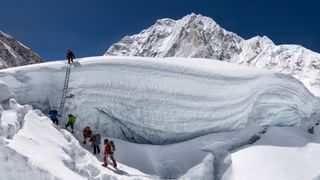 (Image credit: Westend61)
On Thursday May 27th, Hong Kong mountaineer Tsang ("Ada") Yin-hung recorded the fastest ascent of Mount Everest by a woman with a time of under 26 hours, smashing the previous record by more than 13 hours.
Yin-hung, 44, set off from the Mount Everest basecamp on the Khumbu Glacier at 1:20 pm on Saturday, May 22nd, and reached the summit of the 8,848.86-meter (29,031 ft.) peak at 3:10 pm the next day, recording a time of just 25 hours and 50 minutes.
Prepping for your own busy season in the mountains? Make sure you have all your hiking essentials
Looking for new footwear for summer hiking and mountaineering? Our guide to the best hiking boots has you covered
For a lighter alternative, check out our buyer's guide to the best hiking shoes
Hong Kong mountaineer Tsang Yin-hung recorded the world's fastest ascent of Everest by a woman with a time of just under 26 hours.#TsangYinHung #MMNewstvMay 27, 2021
Yin-hung became the first Hong Kong woman to summit the planet's tallest peak in 2017, and this week's successful ascent was her third attempt at reaching the top. The fastest known ascent of Everest by a woman was previously held by Nepali Phunjo Jhangmu Lama, who summited in 39 hours 6 minutes in 2018.
Yin-hung's new record is the latest in a succession of notable achievements on Everest so far this season, following Kenton Cool's 15th ascent (breaking his own British record), Arthur Muir becoming the oldest American (at 75 years old) to summit the mountain last Sunday, and Kami Rita Sherpa claiming two new records by becoming the first to summit twice in the space of a week and then breaking his own record for most ascents by reaching the peak for a remarkable 25th time on May 7th. According to the Nepal Tourism Department, over 350 mountaineers have summited Everest so far this spring.
All the latest inspiration, tips and guides to help you plan your next Advnture!
Former Advnture editor Kieran is a climber, mountaineer, and author who divides his time between the Italian Alps, the US, and his native Scotland.
He has climbed a handful of 6000ers in the Himalayas, 4000ers in the Alps, 14ers in the US, and loves nothing more than a good long-distance wander in the wilderness. He climbs when he should be writing, writes when he should be sleeping, has fun always.
Kieran is the author of 'Climbing the Walls (opens in new tab)', an exploration of the mental health benefits of climbing, mountaineering, and the great outdoors.