The best hiking shoes: a lighter alternative to walking boots
By Fiona Russell, Pat Kinsella
For many trail walking adventures, the best hiking shoes will be a better choice of footwear than hot and heavy boots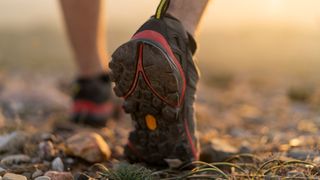 (Image credit: Getty)
There's a tendency for people planning a trek to assume they need to wear a pair of boots, but in fact the best hiking shoes are often the most efficient and smartest footwear choice available.
Tailor-made for walking trails, walking shoes occupy a sweet spot between a trail running shoe (which is much lighter, and prioritizes speed over robustness) and a traditional heavyweight men's hiking boot or women's hiking boot.
Sometimes the boundaries do become blurred, as brands experiment with technologies and produce shoes for various adventures that lean closer to running shoes, approach shoes or boots. For the most part, however, the best hiking shoes are essentially a version of the best boots with a low-cut collar. The sole and midsole technology will be exactly the same, with good grip and cushioning respectively, and they will typically have features such as a re-enforced toe box and a robust upper. The big difference is that they are much lighter than boots, so you will feel far less fatigued at the end of the day.
It's important to note that even the best hiking shoes are only really appropriate for fairer conditions, usually for spring and summer walking. While many have waterproof and breathable membranes, there's only so much wet a shoe can cope with because eventually the rain will seep into the ankle cuff. Walking through puddles and bog risks further water ingress in the ankle area.
Walking shoes also lack ankle support, and while this is not an issue for most people on easy going trails and paths, if you are carrying a heavy backpack and/or plan to head off the beaten track, or high into rocky and heathery mountains, you might prefer to wear a boot.
Above all other considerations, the best hiking shoes should feel immediately comfortable. That comfort should last – and last – whether you are enjoying a daily stroll through a local park or an adventurous multi-day hike on a long-distance trail. Put simply, the best hiking shoes are those that you do not notice you're wearing.
The best hiking shoes you can buy
Merrell MQM Flex 2 GTX
RRP: $140 (US) / £120 (UK) | Materials: Waterproof mesh upper, Gore-Tex membrane, Quantum Grip rubber outsole | Weight per shoe (men's): 350g/12oz | Weight per shoe (women's): 290g/10oz | Colors (men's): Burnt granite / Black / Black & grey / Black & orange / Black & white / Moonbeam raven / Orange / White | Colors (women's): Black HV / Dragonfly /Black / Black & White / Granite wave / Lichen | Compatibility: All trails in all but the worst conditions
Very comfortable
Excellent grip
Vegan-friendly
Not as durable as some on test
Grit can get between tongue and chassis
A versatile shoe, the second generation Merrell MQM leans more towards a robust trail running shoe than it does a traditional hiking boot, with features such as a rockplate offering protection against sharp flints and sticks, doing the job of a thick midsole at a fraction of the weight. As such, you can move along even pretty technical trails at pace in these shoes, and they feel agile – but they probably won't last as long as a chunkier shoe. Merrell's mountain-grade Quantum Grip rubber outsole features strategically placed 5mm lugs that grip hold of most terrain excellently and provide plenty of confidence. There's air cushioning in the heel, which supplies some bounce and shock protection (especially for the heel strikers out there), and the Flexconnect functionality in the midsole is good for balance and trail feel. The Gore-Tex lining keeps trail juice at bay, but grit can get down between the tongue and the shoe. The extra connection between the laces and the body of the shoe, via an integrated strap across the forefoot, feels largely cosmetic, although it does enable you to do the laces up nice and tight if you're heading into gloopy boggy terrain, and there's an extra lace hole to help with this too.
Columbia Facet 30 OutDry Shoe
A nimble, waterproof, hiking sneaker
RRP: $130 (US) / £125 (UK) | Materials: Balistic textile upper, Techlite EVA midsole, Omni-Grip rubber outsole | Weight per shoe: 392g/14oz | Colors (men's): Cobalt blue & Autumn orange / Cyber purple & river blue / Ti grey steel & koi / Azul & extreme midnight/ Black and bright red / Black, ti grey steel | Colors (women's): Siberia & grey ice / Black & red coral / Black & night tide / Rouge pink & voltage / Ti grey steel & new moon / Night tide & dark fuchsia | Compatibility: Coastal and countryside adventures
Comfortable
Well cushioned
Speed lacing
Only three lace loops
Questionable durability
People will love or hate the look of these shoes, particularly the angular lines of the maxi style Fluidframe midsole; they look like they're cut from ice, but are they cool? All in the eye of the beholder. Describing them as a hiking sneaker – which might put them in a genre all of their own – Columbia openly admit that the design and build of the Facet 30 has been inspired by running shoes, and they are a swift and nifty piece of footwear. The chunkiness of the collar does actually shield your ankle, and there is a protective rand around the toe and heel. Even so, the lugs are not especially aggressive on the Omnigrip outsole and the upper feels a tad on the light side for serious hiking in high hills, and we think the Facet 30 is best suited for coastal and coutryside adventures in relatively good conditions. Having said that, the spongy OutDry chassis is waterproof, even if it doesn't look it, as well as being breathable. The level of cushioning in the Techlite midsole is impressive too, providing plenty of energy return and putting a spring in your step. The shoe boasts a speedlacing system, but there are only three lace loops on either side, meaning shoe can feel a little loose.
Scarpa Zodiac
A technical approach shoe for crag climbers and peak baggers
RRP: $200 (US) / £150 (UK) | Materials: 1.8mm Water-Resistant suede upper, Cocona breathable and waterproof lining, Vibram Drumlin sole | Weight per shoe: 960g | Colors: Lake blue | Compatibility: Approach routes to climbing areas, rocky and technical trails and scrambles, and via ferrata
Rigid sole
Excellent for edging
Superb toe and heel protection
Little cushioning
Less comfortable for everyday hiking
Limited colorways
The Zodiac is an all-out 'approach shoe' – the footwear choice of climbers who are walking in towards a crag or a peak, where they will often don a pair of dedicated climbing shoes to go into battle against gravity on the rockface. However, these shoes are not just useful for hardcore climbers, they are also an excellent choice for hiking on rocky terrain, tackling technical scrambling routes and climbing up and down via ferrata, where the rigidity of the sole and the extensive toe protection makes them perfect for edging around rocks and keeping your feet in the right position as you ascend. These same attributes on the aforementioned terrain men that they are not overly cushioned and can feel stiff and clunky on less technical walks and longer hikes across flatter terrain, when you might be better with a more traditional hiking shoe. Scarpa are renowned for their technical climbing and mountaineering shoes and boots, and the Zodiac benefits from all their expertise. The Vibram Drumlin sole offers superb grip on rocky surfaces, and the suede upper, backed by a Cocona lining keeps water out while allowing your feet to breath. The lacing system extends right down to the toe, keeping the shoe firmly in place on your feet, and a hardy rand protects your toes. Used on the terrain they're designed for, these are excellent shoes.
Berghaus Explorer FT Active Gore-Tex shoe
A stable, durable shoe created by a big brand that knows exactly what more serious trail walkers are looking for
RRP: £115 (UK) | Materials: Synthetic fabric upper, Gore-Tex membrane, Vibram sole, OrthoLite Multisport footbeds | Weight per shoe (men's): 372g/13oz | Weight per shoe (women's): 315g/11oz | Colors: Black / Red | Compatibility: All terrain and trail types in reasonable conditions
Sure-footed grip
Stiffer sole
Waterproof and breathable
Durable, solid uppers
Good price
Narrow fit
Low-level cushioning
This well-thought-through walking shoe from British brand Berghaus oozes confidence on the trails. The Explorer FT is perfect for more demanding long-distance walks, even on relatively technical terrain, and is unlikely to let you down over hundreds of miles. The robust and well-crafted fabric upper benefits from a waterproof and breathable Gore-Tex liner. Although fairly lightweight, the shoes are well-fitting and offer good support across the whole foot. Further protection and durability comes from the rubber printed rand around the toe, heel and sides of the shoe. In-shoe cushioning comes from OrthoLite Multisport footbeds, while grip on the ground is maximised by medium-stiff Vibram 'OPTI-STUD' sole.
Salewa Mountain Trainer 2 Gore-Tex
A walking shoe gives you confidence on mountain paths and rocks, as well as on lower level paths and trails
RRP: $200 (US) / £165 (UK) | Materials: Suede leather upper, Gore-Tex lining, expanded PU midsole, Ortholite footbed, Vibram outsole | Weight per shoe (men's): 438g/15.5oz | Weight per shoe (women's): 396g/14oz | Colors (men's): Black | Colors/womens: Blue / Brown | Compatibility: Alpine trails and anything lower
Solid and durable construction
Stiff sole with great grip
Highly waterproof
Great, confidence-building fit
Relatively heavy
A little sweaty
Pricey
Laces irritation
Described as an Alpine approach shoe, the Mountain Trainer boasts a stiff, grippy Vibram sole and features waterproof, breathable Gore-Tex protection. The upper is fabric and suede leather, and it is built to last, even in rough and rugged terrain. This is further enhanced by a protective rubber rand for 360° abrasion resistance in rocky terrain. There is a protective stretch gaiter under the laces to keep rain and groundwater out. The multifunctional Vibram outsole offers agility and stability in rugged terrain. The sole is also designed with deep, self-cleaning grooves and aggressive lugs to give good grip on rock and scree, as well as traction on mud and grass. Salewa's '3F system' connects the in-step area with the sole and heel for flexibility, correct fit and support. A cushioned OrthoLite footbed should keep feet cool, even on hot days, and will help to wick away moisture – although we found these shoes ran a little warm. The lacing is climbing-style and can be fine-tuned from ankle to toe for greater precision and support in technical terrain.
The North Face Activist Futurelight walking shoe
One-part cool comfort combines with one-part technical performance for a trail-walking shoe that is at home on tarmac as it is on gravel tracks
RRP: $135 (US) / £125 (UK) | Materials: OrthoLite foam footbeds, Futurelight waterproofing, Exploration Trax System outsoles | Weight per shoe (men's): 350g/12oz | Weight per shoe (women's): 296g/10.5oz | Colors (men's): Aviator navy / Nautical blue / TNF yellow / Verdial / TNF black / Taupe green | Colors (women's): Urban navy / Mallard blue / Rambutan pink / Blackberry wine | Compatibility: Better on lower level tracks and hill paths than mountain trails
Comfortable
Lightweight
Stiff, robust sole
Excellent protective rand
Narrower fit than expected
Not robust enough for high alpine trails
It's often a relief to swap heavy hiking boots for walking shoes, but the Activists are actually lighter than some running trainers. The fit is medium width and they have been developed with TNF's own breathable-waterproof 'Futurelight' membrane, which means that you'll avoid hot and wet feet unless conditions are extreme. The uppers are made of fabric and a full rand protects the lower part of the shoe, with a toecap and extra thickness on the heel. In-shoe comfort comes from Ortholite insoles (which are washable) and a gusseted tongue. The 'EXTS' sole provides sure-footed grip on a range of terrain, from tarmac to gravel tracks and in wet and dry conditions. The sole is stiff enough to offer protection from stony surfaces and to prevent the foot rolling on rough terrain, and 'heel positioning technology' improves the stability. The North Face claim these shoes would be just as good as boots for mountain hikes but, in my opinion, they lack the right soles and durable uppers to last very long on rough routes.
Quechua waterproof MH100 walking shoe
A budget-friendly walking shoe with a retro look and high levels of cushioning for street or trail walking
RRP: $55 (US) / £35 (UK) | Materials: Poly and leather upper, waterproof and breathable membrane lining, EVA midsole, non-slip rubber outsole | Weight per shoe (men's): 405g/14oz | Weight per shoe (women's): 337g/12oz | Colors (men's): Carbon grey and cherry red / Dark petrol blue and lime green | Colors (women's): Caribbean blue / Green-grey / purple-storm / dark petrol blue | Compatibility: Half-day sojourns into the foothills
Great value
Comfortable upper
In-sole cushioning
Specific performance ratings
Too cushioned
Run hot
The look of this shoe is rather retro, which you will either love… or not. Decathlon report that the MH100 waterproof shoe was "designed at the foot of Mont Blanc for occasional mountain hikes of three to four hours' duration and up to 700 metres." They are very specific about this, and it is useful information – setting the boundaries of what this shoe's comfort zone is, which we largely agree with. The sole of the MH100s is semi-flexible, and the grippy outer has been created with non-slip rubber, with 5mm studs to bite into slippery terrain. The uppers feature stone-guard protection, and beneath the leather-synthetic mix of materials, an own-brand waterproof and breathable membrane lining keeps out water. The shoe has full-length foot cushioning, thanks to an EVA midsole, and well-cushioned heel and tongue areas. If anything, the in-sole cushioning could be a little too much for some people. (If there is too much give in a sole it can zap your energy and making the process of walking less responsive.)
Keen Terradora II Waterproof Hiking Trainers
A high-performing female-specific waterproof walking shoe
RRP: $140 (US) / £110 (UK) | Materials: Performance mesh upper, low-density EVA midsole, breathable mesh lining, dual-density EVA footbed, KEEN.ALL-TERRAIN rubber outsole | Weight (per shoe): 320g/11oz | Colors: Canteen / Black magnet / Brick dust / Tan / Steel grey & ocean wave / Cherry mahogany / Dusty olive & Nostalgia rose / Drizzle & African violet | Compatibility: A good shoe for fairer weather
Female-specific design
wider fit
Versatile
Fair price
limited abrasion protection
limited waterproofing
This is the second generation of the popular Terradora shoe – a casual looking walking shoe that is as much at home on a pavement commute to the office as it is on country paths and trails. Keen have designed the shoe to suit female feet, which tend to be narrower, especially at the heel (however, it's worth noting that Keen footwear is usually known for its wider fit, so you should try before you buy) and the Terradora's low-density EVA midsole also caters to the female foot shape. The Keen 'All-terrain' rubber outsole features 4mm multi-directional lugs for traction, while a stability shank delivers lightweight foot support. For a bit of extra flex, and for more natural movement of the foot, there are grooves cut across the base of the sole at the forefoot. Keen's 'KonnectFit heel-capture' system provides a locked-in feel that is meant to be supportive rather than constricting and, additionally, there is a removable, dual-density EVA insole with arch support for long-lasting comfort. The upper is fabric mesh with Keen's proprietary membrane for waterproofing and breathability. There is a lightweight rubber rand that extends around the shoe to provide abrasion protection.
Oboz Sapphire Low waterproof walking shoe
The Sapphire Low aims to balance fashionable looks with trail-ready features.
RRP: $140 (US) / £125 (UK) | Materials: TPU chassis, EVA midsole, Swiftcurrent outsole | Weight (per shoe): 350g/12oz | Colors: Charcoal / Boysenberry | Compatibility: Capable of taking on most trails in most conditions
Female specific
Nubuck leather upper
Waterproof
rugged sole
Heavy
Larger volume
Oboz created the Sapphire Low after researching the anatomical and biomechanical differences of women's feet, ankles and legs to create what they describe as a 'New Fit System from the ground up'. The result is a walking shoe that is low volume with a sculpted mid-foot and a women's specific forefoot and toe box. In addition, the tongue and asymmetrical collar are designed to comfortably articulate with female ankle motion. There is a simple, four-eye lacing system, the shortest system on test. The uppers are made of supple nubuck leather that is lined with a waterproof and breathable membrane to keep feet dry and warm. A three-part flex midsole is combined with the own-brand O FIT Insole, which supports the arches of the foot. There is a choice of widths: regular and wide. The 'Swiftcurrent' outsole provides durability, stability and comfort with lugs that offer good traction whether strolling on tarmac or hiking on trails. While the shoe feels very solidly made and robust, it is much lighter than you might expect. And, for every pair of Oboz footwear sold, the brand pledges to plant a tree.
Choosing the best hiking shoes for you
What are the best hiking shoes for you? To answer that you have to think about the kind of walking you do most often. Requirements vary, depending on the terrain being traversed, the quality of the trail, prevailing conditions and the amount of kit you typically carry. Following are some important considerations you should factor in to your decision-making process.
Seasons
Walking shoes are best suited to fairer conditions in general, but the lighter weight models made of fabric are particularly vulnerable to bad weather, and if you do a lot of walking in challenging conditions, you should opt for a more robust shoe made with hardy materials.
Terrain
The terrain will dictate the type of shoe – and sole – that you choose. Even the best hiking shoe in the world won't provide the same ankle support as a boot, but some are sturdier than others, and offer more protection. If you regularly hike on rough terrain, choose a shoe with a stiff sole, grippy outsole and aggressive lugs for good grip, and look for a substantial rand and a good toe cap. If you regularly walk on rocky terrain, enjoy technical scrambling or climbing via feratta, you should consider an approach shoe, like the Scarpa Zodiac covered here.
Cushioning
A stiff sole will offer great energy output, while a cushioned sole and in-sole will generally absorb energy. It depends on what you are looking for personally, though, because high cushioning protects joints and gives a more comfortable on-the-ground feel, while a stiffer and less cushioned sole offers greater stability and traction, as well as less energy absorption.
Width
We all have different shaped feet and the difference between male and female feet can be significant. The shoes in our reviews are rated for width but it is also important to try before you buy if you can.
Weight
Hiking shoes are usually lighter in weight than walking boots but heavier than a running shoe. The weight of footwear can cause fatigue over longer distances but some shoes are heavier because they have features such as stiffer soles and more robust uppers.
Heel to toe drop
Running footwear usually includes a heel-to-toe drop dimension. A neutral drop shoe, for example, will be zero and then the size increases up to 10mm and more. Few boot brands give these details out, so it is important to try them on before buying to see if the shoe suits your walking style and gait.
Materials
Walking shoes can be made of leather, nubuck leather, suede and synthetic fabrics, or a mix of these. Leather is likely to be harder wearing but your feet are more likely to become hot and sweaty. Fabric is more breathable, but less durable. A rubber rand around the shoe, where the upper joins the sole, can be useful for reducing abrasion from rocks, stones and vegetation. Look for shoes with extra rubber at the toe and heel, too.
Waterproofing
Many shoes are designed with a waterproof and breathable membrane lining. The aim is to make fabric waterproof and water resistant. Gore-Tex is the best known waterproof membrane brand and it is used by many of the best hiking shoe and boot brands. Other companies use their own-brand membrane, which work to a greater or lesser degree. It is useful to have a rubber rand fully around the shoe to stop water ingress from puddles and mud, but remember, once the water level exceeds ankle height, you're going to get wet feet if you're wearing shoes, no matter how waterproof they are.
All the latest inspiration, tips and guides to help you plan your next Advnture!
Thank you for signing up to Advnture. You will receive a verification email shortly.
There was a problem. Please refresh the page and try again.