The best hiking shoes 2023: for warm weather hiking comfort
Our roundup of the best hiking shoes contains the finest footwear for taking to the trails this summer and fall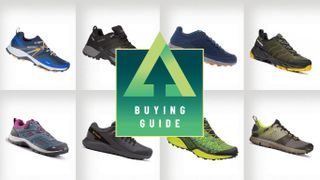 (Image credit: Future)
The best hiking shoes are perfect for those who enjoy a lightweight approach on the trails. With late summer and fall adventures to come, many of us will be grabbing a pair of these speedy little hikers and looking forward to carefree, nimble days out on the trails.
Fundamentally, many of the best hiking shoes are stripped back, lower cut versions of their hiking boot cousins, often with the same features, such as breathable uppers, waterproof technologies and grippy rubber soles.
Of course, they don't boast the protection or warmth of the best hiking boots, which are better suited to cold conditions and technical terrain. Everyone has their personal preference and views on ankle protection and the like but for the vast majority of warm weather hiking adventures, shoes are arguably the better option.
In this guide, we feature hiking shoes adept at taking on all types of terrain, pairs perfect for speed-hiking missions, our pick of the best sustainable options, the most comfortable hiking shoes, great shoes for fastpacking and the best budget options. We kick things off with the Helly Hansen Switchback low-cut Trail HT, which we rate as the best all-rounder.
The best hiking shoes
Best all-terrain hiking shoes
Functional and fashionable footwear for day hiking, hill walking and hut-to-hut adventures across three seasons, on test we found these walking shoes are reasonably lightweight and nimble, while remaining rugged enough to deal with virtually all kinds of terrain, from sea-level trails to low alpine tracks. The low-cut Switchbacks are instantly comfortable to wear, thanks to the high-quality soft suede used in the construction of the upper. For better breathability and improved weight saving, the main leather chassis is interspersed with dense mesh fabric sections, and the whole upper is wrapped in a Hellytech waterproof membrane to keep rain and trail juice firmly on the outside.
The EVA midsole offers ample cushioning and the rubber outsole has a Hellygrip pattern featuring various shaped chevrons, lugs and ridges to supply an effective mixture of traction and control in most conditions. The tongue is integrated with the upper, to keep grit out, and there are four pairs of lace loops, plus an eyelet at the top, which facilitate a firm foot hold, complemented by a good secure heel cup, to keep your feet from moving around. There's no surround rand, but the heel cup and toe bumper provide good protection in those crucial areas.
On test in muddy conditions we found the closely clustered lugs did accumulate dirt, as does the mesh on the upper, which is one downside. And you obviously need to be conscious that the low-cut design does not provide any ankle support, so the Switchbacks are best suited to daylong adventures rather than multiday escapades with a heavy pack. But used correctly, they're a really solid choice for hikers looking for a three-season walking shoe. Built to last, they're also excellent value.
Read our full Helly Hansen Switchback Trail Low-Cut Helly Tech hiking boots review
We found that the Peakfreak IIs really shine on long, fast day hikes over a range of terrain types, regardless of whether it's raining buckets, or the trails are sweltering in the sun. Their exceptional fit makes them feel like an extension of the foot, while the cushioning is enough to be comfortable while still allowing you to respond to the terrain beneath your feet. It's difficult to pick fault when it comes to the day hiking application they were designed for – they're simply very good hiking shoes.
While Columbia's original Peakfreaks had a subtle, leathery kind of charm, the IIs are a little more ostentatious, with their colorful (unless you choose the 'Black, Shark' option) sneaker like appearance. Leather has made way for a seamless mesh upper enhanced with Columbia's renowned OutDry waterproofing technology. This all gives the Peakfreak IIs a stylish and modern appearance that's just as at home in the bar afterwards as it is on the trails.
On test, they were wonderfully comfortable straight out of the box. A single density foam midsole gives ample cushioning, just enough to provide comfort while still allowing the foot to respond to the terrain. Then you've got the Navic Fit lacing system, which locks the midfoot down, holding everything securely in place.
Read our full Columbia Peakfreak II Outdry Waterproof Walking Shoe review
Best technical hiking shoes
Essentially the low-cut version of Scarpa's Rush Trail GTX hiking boot, this premium walking shoe has a handsome and functional design, and on test we found it was more than capable of taking on a diverse range of trails into the low alpine region, and beyond in good conditions. The suede upper is sumptuously soft and immediately comfortable straight out of the box.
The Rush boasts both extra ankle padding and an 'Autofit' collar, which improves the connection between foot and shoe, reduces stress and improves comfort levels. The tongue is fully integrated (keeping out trail debris) and the lace system is super sturdy, further enabling a firm and secure fit, and providing excellent confidence on even the most technical trails. Suede offers a degree of water resistance, but these shoes also have a Gore-Tex membrane to complete the weather protection. There's extra protection around the toe box and heel and a really robust DST plastic insert on each side of the midsole, where the heel runs into the midfoot, acts as another shield.
There is a reasonable amount of rigidity across the length of the shoe, enough to make it a good performer on more technical trails where rock edging is required, but not so much that it feels too stiff on less demanding terrain. There's a good amount of cushioning in the midsole, which cuts out any real trail feedback, but will serve you well over longer distances. The Presa outsole offers excellent grip, and these are among the best all-terrain walking shoes you will find.
Read our full Scarpa Rush Trail GTX review here
Boasting ironclad traction, lightweight materials, waterproofing courtesy of GORE-TEX and a clever dual lacing system, AKU's Rocket DFS GTX aims to launch above the rest of the hiking shoe competition and into the stratosphere – or perhaps more accurately to a mountain summit near you.
The Rockets make use of AKU's Dual Fit System (the DFS in the name). This is an extra set of laces, reminiscent of Salomon's Quicklace System, that can be used to tighten things up around the midfoot for increased precision on technical terrain. On test, we found them to be very capable scramblers indeed. They also look heavier than they are, their technical boot-like appearance belying the fact they weight less than many light hiking shoes. Once on, we found them to be comfortable and nimble on the trails.
Vibram Megagrip technology is present to ensure traction on a variety of terrain types, whether its bone dry underfoot or dripping wet. The Rockets also use deep 'Traction Lugs' that boast micro-lug shaped elements to increase the amount of rubber in contact with the ground at any one time.
All in all, the Rocket is a very capable fast-hiking shoe that's surprisingly light given its technical aesthetics.
Read our full AKU Rocket DFS GTX review
Built on the platform of an excellent Vibram sole, with a stiff shank to help with stability on uneven ground, the Merrell MQM 3 GTX has a mesh upper, saving considerable weight compared to nubuck and leather walking shoes. This upper also allows for a more contemporary look, which is handy if you only want to take one pair of shoes on a hiking holiday or like to head into town straight after a walk, with a choice of black, grey, blue and bright orange colours. The shoes are lined with a Gore-Tex membrane to keep water out and we found they also provided a good degree of breathability for sweaty feet. However, if you step in a puddle that's too deep, the water will squelch around inside the shoe until you pour it out.
Arguably the most impressive element of the MQM 3 is the Vibram sole, made exclusively for Merrell. It grips well on gravel trails and fire roads and on test it coped admirably with mud, expelling it from its 5mm lugs to maintain a decent foothold in gloopy conditions.
Merrell suggests that the MQM 3 is agile enough to run in, but the rigid shank that runs through the shoe and stops it bending like a plimsoll, means it's far from ideal for jogging. The thick, cushioned sole unit also denies the shoe the same feel for the ground delivered by supple trail running shoes. On the plus side, this cushioning offers good protection against pebbles and stones, while the stiff shank (reinforced with a rockplate) keeps the shoe reassuringly stable on broken terrain, even when carrying a heavy pack. The Gore-Tex membrane provides effective waterproof protection, while the billows that run down either side of the tongue stop annoying grit and sand getting into the shoe.
Read our full Merrell MQM 3 GTX review
Shoes for fast hiking
Thru hikers are notorious for choosing hiking shoes instead of boots because they're lighter, cooler and quicker to dry. Many of the best hiking shoes are made too stiff to provide stability. Or they're sneaker soft, and their midsole's break down before you have racked up the miles. The Dropline, however, has plenty of stability, but for us it feels more like a sneaker on steroids than a hiking boot. Just cut shorter.
On test, the confidence this shoe offered was great – an anti-rock heel cup and lacing that ties into the heel and the sole of the shoe is all part of Salewa's secret recipe, with the brand claiming that the heel-to-toe transition saves energy. The Gore-Tex lining provides breathable waterproofing, but the Dropline is also available in a non-waterproof version. The rounded, low-profile Pomoca outsole has a lot of lugs, but they're not deep, and can get clogged in muddy conditions. The mesh covering over the tongue and under the laces kept dirt and debris out, however, and an extra beefy toe rand shows that Salewa expects this hiking shoe to be used hard.
Rear our full Salewa Dropline GTX review
Intended for fair weather day hikes on a variety of surfaces, where we found that these shoes really shine is in their comfort. OrthoLite footbeds and a thick rocker sole with a 6mm drop feel super plush underfoot while helping to propel you forward with each step. The soles are surprisingly grippy and stable on rough terrain, while the breathability of the uppers is really remarkable on a hot day, as we found out on test.
These shoes aren't for anyone planning a technical hike or hiking in rainy weather or across bogs, as the breathable uppers mean your feet will be instantly soaked (though they'll dry out quickly). They're best save for bluebird days when you just want to stride across the countryside in comfort, and despite their lightweight appeal, you'll be impressed by how much toe protection you get when you bash into a rock on the trail.
In summary, we like the breathability and comfort of these shoes for sunny day hikes, but would leave them at home for rainy days and boggy crossings
Read our full The North Face Vectic Taraval hiking shoes review
Not for the first time, the Salomon family has produced a marvelous mudblood with the Outpulse, which is part hiking hoof and part trail-running shoe – but we mean that in a positive sense. If you're looking for lightweight footwear, built for moving at a fast trot across walking trails during day hikes, then this shoe could be for you. Obviously there are compromises that need to be made with such a design.
Don't expect the level of protection that a more traditional hiking shoe will offer your feet – the Outpulse doesn't feature a big chunky toe-cap or outsole, and neither will it likely last as long as some of the heavier and more robust walking shoes on the market. But, what they do have is a fully breathable and waterproof upper (thanks to the Gore-Tex membrane), a highly cushioned and dynamic midsole loaded with Fuze Surge foam, and a reasonably grippy Contagrip rubber outsole with artfully arranged lugs providing propulsion traction at the front and braking control at the rear. There's a modest 10mm heel-to-toe drop on these shoes, which kept our centre of gravity nice and low and helped with balance during the testing period.
Your feet are securely and comfortably cradled by the SensiFit design, while the geometry of the chassis and midsole creates a reverse camber effect, which helps your walking cadence flow nice and efficiently, further enhanced by the 'Energy Blade', a lightweight TPU plate incorporated into the well cushioned midsole. The integrated tongue keeps debris out of the shoe, and the flat laces don't tend to come undone. These shoes don't offer enough support for backpacking, but if you're travelling light, tackling terrain that isn't super technical and want to cover ground quickly, the Outpulse are perfect.
Read our full Salomon Outpulse Gore-Tex review
British brand inov-8 has been leading the way recently with the durability of its shoes – and specifically the toughness of their graphene-based outsoles – but this hiking shoe indicates they're making positive steps in the direction of sustainability too. Made from 90% recycled materials – mainly previously discarded plastic bottles – the Roclite Recycled 310s have a pleasingly light environmental footprint. Even the laces are recycled, and the midsole features foam that's 10% algae biomass (which contributes positively to the environment when harvested. Pitched towards walkers who want to stay nimble and quick, our test revealed that they're extremely lightweight and easy to wear, and the relatively small heel-to-toe drop (8mm) kept our centre of gravity nice and low.
However, they are not especially supportive or well-armed for providing foot protection – there's no waterproof membrane (although this does mean they breath nicely and dry quickly), and while there is a rand of sorts around the mostly mesh upper, it's not going to put up much of a fight against sharp stones and sticks. There's no graphene in the studs of these shoes, but the 6mm lugs on the natural gum outsole are very grippy, and the design doesn't collect too much mud when you're on mucky trails. The Metaflex feature means they move dynamically with your feet, providing decent levels of trail feedback and making them slipper-level comfortable. The look and colors used is all quite understated, but this fits well with the excellent eco-conscious approach of these shoes.
Read our full inov-8 Roclite Recycled 310s review
This is a super little hiking shoe from Merrell that's commendable for its eco-credentials. For easy going strolls and summer speed-hikes it's a good lightweight option, with the bonus of a decent level of waterproofing. We found that, for technical missions, expeditions and scrambling exploits, it's not protective enough but you'll still get plenty of use out of the Speed Ecos for less demanding pursuits anyway.
It's the brands most sustainable and eco-friendly hiking shoe to date. There's about as much recycled material in here as in a kid's elementary school robot costume. They boast a sneaker-like aesthetic and, weighing in at just 340g per shoe, they're clearly aimed at the summer speed-hiking brigade. Comfy from the word go, they're the kind of shoe you will reach for time and time again for casual walks and backcountry strolls.
One aspect the Speed Eco are a little light on is protection, with only modest reinforcements around the heel and toes. Not one for technical stuff then and, despite being waterproof, they are quite low cut, so boggy ground is a bit of no-go. However, for harder-packed trails and summer conditons, they're a solid, sustainable option.
Read our full Merrell Speed Eco Waterproof review
Best hiking shoes for comfort
The Danner Trail 2650 GTX looks and in some ways acts like one of the best trail running shoes, but is surprisingly robust for hiking in wet weather and over uneven, rocky terrain. This sock-like style of shoe is designed with a heel tab to pull them on while the laces serve just for a little tightening. They can take a little effort to pull on if you have high arches but, once they're on, we discovered that they feel fantastic with a snug, comfortable fit, lots of flex and three layers of removable, breathable cushioning.
With uppers made from durable leather, abrasion resistant and a Gore-Tex membrane plus chunky Vibram Megarip soles, these shoes are sturdy and suitable for long hikes and give loads of stability on rough trails. These hiking shoes are high priced, but they are built to last.
Read our full Danner Trail 2650 Campo GTX review
Hoka footwear is recognizable from 100 metres away on a mist-shrouded trail, and the brand's distinctive super-sized midsole shoes are somewhat divisive – you either love them or laugh at people wearing them.
They offer levels of cushioning in the midsole that elicit all sorts of superlatives, and for good reason – no matter what you think of the look, they are very comfortable and the extra suspension they provide means your knees will thank you for wearing them at the end of a long trail day. On test, ours certainly did. The downside of all this padding is that there's zero trail feel.
Despite the large size of the maxi midsoles, the heel-to-toe drop is a modest – minimalist even – 6mm, but also feature a rocker, meaning the bottom of the shoe is shaped slightly like the hull of boat or a very elongated 'U', so all the heel strikers out there can still efficiently push off on each new stride from the front of the foot. This is great, but can take some getting used to.
The uppers are very robust, being made with nubuck leather with a Gore-Tex membrane, to supply effective waterproofing. This means they can run a little hot mid summer, but they're excellent throughout most of the year. There is an extra lace hole (for use in deep mud, to avoid losing a shoe) and the integrated heel cup and pull loop is both practical and comfortable.
Read our full Hoka Anacapa Low GTX walking shoes review
In these synthetic shoes, The North Face has managed to build something that's between a boot and a shoe that's surprisingly burly without adding too many ounces on the scale. Impressively comfortable right out of the box thanks to plush-feeling uppers and a well-cushioned midsole, there's no break-in required before getting these out on the trail. Grippy outsoles with 4mm lugs mean you won't slip on mud, wet grass or rocky trails and you can move nimbly on long days of exploring.
On test, we found that these shoes provide excellent wet weather protection, even when we were walking through a bog, and while the trade off means your feet will get a little warm, the breathability proved decent on recent warm hikes. A very well-reinforced toe box offers plenty of protection, but we found it to be a little narrower than we'd like and recommend going up a full size for more room. The rocker sole helps you move fast over even ground, but can be a little unstable when things get really rocky, combined with a mid height cuff that offers a little less protection for your ankles. That said, they're significantly sturdier than the average hiking shoe and we comfortably walked for miles in these and think they're a good waterproof option for hikes that aren't ridiculously technical at a decent price.
In summary. Boasting a sturdy construction with a comfortable cushioned midsole, these lightweight waterproof shoes keep you nimble when you're moving over rough ground.
Read our full The North Face Vectiv Exploris II Mid Futurelight hiking shoes review
Best budget hiking shoes
Impressively specced for their price point, the Trailstorms are fully waterproof and offer wild walkers good levels of protection for their feet, with a supportive heel cup and reinforced toe cap. The 4mm lugs on the outsole look a little bit tame at first, but they are artfully angled and positioned to provide traction and braking control on all sorts of terrain without causing any discomfort when you're walking on concrete or hard-packed surfaces, and they pick up virtually no mud, even in gloopy conditions.
We found that the ghillie lacing system, which runs through securely stitched cord eyelets and employs a pair of wings across the top of the foot, provides a really secure hold an prevents any unwanted movement within the chassis of the shoe. There's plenty of cushioning in the chunky Techlite+ foam midsole, but trail feedback is next to non-existent. They also run a little warm on hotter days, thanks to the waterproof membrane, but do allow feet to breath reasonably well.
Read our full Columbia Men's Trailstorm review
The look of this shoe is rather retro, which you will either love… or not. Decathlon report that the MH100 waterproof shoe was "designed at the foot of Mont Blanc for occasional mountain hikes of three to four hours' duration and up to 700 meters." They are very specific about this, and it is useful information – setting the boundaries of what this shoe's comfort zone is which, having tested them in the hills and mountains, we largely agree with.
The sole of the MH100s is semi-flexible, and the grippy outer has been created with non-slip rubber, with 5mm studs to bite into slippery terrain. The uppers feature stone-guard protection, and beneath the leather-synthetic mix of materials, an own-brand waterproof and breathable membrane lining keeps out water. The shoe has full-length foot cushioning, thanks to an EVA midsole, and well-cushioned heel and tongue areas. If anything, the in-sole cushioning could be a little too much for some people. (If there is too much give in a sole it can zap your energy and making the process of walking less responsive.)
Hiking shoes comparison table
How to choose hiking shoes
What are the best hiking shoes for you? To answer that you have to think about the kind of walking you do most often. Requirements vary, depending on the terrain being traversed, the quality of the trail, prevailing conditions and the amount of kit you typically carry. There are even fully vegan footwear options out there, ready for the trail.
Following are some important considerations you should factor in to your decision-making process.
Seasons
Walking shoes are best suited to fairer conditions in general, but the lighter weight models made of fabric are particularly vulnerable to bad weather, and if you do a lot of walking in challenging conditions, you should opt for a more robust shoe made with hardy materials. Even some of the best full on hiking boots are not suitable for winter conditions, so if you're a winter walker you will need a pair of the best winter hiking boots, specifically designed with snow, ice and crampon compatibility in mind.
Waterproofing is such a selling point that many manufacturers will even include it in the name of their hiking shoes, so look out for that.
Terrain
The terrain will dictate the type of shoe – and sole – that you choose. Even the best hiking shoe in the world won't provide the same ankle support as a boot, but some are sturdier than others, and offer more protection. If you regularly hike on rough terrain, choose a shoe with a stiff sole, grippy outsole and aggressive lugs for good grip, and look for a substantial rand and a good toe cap. A pair of trekking poles can help share the burden on steep terrain.
Some of the products we featured are named as approach shoes, which are a hybrid of climbing and hiking shoes designed for rocky scrambles and technical approaches to climber's crags. Increasingly, approach shoes are being designed to tackle longer distances and offer durability to rival the most fortified hiking shoe. If long days out on technical scrambling terrain sounds like your bag, then approach shoes might be the optimum choice.
In summer, when watery adventures like canyoning and coasteering are on the cards, the best option is a pair of the best water shoes. While some water shoes are designed purely with aquatic antics in mind, some hybrid pairs are wonderfully amphibious, performing just as well on the trails as in the water.
Cushioning
A stiff sole will offer great energy output, while a cushioned sole and in-sole will generally absorb energy. It depends on what you are looking for personally, though, because high cushioning protects joints and gives a more comfortable on-the-ground feel, while a stiffer and less cushioned sole offers greater stability and traction, as well as less energy absorption. Try out contrasting pairs to get a feel for this and don't forget to wear your best hiking socks when you do.
Some runners and hikers prefer to be able to feel the trail beneath their feet – this is known as 'trail feel' or 'ground feel'. With this in mind, the best barefoot running shoes and hiking shoes are becoming increasingly popular. Of course, this means less cushioning but does allow you to connect to the landscape more intimately.
Width
We all have different shaped feet and the difference between male and female feet can be significant. The shoes in our reviews are rated for width and keep an eye out for designs specifically tailored for women.
Weight
Hiking shoes are usually lighter in weight than walking boots but heavier than a running shoe. The weight of footwear can cause fatigue over longer distances but some shoes are heavier because they have features such as stiffer soles and more robust uppers.
Heel to toe drop
Running footwear usually includes a heel-to-toe drop dimension. A neutral drop shoe, for example, will be zero and then the size increases up to 10mm and more. Few boot brands give these details out, so it is important to try them on before buying to see if the shoe suits your walking style and gait.
Materials
Walking shoes can be made of leather, nubuck leather, suede and synthetic fabrics, or a mix of these. Leather is likely to be harder wearing but your feet are more likely to become hot and sweaty. Fabric is more breathable, but less durable. A rubber rand around the shoe, where the upper joins the sole, can be useful for reducing abrasion from rocks, stones and vegetation. Look for shoes with extra rubber at the toe and heel, too.
Waterproofing
Many shoes are designed with a waterproof and breathable membrane lining. The aim is to make fabric waterproof and water resistant. Gore-Tex is the best known waterproof membrane brand and it is used by many of the best hiking shoe and boot brands. Other companies use their own-brand membrane, which work to a greater or lesser degree. It is useful to have a rubber rand fully around the shoe to stop water ingress from puddles and mud, but remember, once the water level exceeds ankle height, you're going to get wet feet if you're wearing shoes, no matter how waterproof they are.
All the latest inspiration, tips and guides to help you plan your next Advnture!
Author of Caving, Canyoning, Coasteering…, a recently released book about all kinds of outdoor adventures around Britain, Pat has spent 20 years pursuing stories involving boots, bikes, boats, beers and bruises. En route he's canoed Canada's Yukon River, climbed Mont Blanc and Kilimanjaro, skied and mountain biked through the Norwegian Alps, run an ultra across the roof of Mauritius, and set short-lived records for trail-running Australia's highest peaks and New Zealand's Great Walks. He's authored walking guides to Devon and Dorset, and once wrote a whole book about Toilets for Lonely Planet. Follow Pat's escapades on Strava here and instagram here.