Is night fishing allowed during the coronavirus crisis?
With angling restarting across England, we look at whether night fishing is allowed.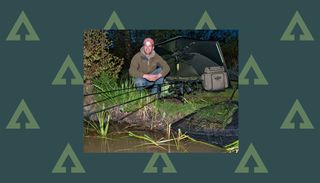 (Image credit: Angler's Mail)
Welcome to Advnture, the new home of AnglersMail.co.uk
The big question many anglers have been asking is this: is night fishing allowed?
It had been thought by the Angling Trust, and indeed top carp angler Ali Hamidi, that night fishing would be allowed.
But the picture changed overnight, just hours before the restart.
More, and hopefully final, clarity finally emerged soon after the restart on Wednesday, May 13. It looks to have successfully ended a frustrating time for carp anglers especially, and venues, too.
The Angling Trust were seeking a clear answer from government to determine if night fishing is allowed?
They were hoping that it is ok, and wanted to stop confusion and chaos. They have also been dealing with various other queries relating to fishing during the Covid-19 crisis.
The Trust urgently stressed the case on why night fishing is important. And, like some other outdoor pursuits, they insisted it should not slide into travel rules for people to return home each night after recreation or exercise.
The Trust's head of policy Martin Salter, a former MP, told Angler's Mail he was suggesting fresh wording to clear up confusion on whether night fishing is allowed.
He suggested it should be revised to reflect this simple message: "Travel for exercise and recreation should normally occur within the same day except in the rare circumstances where that activity is scheduled to take place at night."
Night fishing IS allowed, say Trust
Now the Trust feel they have the reassurance necessary – and night fishing IS ok.
Trust CEO Jamie Cook said on the afternoon of Wednesday, May 13: "The government had previously announced that it intended to publish a new rule on travel that would mean that anyone travelling for sport and leisure would have to return home at the end of each day.
"This would have effectively banned night fishing. However through our contacts at Sport England, Angling Trust have successfully lobbied for a change in wording.
"We are delighted to announce that the Government's much anticipated new statement on travel and sport instead now reads 'From today (13 May 2020) people in England can spend more time outdoors and enjoy a wider range of activities for any length of time, subject to social distancing rules.'
"The Angling Trust view is that night fishing is allowed.
"A series of detailed FAQ's from the Government will be circulated later. It is worth noting that overnight stays in holiday homes etc are still banned and that with the dynamic nature of this situation the Prime Minister has warned government guidelines could change quickly so we must all act responsibly.
"This is a happy day for the angling community. We were front of the queue with being released from lockdown and have shown that we are stronger together. For now, please stay safe, keep social distancing and tight lines."
The good news for nights was greeted by anglers and fishery controllers.
High profile carp angler Ali Hamidi, best known for Monster Carp and The Big Fish Off shows on ITV, posted this joyful video message on Twitter…
Olaaaay olaaaay olaaay olaaaay...do your nights nights nights! #fishing #nightfishing #whenwefishagain #whenwehaulagain pic.twitter.com/PeVTaOFhJ7May 13, 2020
How the night fishing issue arose
Prior to the question mark being swept away, the Trust had put out a statement on the situation: "As of this morning (May 12) there's nothing in the published government documents that prohibits night fishing as opposed to visiting holiday homes or campsites as set out in section one of the guidance on the gov.uk website (Coronavirus outbreak FAQs).
"However, following the Prime Minister's statement yesterday we have been informed that further guidance will be issued tomorrow (May 13) which will require people to return to their home every night. This would technically preclude anglers from fishing overnight.
"The Angling Trust advice has always been to travel to fish in accordance with government guidelines and this remains the same.
"However, we do not believe that the government ever intended to place limits on the ability of anglers, or indeed others, to practice their sport at night and so we are seeking urgent clarification on this matter.
"Angling was added to the list of permitted activities on the basis of the proposals set out in the Angling Trust's 'When We Fish Again' report and we did not see night fishing as a problem.
"In the meantime we can only reiterate the need to follow the published government guidance as far as it affects our sport.
"We will publish further updates when we know more," added the Angling Trust.
And now the Trust have delivered their update. They say night fishing is allowed. It's fine where venues actually allow it, and providing that anglers follow all venue rules.
The Wednesday reopening
Many commercial and club venues have just reopened on Wednesday, May 13. But others won't open, yet.
Special rules and procedures for extra safety are also being implemented by venues. They vary, so do check.
And check the venue you plan to fish will be open. You may also need to book.
The Angling Trust's own latest guide for individual coarse anglers is below. This is expected to be updated again, as further clarity emerges.
All the latest inspiration, tips and guides to help you plan your next Advnture!
Running from 1964 until 2020, Angler's Mail was the UK's leading weekly magazine devoted to coarse fishing, telling readers everything they needed to know about which fish to catch, where to catch them, and what kit they needed to do it. Now, loads of the magazine's expert advice can be found on Advnture.com, as a helpful resource for angling newcomers and experts alike.