Jamie Cook named as new leader of Angling Trust and Fish Legal
The successful angler says it's his dream job.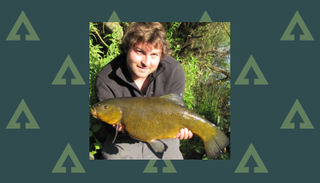 (Image credit: Angler's Mail)
Welcome to Advnture, the new home of AnglersMail.co.uk
Jamie Cook has just stepped into the Angling Trust and Fish Legal role. He has started following Mark Lloyd's move to chief executive of The Rivers Trust after ten years at the helm.
The 35-year-old is a married father of two small children, aged three and one. He was working as a regional director for 'Insider Media' where he grew membership by nearly 50%.
Bristol-based Jamie commented: "This is quite literally my dream job and I count myself extremely fortunate that the opportunity came along at precisely the right time in my career.
"I was ready to move on and apply the commercial and business skills that I've developed to something that I really care about.
"The chance to put something back into angling, the hobby that has been my lifelong passion, has been a long held ambition and I can't wait to get started."
"Naturally I am excited to be taking on this significant role for both the Angling Trust and Fish Legal.
"As a regular, all-round angler I understand the challenges and opportunities facing the sport.
"My long-term vision for the Trust is to create a community, to re-engage with anglers and to build consensus across the many different disciplines of our sport.
"Angling is diverse and all anglers should feel engaged and empowered by the Trust – I want everyone to have an opportunity to influence the Trust's work to benefit angling and the environment.
"Angling is the gateway to the outdoors; we need to make angling accessible to new anglers and win back those who have tried the sport and for whatever reason aren't fishing anymore.
"Just as importantly we need our current anglers to keep the fishing habit.
"As anglers, if we've got the right places to fish, that are accessible and enjoyable and full of fish then we are happy.
"Anything that challenges this will need to be addressed – and will be a priority for me as the next chief executive of the Angling Trust and Fish Legal."
As chief executive of both the Angling Trust and Fish Legal, Jamie Cook will be responsible for over 60 staff with a turnover in excess of £2.7 million.
He will be attending the Trust's Annual Angling Conference at Barston Lakes, West Midlands, on Saturday, November 30, which anyone can attend.
Jamie Cook is "a fine angler"
Martin Salter is currently head of policy at the Angling Trust and president of Reading DAA where Jamie Cook is a member.
Martin said: "I was good friends with Jamie's late father and had the pleasure of watching Jamie develop into a fine angler.
"He is technically skilful but also deeply intuitive and seems to have a real flair for often catching the biggest and most difficult to tempt fish in any water he targets.
"His business and commercial experience coupled with a huge passion and knowledge of angling will stand him in good stead in his new role."
"Strong impact expected"
George Stephenson, chairman of the Angling Trust, commented: "It is my belief that Jamie will have a strong impact on growing our sport, increasing membership of the sport's representative body, as well as being able to represent the needs of a broad range of angling interests as leader of both the Angling Trust and Fish Legal.
"The skills he has developed in leading and building a wide variety of organisations stand him in good stead to help drive not only the Angling Trust and Fish Legal towards a bright new future but also for angling as a whole – which is something we are all striving for.
"We now have an opportunity to build on the strong foundations which have been laid by Mark Lloyd and the team and be proud of the fantastic contribution and immense benefit angling provides.
"We have to ensure that anglers not only understand the value and purpose of the Trust but also how the Trust impacts positively on the areas of the sport they enjoy."
He 'gets it' says carp leader
Rob Hughes, manager of Carp Team England enthused: "I had the pleasure of meeting Jamie recently for a TV interview and it's great to see that he has a very rounded and grounded understanding of angling.
"He's caught some significant fish in all disciplines, 'gets it' and is a very successful individual in his own right.
"His background and professional experience are exactly what The Trust needs and many of his views mirror my own.
"I am looking forward to working with him in the protection and promotion of both angling and The Trust for the future."
Quick Q&A with Jamie Cook
Q: What is the best was to someone involved in angling?
A: Its not good enough just trying to explain it and its not like football where you can just put jumpers down. You have to introduce someone to it, taking them fishing with you.
Q: Best angling advice?
A: Treat every fish however big or small as though it was the best fish you have ever caught when it is out of the water. Or always have a disgorger behind your ear.
Q: Who was you biggest angling influence?
A: My dad.
Q: What is your favourite species?
A: Roach without a shadow of a doubt.
Q: Best recent catch?
A: A bass from the south west coast or a carp I caught with both my son and daughter there to share the moment.
Q: What species would you like to have the record for?
A: Roach, caught from a river.
Q: Favourite Water?
A: Hampshire Avon.
Q: Pet angling hate?
A: Litter.
Q: Next fishing trip?
A: We are going on a family holiday to Cornwall next weekend and the rods will be in the back with the children. Hopefully I will catch a bass or two.
Jamie Cook angling CV
Jamie Cook has been a lifelong angler, in his early years learning to fish his local rivers – the Kennet and Thames and at the age of four caught his first barbel.
From there he has moved on to focus on specimen coarse angling on local lakes and the Hampshire Avon, achieving the remarkable feat of catching a three-pound roach at the age of ten!
Jamie then moved on to carp fishing.
More recently his fishing has again changed. This time he's focused on sea angling, as well as river fishing, allowing him to fit his angling around being a parent as well.
Jamie also is, or has been, a member of Bristol Amalgamated, Reading DAA, Ringwood DAA, Newbury AA, Ross on Wye AC, Christchurch AC, Oxford & Abingdon Alliance and various carp syndicates.
Jamie Cook PB list
Jamie has a highly impressive list of PBs including:
Roach – 3 lb 3 oz (Hampshire Avon)
Barbel – 14 lb 14 oz (Dorset Stour)
Chub – 6 lb 7 oz (Dorset Stour)
Tench – 10 lb 11 oz (Reading DAA water)
Mirror carp – 47 lb (Pingewood Lagoon, Reading)
Common carp – 42 lb 15 oz (Ashmead)
Crucian Carp – 2 lb 15 oz (Newbury AA water)
Bream – 13 lb 7 oz (Berkshire gravel pit)
Perch – 3 lb 3 oz (River Kennet)
Pike – 18 lb 12 oz (River Test)
All the latest inspiration, tips and guides to help you plan your next Advnture!
Running from 1964 until 2020, Angler's Mail was the UK's leading weekly magazine devoted to coarse fishing, telling readers everything they needed to know about which fish to catch, where to catch them, and what kit they needed to do it. Now, loads of the magazine's expert advice can be found on Advnture.com, as a helpful resource for angling newcomers and experts alike.