Lockdown latest round-up: what anglers can do now
New measures are the good news many have been waiting for.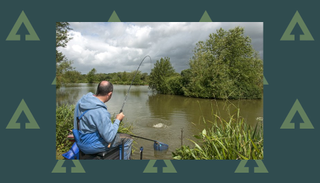 (Image credit: Angler's Mail)
Welcome to Advnture, the new home of AnglersMail.co.uk
In England only, Wednesday, May 13 signalled the start of people being allowed to take unlimited exercise outdoors.
People in England were able to enjoy parks and public spaces without having to exercise.
Angling got the green light, thanks in no small part to efforts by the Angling Trust.
The Environment Agency stated: "Under the new government guidelines, people can fish on their own, with their household, or with one other person while adhering to social distancing rules and staying two metres apart at all times.
"Outside members of your own household, people should remain two metres apart from other anglers or members of the public at all times."
Fishery owners, clubs and syndicates across England have welcomed anglers back.
Match anglers finally got good news on Tuesday, May 26, when it was confirmed that matches could start immediately.
Contests should be in accordance with safety guidelines drawn up by the Angling Trust.
Many match organisers have already got back into full flow, with others delaying for now.
Tackle shops are now gearing up for a full reopening on June 15, using social distancing measures like supermarkets deploy.
After a delay, Welsh anglers are now allowed to fish locally, but limited to only locally, as we explain further down this post.
From Monday, May 18, Northern Ireland anglers were also allowed back out again. Further south, in Ireland, angling is currently allowed but only if it's within 5 km from home.
Meanwhile, Scottish anglers finally restarted from May 28, when some Scottish lockdown rules were eased. They are asked to stay 'within five miles from home.'
And it's important to remember this is still the river fishing Close Season for coarse species in England (and Wales, too).
The key message for anyone planning a fishing trip anytime soon is to check the water will be open first – and book, if necessary.
Be sure to read and heed the latest venue rules, many of which are for safety… before fishing at a safe social distance.
Doubts temporarily arose over whether night fishing could fall foul of government daily travel rules, or be confused with camping (campsites cannot yet reopen).
The Angling Trust cleared that up by urgently seeking clarification and wording ammendments. The Trust now state that night fishing IS ok.
'Rule change' surprised many anglers
The prospect of a return for angling in England on May 13, with safe social distancing, caught many anglers and fishery controllers by surprise.
On Sunday, May 10, Boris Johnson announced several tweaks to the rules during the deadly Covid-19 crisis… without giving away too much detail during his broadcast.
The Prime Minister also unveiled the latest message of 'stay alert, control the virus, save lives' in England.
But leading MP Oliver Dowden, the Secretary of State for Digital, Culture, Media and Sport, publicly broke the news of angling being included in the initial lockdown easing.
He tweeted: "In recent weeks our daily exercise has been so important to our health and wellbeing.
"Now in tentative steps forward, and in the least risky outdoor environments, we can imminently allow some sports activity like golf, basketball, tennis, fishing – solo/in households. Guidance to follow."
On Monday afternoon (May 11), the government published its full 50-page document, called Our Plan To Rebuild: The UK Government's Covid-19 Recovery Strategy.
In the section on Public Spaces, with guidelines that kicked in from Wednesday, May 13, the document stated: "People may exercise outside as many times each day as they wish. For example, this would include angling and tennis."
Important guidance is given
It has been up to fishery controllers, landowners and clubs to decide if and when they re-open… safely.
Some fisheries and clubs quickly issued statements online to say they would reopen straight away (on Wednesday, May 13).
Many of those waters that have now reopened have brought in extra safety measures and/or restrictions, including spacing between anglers. Other venue controllers delayed any return to action.
It is important to check carefully before you travel to any fishing waters.
Some clubs quickly reopened some of their venues – but not all of them.
Be sure to have a valid EA rod licence. For many freshwater anglers, their licence expired during lockdown.
Social distancing is still being emphased as crucial, everywhere – and for all angling activity – to halt the spread of the nasty Covid-19 disease. Older people and high risk groups are still advised to stay at home.
Over the last few days, more details have been sought by the whole sport, with the Angling Trust leading the way, delivering updates.
Below is the latest guidance for freshwater anglers from the Angling Trust's regularly updated website.
Another set of guidelines was also produced by the Angling Trust, to help sea anglers.
Despite many piers not yet opening, and certain other coastal spots being no-go, it is good news for most shore and boat anglers.
If you're planning a saltwater trip, be sure to read this latest guide…
Reactions from Angling Trust
The Angling Trust's new CEO Jamie Cook and chief policy advisor Martin Salter, a former MP, reacted quickly to the breaking news of angling being allowed again in England.
The pair have been incredibly busy as the situation has developed over the hours and days since the news first broke.
They posted this initial reaction statement on the night it was confirmed that angling would be able to restart…
"We'll keep an eye on the detail and keep you updated – but for now it's positive news for the angling community.
"It is absolutely crucial that social distancing measures are adhered to and that the guidance to participate alone or with members of your own household are followed.
"We must not breach the rules the Prime Minister has laid down and we must ensure that we all act as ambassadors for our sport.
"Our phase one guidance portal is available to help clubs, fisheries and anglers prepare for our safe return to angling.
"We're proud to have represented anglers in these discussions. We appreciate the support of those who have had input and who have joined us over the past week."
Jamie and Martin shared more information, which is still evolving, via a Facebook Live on Monday, May 11.
Their detailed video forum ran for over an hour and was broadcast via Angling Trust's Facebook page, and was hosted by Ali Hamidi. All three men were speaking from home. You can watch the recording below.
Mainstream media channels including BBC News also highlighted angling as one of the pursuits to be widely possible again, giving Jamie Cook some TV airtime to explain its benefits.
What fishing is allowed in Wales?
The angling picture changed in Wales from Monday, May 18. The Angling Trust then confirmed that driving to local fishing venues is now allowed in Wales.
The emphasis is very much on local, alone or with members of your household. Welsh anglers have again been told to keep 2 metes apart at all times. Again, like England, it is up to venues to decide whether they wish to reopen yet. And rivers remain closed to coarse fishing until June 16.
Initally fishing in Wales was permitted only if a vehicle was not used.
The Trust confirmed: "Our letter (to Welsh Government) put forward the case that driving short, local distances would be essential for anglers with mobility issues, the elderly, disabled, and for certain types of angling, that in some case require more tackle to be carried, and of course for those not lucky enough to live within walking distance of a suitable venue.
"Following us taking up this issue directly, the Welsh Government has made the sensible decision to change their stance, therefore driving short, local distances to fish is now possible in Wales.
"We would like to point out that Wales is still in lockdown and social distancing regulations must be respected at all times."
What about fishing tackle shops?
The phased reopening of most 'non-essential' English shops, including tackle shops, is now scheduled to start from Monday, June 15.
That date coincides neatly with the new 2020/21 coarse river fishing season beginning the next day, on Tuesday, June 16.
The timetable in other nations for reopening non-essential shops, including tackle shops, is not yet clear.
Already, more and more tackle shops are offering click and collect services, or telephone orders, including for fresh bait.
The reopening of many English fishing venues has created instant, welcome demand for products after weeks of financial struggle and uncertainty.
Other dealers, such as the big chain Angling Direct, have continued trading with their normal online website sales only, mailing goods to customers.
All the latest inspiration, tips and guides to help you plan your next Advnture!
Running from 1964 until 2020, Angler's Mail was the UK's leading weekly magazine devoted to coarse fishing, telling readers everything they needed to know about which fish to catch, where to catch them, and what kit they needed to do it. Now, loads of the magazine's expert advice can be found on Advnture.com, as a helpful resource for angling newcomers and experts alike.