When will fishing be allowed again after coronavirus lockdown?
With coronavirus having put the sport on hold, we ask when will fishing be allowed again?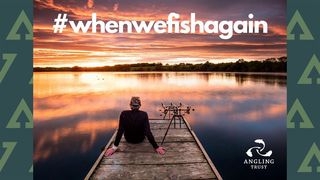 (Image credit: Angler's Mail)
Welcome to Advnture, the new home of AnglersMail.co.uk
Most keen anglers, aside from staying safe, have been wondering 'when will fishing start again in the UK?'
Finally news has emerged about what is being said at a high level. But it might not be quite what anglers want to hear... yet.
We still don't know when fishing will be possible but the Angling Trust has just revealed exactly how it is campaigning for angling to become one of the first permitted outdoor activities after lockdown.
That means being allowed as soon as possible when ministers review the coronavirus lockdown restrictions on May 7th.
Phased return of fishing pushed to government
Angler's Mail has been told that the report entitled 'When We Fish Again' has been submitted to cabinet office minister Michael Gove, and the fisheries and sports ministers.
It sets out the means by which recreational fishing could be permitted, without saying when will fishing start again - as that is out of their hands.
The Angling Trust report recommends a phased resumption in line with the Government's own criteria.
The all-important Phase 1 of the return would include local fishing only being resumed. It would need to be solitary....with no swim sharing except by member of the same household.
No sharing of tackle or other items would be in the guidlines, and it would insist upon no angler to fish within 15 metres of any other angler.
No matches would be allowed during this phase. And onsite shared facilities like cafes and clubhouses would have to remain closed.
Sea fishing from the beach or shore would be ok in the first phase, along with small scale private boat fishing... 'in adherence with social distancing measures.'
There is also a second and third phase... returning us all closer to normal, but safely.
The report also draws on experience in other European countries including Germany, Holland, Denmark, the Czech Republic and Norway.
These are countries where angling has been allowed to continue under certain conditions during the pandemic with significant benefits to both wellbeing and the economy without having a detrimental impact on their efforts to combat Covid-19.
The recreational angling sector is estimated to be worth over £4bn to the UK economy. Experience from across Europe indicates that this contribution has grown significantly where angling has been permitted under lockdown.
On May 4th angling is set to resume in Belgium. Many other countries have now announced timetables for a lifting of restrictions on activities such as fishing that allow social distancing to be maintained.
The Angling Trust's report
The report identifies a number of other reasons why angling should be an early candidate for consideration including:
Being a largely solitary sport where self-isolation occurs naturally.
Proven benefits for mental health and physical wellbeing.
Appealing to people of all ages and backgrounds and engaging able-bodied and disabled participants alike.
The majority of the population live within 5 miles of a waterway minimising the need for significant travel.
Evidence that non-contact outdoor activities will not increase infection rates.
A reduction in pressure on other public open spaces.
Culture Secretary Oliver Dowden has already confirmed to MPs that ministers are actively considering how low risk outdoor activities like angling and golf might be permitted in the first phase of any easing of restrictions.
The campaign has attracted the support of prominent figures within the angling community and senior MPs.
Senior MP applauds "sensible way forward"
Chairman of the All Party Parliamentary Angling Group, Sir Charles Walker MP, said: "I have spoken directly to the Minister for Tourism and Sport, Nigel Huddleston MP, to ask that angling and other outdoor activities suited to social distancing once again be given the green light.
"I explained to the Minister that the Angling Trust has produced a fantastic and detailed template as to how we can return, in a safe and responsible fashion, to the sport we love.
"The Trust has now lodged its carefully thought through plan entitled 'When We Fish Again' with a number of Ministers and Sport England and it provides a sensible and pragmatic way forward."
Trust leader Jamie Cook's view
The report was compiled by the Angling Trust's newly appointed CEO Jamie Cook and head of policy Martin Salter.
It is backed by groups including the Canal & River Trust, Salmon & Trout Conservation, the Institute of Fisheries Management and representatives of the angling trade.
Jamie Cook said: "We have demonstrated that angling in the UK could be permitted as a safe, healthy, beneficial outdoor activity and why it should take its position at the front of the queue when restrictions are reviewed.
"There is a large amount of evidence of the benefits angling has on both physical and mental health – it is prescribed by a number of NHS trusts as a proven therapy for mental well-being, and numerous military charities and organisations to combat PTSD.
"Fishing transcends social and physical boundaries, engages able-bodied and disabled participants alike, and with the majority of the population living within 5 miles of a waterway it can safely and practically be achieved without significant travel."
Former MP Martin Salter's view
Angling Trust key player Martin Salter, a former MP, also appears with Jamie in a new video about their plans.
Martin said: "Angling is the ultimate social distancing activity as large crowds and successful fishing don't mix and most anglers tend to crave solitude.
"With the Government now actively considering what activities and which restrictions could safely be considered for early lifting we judged that the time was right to present these proposals to ministers ahead of the next review.
"Our job is not to say when such a move could be made - that's clearly the role of Ministers acting on medical and scientific advice.
"Our job is to set out the how and the why which is precisely what we have done."
All the latest inspiration, tips and guides to help you plan your next Advnture!
Running from 1964 until 2020, Angler's Mail was the UK's leading weekly magazine devoted to coarse fishing, telling readers everything they needed to know about which fish to catch, where to catch them, and what kit they needed to do it. Now, loads of the magazine's expert advice can be found on Advnture.com, as a helpful resource for angling newcomers and experts alike.