New documentary from Free Solo director to chronicle Thai cave rescue story
By Julia Clarke
The latest documentary from award-winning director Jimmy Chin is to focus on the dramatic 2018 rescue of a Thai junior football team trapped in a flooded cave for weeks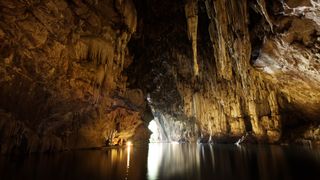 (Image credit: Getty images)
The latest documentary from Free Solo director Jimmy Chin will focus on the extraordinary rescue of 12 school boys who became trapped in a flooded cave in Thailand in 2018.
The film titled The Rescue debuted to critical acclaim last month at the Telluride Film Festival and will be in theaters on October 29. It is co-directed by Chin and his director wife E Chai Vasarhely, with whom he also chronicled the death-defying first free solo of El Capitan by Alex Honnold in the rock climbing documentary "Free Solo". According to a press release, the film will feature never-before-seen footage and exclusive interviews to piece together the high-stakes mission that culminated in the successful rescue of all of the children by the Royal Thai Navy SEALs and US Special Forces.
"This powerful story celebrates hope, compassion and human ingenuity when faced with impossible odds,'" said Chin.
In June and July 2018, Twelve members of a junior association football team, aged eleven to sixteen, and a 25-year-old coach went exploring in the Tham Luang Nang Non cave in Chiang Rai Province in northern Thailand. Shortly afterwards, heavy rainfall flooded the cave system, and trapped them deep within the cave for more than two weeks.
Between July 8 and 10, against all odds, the entire world seemed to look on as a daring rescue effort involving more than 100 divers and the pumping of more than a billion litres of water from the caves successfully extracted the team. Though one Thai Navy SEAL diver died during the mission, the boys and their coach were recovered in good condition.
"The way in which the divers and Thai community came together in the face of adversity truly represents humanity at its best. We are honored to once again work with National Geographic Documentary Films to shine new light on the unprecedented rescue that riveted audiences around the world," said Chin.
Chin is a professional climber, skier, and mountaineer who has participated in and led cutting-edge climbing and ski mountaineering expeditions to all seven continents over the past 20 years and made the first and only American ski descent from the summit of Mount Everest. He is also a filmmaker and National Geographic photographer. He has worked with many of the greatest explorers, adventurers and athletes of our time, documenting their exploits in the most challenging conditions and locations in the world. Free Solo won an Oscar in 2019 and his 2015 documentary Meru was also shortlisted for an Oscar.
Julia Clarke is a staff writer for Adventure.com. She is an author, mountain enthusiast and yoga teacher who loves heading uphill on foot, ski, bike and belay. She recently returned to her hometown of Glasgow, Scotland after 20 years living in the USA, 11 of which were spent in the rocky mountains of Vail, Colorado where she owned a boutique yoga studio and explored the west's famous peaks and rivers. She is a champion for enjoying the outdoors sustainably as well as maintaining balance through rest and meditation, which she explores in her book Restorative Yoga for Beginners, a beginner's path to healing with deep relaxation. She enjoys writing about the outdoors, yoga, wellness and travel. In her previous lives, she has also been a radio presenter, music promoter, university teacher and winemaker.
All the latest inspiration, tips and guides to help you plan your next Advnture!
Thank you for signing up to Advnture. You will receive a verification email shortly.
There was a problem. Please refresh the page and try again.