Kilian Jornet on track for a flat-out record attempt
Momentarily turning his back on the mountains, the trail running superstar is setting his sights on a 24-hour track-running record that has stood for 23 years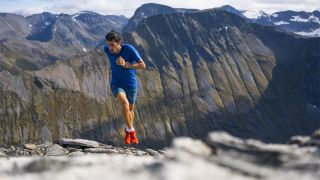 (Image credit: Killian Jornet)
The most famous trail and mountain athlete on the planet, Kilian Jornet, is about to step off the rough stuff and attempt a 24-hour running challenge on an athletics track.
Jornet is royalty in the off-road running world, having completed multiple long-distance, high-speed expeditions in the roughest toughest terrain imaginable – including a double summit of Everest in one week, and numerous victories in races like Ultra-Trail du Mont Blanc (UTMB), Hardrock 100 and the Western States 100.
But, in a wild departure from his typical turf, this weekend he will step on to a 400-metre (¼ mile) track in Måndalen, in his adopted home country of Norway, and run for 24 hours nonstop. Once the Phantasm 24 running challenge begins, you will be able to watch the run via a live feed on a dedicated Salomon site.
The precise start time is yet to be confirmed, as there are weather considerations to be taken into account, but the Catalan is aiming to get on track on 21–22 November. (Check Salomon and Jornet's Instagram channels for updates on the timing, and info about his preparation.)
"The motivation is to go outside of my comfort zone, to try different things and see what I am able to do, whether that is climbing at high altitude or, in this case, running on flat ground," Jornet said. "It's fun to discover different things I can do, and training on the flat is a good test and an opportunity to learn in terms of nutrition and pacing, and then try to apply those things to different activities, like even mountaineering projects."
To get some idea of just how far outside his comfort zone Jornet will be running on the flat, consider the fact that he completed his first 10k road run in mid-October, when he took part in Norway's Hytteplanmila race. He finished the course in 29:59, placing 18th, but ended up with some nagging muscle injuries that forced him to slightly delay his 24-hour challenge.
"The transition to flat ground is very hard for the muscles," Jornet says. "The training has been a bit frustrating the last few months going from injury to injury to injury. I have had good blocks of training and then I would have an injury and have to rest. After the 10 km race, I had to stop training and rest an injury. Now, the plan is to do one good week of training and see how my body feels, then rest the muscle tissues and recover for the attempt."
To date, the longest distance ever run in a 24-hour period is 303.506 kilometres (188.590 miles), a record set in 1997 by the legendary Greek ultramarathon runner Yiannis Kouros, whose legacy is so big that he's commonly referred to as the greatest ultrarunner ever, and sometimes as the 'Running God' or 'Pheidippides' Successor'. (Pheidippides being the ancient Greek guy who allegedly ran from Marathon to Athens to deliver news about victory in the battle of Marathon in 490 BC, before falling down dead – a story that inspired the modern marathon.)
"It's so many kilometres that I cannot even visualize it," Jornet says of this record. "I've seen Yiannis' splits so I want to keep up with that as long as I can. I know the speed I need to keep every hour, so then I know the pace for every kilometre and every lap. Of course, the first 10 hours will be a bit faster and then slowing every hour after, so I have a plan and I know what I want to run every hour. The big thing is to not have any muscle problems and be able to eat without having big down periods."
During his 24-hour run, Jornet will be wearing Salomon's new S/LAB Phantasm, a very lightweight road-racing shoe due to be unleashed in spring 2021.
All the latest inspiration, tips and guides to help you plan your next Advnture!
Author of Caving, Canyoning, Coasteering…, a recently released book about all kinds of outdoor adventures around Britain, Pat has spent 20 years pursuing stories involving boots, bikes, boats, beers and bruises. En route he's canoed Canada's Yukon River, climbed Mont Blanc and Kilimanjaro, skied and mountain biked through the Norwegian Alps, run an ultra across the roof of Mauritius, and set short-lived records for trail-running Australia's highest peaks and New Zealand's Great Walks. He's authored walking guides to Devon and Dorset, and once wrote a whole book about Toilets for Lonely Planet. Follow Pat's escapades on Strava here and instagram here.