Pasture Wood day ticket venue produces shock 40 lb 3 oz pike
Carper Jack Sharlotte had the shock of his life when he nailed this 40 lb 3 oz pike.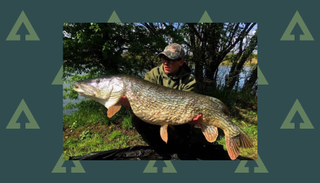 (Image credit: Angler's Mail)
Welcome to Advnture, the new home of AnglersMail.co.uk
The huge, unusually marked giant fell to a zig rig at day ticket Pasture Wood Fisheries in Lincolnshire.
Hull, Humberside-based carp fan arrived at Pasture Wood around 7.30am and took a walk around the pond, before working out his tactics.
He said: "I couldn't see any fish so followed the wind because it was warm and went to the back right corner which had the wind blowing into it.
"My approach, with it only being my third visit (to Pasture Wood Fisheries) and not having much knowledge of the pond, was to have one roaming rod with a single hook bait cast far to the right where the wind was blowing down to.
"Another rod was fished over 10-15 spods of home-cooked hemp with corn cast a foot off the aerator.
"And my third rod was on an adjustable zig just in front to the right, right up against the rope.
"On the zig I initially started with pink foam and varied the depth from just under the surface to 5 ft down, varying depth every 30-40 minutes.
"After not having a run for about three hours I decided to switch pink for yellow foam and added a piece of fake corn soaked in Trigger from Enterprise Tackle and re-cast, landing just inches from the rope.
"I set my zig a ft and a half under, and after about 10-15 minutes I heard a few beeps which quickly escalated to my rod tip smashing round to the right, ripping my bobbin off and melting line off my reel.
"I jumped up and grabbed my rod, the fish started to kite right, at this point it didn't feel like anything special."
Pasture Wood giant powered off
Jack continued: "Suddenly it flew straight towards me ending up right beneath my feet, giving me my first glimpse of the monster, and to my surprise it was a giant pike as I was initially fishing for carp.
"It quickly powered left under both my other rods, peeling line once again. I ended up having to pass my rod underneath the other two (fully submerging it in the water).
"This is when the real fight began, stopping it getting into the snags just to the left of me, at one point I thought it was snagged, but it was actually just the weight of the fish subduing to the pressure I was putting on.
"I then turned its head and it rose to the surface, briefly revealing its full size before taking off away from me, heading into the middle of the pond.
"But at this point it was tiring, still trying to swim away from me, I managed to pull it back towards me and it ended up surfacing about 15 ft in front of the bank which it didn't seem to like and quickly started powering back into the depths.
"I applied steady pressure and it held about 5ft under, it surfaced for the last time, just in front of me looking prehistoric and with a last few kicks of its tail I realised the fight was over and reached for my net.
"I pulled the fish over the the lip of my net, with it only just fitting in, shimmying the last of its tail inside.
"I stood, took a breath and had a look in my net, thinking to myself 'That's got to be a 30-pounder'.
"When I pulled it out the water that's when it struck me how big it actually was.
"I laid it on the unhooking mat and was surprised to see that the hook was stuck just through the outside of the very tip of the bottom lip.
"Getting it on the scales I was blown away when I saw the needled flick up to the high 30s, low 40s finally settling on 40 lb 3 oz!
"Trying to hold it for a photo was a challenge in itself and after releasing it back into the water it started to sink in what achievement that actually was," added the 23-year-old engineer, who puts his captures on his _lilcarpy Intagram account.
Pasture Wood, a well stocked venue at Barton-upon-Humber, has three ponds (one being inter-linked), a cafe, tackle shop, disabled access and toilets.
It offers mixed fishing, including plenty of carp, for day ticket anglers and those staying in cabins.
The full address of Pasture Wood Fisheries is Pasture House, Pasture Road North, North Yorkshire, DN18 5RB.
All the latest inspiration, tips and guides to help you plan your next Advnture!
Running from 1964 until 2020, Angler's Mail was the UK's leading weekly magazine devoted to coarse fishing, telling readers everything they needed to know about which fish to catch, where to catch them, and what kit they needed to do it. Now, loads of the magazine's expert advice can be found on Advnture.com, as a helpful resource for angling newcomers and experts alike.