Reaching K2's summit in winter: the race to make history
Scaling the peak of K2 is a feat yet to be achieved in winter, but four teams hope to rewrite the record books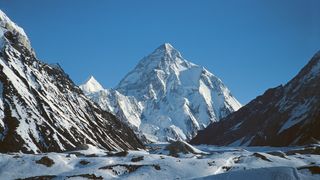 (Image credit: DEA / F.MARAINI/De Agostini via Getty Images)
Part of the Karakoram Mountain range on the border of Pakistan and China, and standing at 8611m above sea level, K2 is the second tallest mountain in the world, behind only Mount Everest.
No one has ever reached K2's summit in the winter, but that doesn't mean there hasn't been interest in the unique challenge of the 'Savage Mountain''s. With fewer than 400 people having ever conquered the mountain, it's a much more difficult proposition than many of its counterparts. Everest, which is 237m taller, has welcomed more than 5000 people at the summit.
Of the 14 mountains that surpass a height of 8000m, K2 is the only peak yet to be scaled in the harshest season of the year. K2 is also the deadliest of the five tallest mountains, with one person dying for every four who reach the summit.
Despite that, four teams have converged on K2, all with the same goal in mind. To create history and become the first successful winter expedition. Up until now, an insurmountable task for mountaineers due to the sheer slopes and extremely harsh weather conditions.
Teams there are making steady progress, having arrived before Christmas in order to acclimatise and manoeuvre equipment to higher camps. Aided by the help of Nepali Sherpas, ropes are already fixed at camp 3 as progress continues to reach camp 4.
However, one Polish climber has already been forced to pull out of the ascent , suffering a hernia while ascending to camps higher up. There have also been reports of Sherpas returning with frostbite from higher altitudes, an issue that will likely persist as temperatures lie around -40℃ at Camp 1.
With one good weather window all that is required to successfully summit the peak of K2, it is vital the mountaineers play the waiting game. Winter storms are frequent on K2, and with large amounts of snow being dumped on the mountain, ropes are regularly buried.
Winds are also a major problem on the summit, with jet streams exceeding 100mph. It is unsafe for even the most experienced mountaineers to ascend at 35-40mph winds. Therefore, it is critical for these climbers to remain patient.
Defined as the last great mountaineering challenge, traversing this monstrous mountain in winter would immortalise someone within the record books.
All the latest inspiration, tips and guides to help you plan your next Advnture!