Best mountains to climb in the US: 7 spectacular mountains that everyone can climb
Forget international peak bagging – here are the best mountains to climb in the US that anyone with reasonable fitness can ascend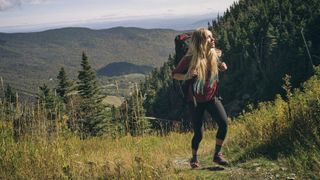 (Image credit: Getty)
The best mountains to climb in the US may not be the loftiest, but what they lack in height they make up for with beauty and the satisfaction of a challenge conquered. Anyone can climb these mountains, so dust off your best hiking boots, strap on your best hiking backpack and head for the mountains. (And don't forget that waterproof jacket!)
The mountains typically collectively referred to as 'The Seven Summits' include the highest peak on every continent in the world (which is more controversial than you might think).
But 'biggest' doesn't mean 'best'. There are plenty of notable peaks to bag that don't require world-class fitness, an overseas flight, and weeks to climb. Peak-bagging is a popular approach to hiking on both sides of the pond and hikers in the US and the UK know that size is not everything.
We picked out the best mountains to climb in the US. Significant for their history, location, and great views, they are all fine and worthy summits. All can be conquered in a day, and each has a story that makes it worth adding to your personal bucket list.
Mt Mansfield, Vermont
Essential info
Height: 4,393 feet/1,339 meters
Route distance: 6.6 miles roundtrip from Underhill State Park Headquarters.
Elevation gain: 2,568 ft/783 meters
Alternate route: If hiking the whole ridgeline sounds overly ambitious, drive the Mt Mansfield Toll Road to near the Forehead of Mt Mansfield, then traverse the summit ridge to the chin. Or, take Sunset Ridge Trail 1.7 miles to Cantilever Rock, which has sweeping views of Lake Champlain and New York's Adirondacks.
Why we picked it: Vermont's highest peak has alpine vegetation even though it's under 5000ft high. The Long Trail crosses the summit. And this peak has a legendary monster!
Why we love it: Mt Mansfield was named for its summit ridgeline, which looks like a man's face lying down. Vermont's highest peak has alpine vegetation at the summit, and a view of the entire Green Mountain range, which extends north to Canada and south to Massachusetts from the summit. From Underhill State Park, take the Sunset Ridge Trail, an exposed but broad rock spine that forms the northwestern approach to Mt. Mansfield.
Along the way, you'll have a bird's eye view of Lake Champlain and New York's Adirondack Mountains. The trail is a relatively flat alternating doubletrack and singletrack path for the first mile before it climbs through northern hardwoods to the turnoff to Cantilever Rock. Then, you're on a rocky ridge to the summit. You'll top out on Mt Mansfield's chin, with views into the town of Stowe. Retrace to Underhill State Park the way you came, or opt for steep and blocky Laura Cowles Trail, or the Wampahoofus Trail. The Wampahoofus is Mt Mansfield's mythological monster, which has one leg shorter than the other from circling the steep peak in only one direction.
Cadillac Mountain, Acadia National Park, Maine
Essential info
Height: 1,530 feet/466 meters
Route distance: 4.4 miles/7.08 km round trip
Elevation gain: 1,530 feet/466 meters
Alternate route: There are 20 mountains on Mount Desert Island. And Acadia has hikes from easy to strenuous, each offering views of Maine's rugged coastline and outlying islands.
Why we picked it: Cadillac Mountain is in Acadia National Park, and from its summit, you can be one of the first people on the eastern seaboard to see the sunrise.
Why we love it: One of the reasons Cadillac Mountain is was of the best mountains to climb in the US is that it's the first peak to view sunrise and the highest Atlantic coastal peak. So, understandably, the best time to hike Cadillac Mountain in Acadia National Park is early in the morning – that means you're there when the first sun rays crest the Atlantic Ocean over Schoodic Peninsula to the east. Take the Cadillac North Ridge Trail to the top.
It's a rocky ascent that climbs granite slope and stairs. The brisk hike will help you wake up and warm up. If you're not a morning person, consider hiking to Cadillac's summit for sunset. From the top, gaze over Southwest Harbor's twinkling lights, and Eagle Lake and Blue Hill Mountain to the West as the sun burnishes Cadillac's pink granite rocky top to glowing, and the spruce and pitch pines below you sparkle in the setting sun.
Half Dome, Yosemite National Park, California
Essential info
Height: 8,844 feet/2,695 meters
Route distance: 16 miles/25.7 km
Elevation gain: 5,457 feet/1,663 meters
Alternate route: If you don't score a permit for Half Dome, consider hiking the strenuous Four Mile Trail. It's a 9.6 mile/15.5 km round trip, with 3,200 ft/975 m elevation gain from its start at Sentinel Rock. The trail maintains a steep grade as it climbs to the top of Yosemite Valley at Glacier Point for breathtaking views of Yosemite Valley, El Capitan, Yosemite Falls, and Half Dome.
Why we picked it: Half Dome is genuinely iconic. It rises 5,000 feet above Yosemite Valley, and is one of the most sought after climbs for both hikers and rock climbers worldwide.
Why we love it: Half Dome is the best-known rock formation in Yosemite National Park, and perhaps all of the United States, which made it an easy choice for our best mountains to climb in the US. It was well documented by photographer Ansel Adams, and more recently made famous by rock climber Alex Honnold who free-soloed Half Dome, a feat that was documented briefly in the movie Free Solo, which focused mainly on his ascent of neighbouring El Capitan.
Hiking Half Dome is a rite of passage for American walkers, but don't be fooled by pavement at the start of the Mist Trail, or the waterfountain 1.5 miles/2.4 km in. This is a serious hike for fit adventurers who are prepared for weather, and a long day out. Soon after the water fountain, the trail becomes a slippery rock staircase to Vernal Falls, then winds through shady forest to Nevada Falls. Enjoy the brief respite from climbing to Little Yosemite Valley, then wander through stately sequoias and a glimpse of the cabled final pitch.
Stone steps lead up the slab approach to metal cables bolted to the rocks that help hikers haul themselves up the last 400 feet/122 meters of this route. There can be snow on the upper sections of the hike, even mid-summer. After a photo op and 360° views of the High Sierra, Yosemite Valley, and more from the exposed promontory at the top, retrace the cabled section and the Mist Trail or take the Muir Trail back to the valley. The Muir Trail is 1.5 miles / 2.4 km longer, but not as steep. A National Park Service permit is required to hike Half Dome. Plan to be out for 12 hours.
Burroughs Mountains Hike, Mount Rainier National Park, Washington
Essential info
Height: 7,800 feet/2,377 meters
Route distance: 7 miles/11.3 km
Elevation gain: 1,345 feet/410 meters
Alternate route: Hike to First Burroughs, then descend, which is just over four miles. If you want to climb Third Burroughs, it's another 3 miles/4.8 km and 1,155 feet/352 meters of climbing (round trip). But you'll be rewarded with views of Mount Rainier that make it look super close.
Why we picked it: Mount Rainier is an active volcano and the most glaciated peak in the contiguous US. It spawns five major rivers and is an iconic landmark in Washington State. Summiting Mt. Raining requires technical skills and multiple days. But hiking the Second and Third Burroughs Mountains, you're close enough to feel like you can touch it.
Why we love it: Mount Rainier rises 14,410 feet/4,392 meters above sea level straight into the clouds, and the best views of the peak are from the Burroughs Mountains. Named for naturalist and essayist John Burroughs, the three Burroughs Mountains rise from Mt. Rainier's northeast slope. Tag the summits via the Sunrise Rim Trail, which passes Shadow Lake then ascends to an overlook on the White River and Emmons Glacier. If it's early summer, prepare to be enchanted by rainbows of wildflowers sweeping across Arctic tundra near the peak's summits. The summit of First Burroughs Mountain is a broad plateau. Head west to climb 0.7 miles/1.1 km to the summit of Second Burroughs Mountain, and panoramic views of Mount Rainier and the Emmons Glacier. On the way, keep an eye for mountain goats, marmot, and pika. Return to First Burroughs and then decide to turn this into a loop hike or to retrace the way you came.
La Plata Peak, Colorado
Essential info
Height: 14,336 feet/4,370 meters
Route distance: 9.25 miles/14.9 km
Elevation gain: 4,500 feet/1,372 meters
Alternate route: Hike to the La Plata Peak summit from near Winfield, to the south of the peak, and trek north into a large marshy basin at 12,000 feet/3,700 meters. Then the trail gets steep as it scales a headwall to 13,000 feet/4,000 meters. It's a short rock scramble to the summit from there. Or choose to summit via a class-4 scramble that ascends 6000 feet/1,829 meters hiking the northeast arm of Ellingwood Ridge.
Why we picked it: One of Colorado's '14ers', La Plata is one of the tallest peaks in the Rockies, is more remote than Pike's Peak (the 14er that inspired 'America the Beautiful') and there's no road to the top.
Why we love it: Colorado has 58 mountain peaks exceeding 14,000 feet. They're known as '14ers' and hikers try to summit all of them. La Plata is the fifth highest peak in the Rockies, and definitely one of the best mountains to climb in the US. The trail to the top leads hikers through a host of ecosystems, including up a talus slope with stunning views. Take the North Trail Summer Route, which winds through the forest following La Plata Gulch for the first third of the hike before switchbacking up the mountain, and clambering up an exposed talus field. Distract yourself by counting the switchbacks on your route (there are enough that you'll likely lose track before you finish the journey). Keep your eye out for tiny and brilliant alpine flowers in early summer, as well as marmots, pika, and ptarmigans. Switchback up a steep gully, through high alpine meadows, and navigate a steep pitch to the Northwest Ridge. Crest the mountain's rocky ridge at a flat spot and look for the trail as it climbs the right edge of the summit ridge to the top, and views of Mt Harvard and Mt Elbert.
Windsor Trail, Santa Fe Baldy, New Mexico
Essential info
Height: 12,622ft /3,847 m
Route distance: 13 miles/20.9 km
Elevation gain: 5,249 ft/1,600 meters
Alternate route: The Anatoli Route is a loop hike named after Russian mountaineer and former Santa Fe resident Anatoli Boukreev, who used it as his training ground. After summitting Santa Fe Baldy, bag Deception, Lake, and Penitente peaks then descend to the Santa Fe Ski Area, a 16.2 mile/26 km route. Or, do the hike as an overnight. You'll find excellent camping and great side trips along the route.
Why we picked it: This big and beautiful peak is only 30 minutes from Santa Fe. It's easy to extend the hike if you're feeling ambitious. And, the trail has plenty of places to camp out, as well as scenic side trips galore.
Why we love it: The highest mountain in the southern Sangre de Cristo range, Santa Fe Baldy towers above the City of Santa Fe, NM. It's not a difficult trek to the top, but the seven-mile approach makes it an undertaking. It is nonetheless one of the best mountains to climb in the US. The trailhead is 30 minutes from downtown Santa Fe. Head north on the Windsor Trail. It flows through rustling aspens and whispering pines.
The trail is mostly flat for the first five miles but climbs when it enters Puerto Nambe basin shrouded on three sides by Santa Fe Baldy and neighboring Penitente Peak. At the intersection, follow trail 251 to climb into the alpine zone. It meanders over Baldy's southeast ridge to the top. From the summit, you'll see at least three other mountain ranges, the Jemez Mountains to the West, the Sandia Mountains to the South, the Truchas Mountains to the North. You'll also catch a glimpse of New Mexico's eastern plains to the east as well as the Rio Grande valley before you retrace your route to the parking lot.
Highpoint Trail, Black Elk Peak, South Dakota
Essential info
Height: 7,242 feet/2,207 meters
Route distance: 7.4 miles/ 11.9km roundtrip
Elevation gain: 1,515 ft /462 meters
Alternate route: There are a dozen ways to summit Black Elk Peak.
Why we picked it: South Dakota's highest point, Black Elk Peak gazes out over granite cliffs and ponderosa pines
Why we love it: Oglala Lakota medicine man Black Elk (Heȟáka Sápa) had his first vision at age 9 on this peak. In 2016, some 150 years later, the peak, which is South Dakota's highest point, was renamed to honor Black Elk and in recognition of the significance of the mountain to Native Americans. The summit gazes out over granite cliffs and ponderosa pines that Black Elk (a combatant in the Battle of Little Bighorn, survivor of the Wounded Knee Massacre and one-time member of Buffalo Bill's Wild West Show) described as "the whole hoop of the world".
From Custer State Park, it's an easy to moderate Four-mile loop hike on the Highpoint Trail to Black Elk's granite summit, where you can also find a stone firetower constructed by the Civilian Conservation Corps in 1938. Continue four miles from the top of Black Elk Peak on Trails 3 and 4, ascending a scrambly spur atop Little Devil's Tower for views of the jagged knife-edge ridges of the Cathedral Spires. These dramatic views are just one of the aspects that makes Black Elk Peak one of the best mountains to climb in the US.
All the latest inspiration, tips and guides to help you plan your next Advnture!
Vermont-based writer, photographer and adventurer, Berne reports on hiking, biking, skiing, overlanding, travel, climbing and kayaking for category-leading publications in the U.S., Europe and beyond. In the field, she's been asked to deliver a herd of llamas to a Bolivian mountaintop corral, had first fat-biking descents in Alaska, helped establish East Greenland's first sport climbing and biked the length of Jordan. She's worked to help brands clean up their materials and manufacturing, and has had guns pulled on her in at least three continents.