Angler's Mail editor lands massive 70 lb-plus river carp
The magazine editor has caught one of the biggest river carp ever reported.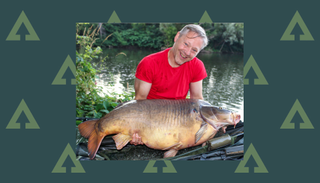 (Image credit: Angler's Mail)
Welcome to Advnture, the new home of AnglersMail.co.uk
Angler's Mail editor Tim Knight's heavyweight came almost by accident from the River Lot while on holiday during a record heatwave in France.
The colossal sparsely-scaled mirror carp bottomed his 66 lb digital scales. That left him in the dark as to how much heavier it could have been.
But after detective work on the 'incredible bulk', he now knows the same fish scaled 74 lb 6 oz last autumn.
That's double the weight of the big river carp Tim landed two days earlier, a 37 lb mirror.
His near-leather leviathan came from the 299-mile-long River Lot during a getaway from work with Angler's Mail. He travelled through France, with stopovers by several rivers.
He slid his net under the giant carp during one of his pre-breakfast sessions, before the heat of the day set in.
'Fish of a lifetime'
Tim takes up the preposterous tale of how he netted the fish of a lifetime…
"I still cannot quite believe what happened, nor how this fish ranks. I'm gobsmacked, laughing and pinching myself that it wasn't a dream," said Tim.
"I had to get up for dawn as there is no night fishing where I was fishing, and I was on a holiday with the 'other half', so catching fish was not the be-all and end-all.
"It was so red-hot that being outside in the main part of the day was difficult, but early morning was comfortable.
"The day I caught it turned into the hottest France had ever seen – the climax of a 'canicule' as they call it. Temperatures reached 45.9 Celsius. It was scorching where we were at the time, low 40s, by the middle reaches of the Lot.
"This huge and solidly-built fish, '70 lb-plus' or whatever, really did catch me by surprise.
"I was kitted out well after learning a lesson a few years ago. I had no-nonsense gear plus big cradle and sling, but I clearly got caught out on the scales front.
"A few people might think 'yeah, yeah. He works for a mag so someone told him where to fish, where to cast and probably even primed the swim.'
"That actually couldn't be further from the truth, and it was flukey!
"I prefer a touch of the unknown with my fishing and holidays. I only knew there were probably some carp in this area.
"There are fine fish in most parts of the river, but pressure by bait anglers is quite light except in a few spots.
"It's only since I got home that I have discovered this fish is reckoned to be the heaviest known mirror carp from the River Lot. That has blown my mind!
"Having seen pictures sent to me in confidence, I've matched up scale patterns and marks to a fish that was 74 lb 6 oz when caught by a Dutchman in a boat last year. I know it was also caught at 72 lb to a French angler four years back."
Early morning bite after prebaiting
Tim continued: "My bite came about 6.30am to two glugged, spicy 20mm boilies with a home-tied bog-standard 18 lb mono hair-rig.
"This was cast across to an area where I'd seen occasional fish roll at odd times before.
"We had used a boat for a 'romantic row' during the afternoons before, taking the opportunity to scatter a few kilos of mainly plain home-cooked maize with some boilies each time.
"After bending into the fish, I applied pressure to steer it from snags, and it came across the river quite easily.
"When I got my first glimpse I could see it was a big 'un, but I had no idea how bulky it was.
"It actually had a smaller mate alongside it, possibly even that 37-pounder I'd previously caught.
"This makes me wonder if the carp were grouped up for more spawning action. I know they spawned late this year in many waters, probably as the real heat of this summer was slow to begin.
"Disaster stuck when I let go of my landing net handle, letting it slip down into the water, but luckily the net's frame had floatation foam.
"I had no choice but to drop myself carefully down onto a marginal ledge in the water.
"From there, I retrieved the net and could play out the fish, which was a bit hairy due to marginal trees and other snags.
"I told myself to imagine it's just another 'pasty' on match gear, which kept me calm enough to steer it over the mesh and lift. It was mine!
"Then came the hard bit, after putting the fish in a retainer sling briefly. I had to wake the missus, Marion, telling her 'you must see this, I've never seen a carp this big in the flesh'.
"She knows me well enough to see I was serious, so with her added muscle we managed to carefully lift it onto the cradle, attempt a weighing, and get some quick photos. How blokes lift immense carp right up for pictures, making it look easy, beats me!
"As my scales only went to 66 lb, I'd not got a proper weight, and I wanted to get this epic creature back safely without more delay.
"Waving it off, back into this majestic river, is the best holiday memory I think I'll ever have," added Tim, whose old carp PB was 43 lb 13 oz.
His tackle was completed with a 10 ft 3 lb t.c. carp rod, freespool-style reel, extra strong size 6 hook and a 3.5 oz in-line lead.
Tim's time on the middle reaches of the River Lot also included a 26 lb common and 27 lb mirror, hooked one after another on different rods, plus some decent bream.
Giant river fish potential
Tim added: "The Lot is an amazing river, and not just for carp. I went to different stretches twice last year.
"And I've gawped at immense carp, catfish and zander by Jim Lightfoot, a Brit abroad with a rental further down the River Lot. He also accesses otherwise inaccessible spots by boat.
"I'd bet that there are bigger carp than the one I caught in the Lot, just like there are giants of various species that are as-yet uncaught in large waterways in England, like the Thames, Severn and Trent.
"Before I die I'd love to explore the whole South West region's many stunning waters more fully. The barbel potential excites me, too.
"So many stretches of interesting water over there are hardly, if at all, fished by any angler using baits.
"You would need several lifetimes to get to know those French rivers really well!"
The biggest carp ever from the Lot is believed to be a 76 lb common, which has since died.
A few other European rivers have produced 60s and even 70s…. and very possibly around 80 lb. Details of the very biggest catches are sketchy, or kept strictly quiet.
The heaviest river carp known to have been caught by a British angler, according to reliable sources, is a 77 lb common from the Ebro in Spain in 2013.
All the latest inspiration, tips and guides to help you plan your next Advnture!
Running from 1964 until 2020, Angler's Mail was the UK's leading weekly magazine devoted to coarse fishing, telling readers everything they needed to know about which fish to catch, where to catch them, and what kit they needed to do it. Now, loads of the magazine's expert advice can be found on Advnture.com, as a helpful resource for angling newcomers and experts alike.