Snowboarders come to the rescue of a skier trapped in snow
Two good samaritan snowboarders skid to a halt to help a skier who's learned the hard way about the danger of tree wells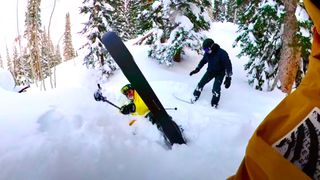 (Image credit: @BoardsBikesAndHikes)
Two snowboarders taking advantage of fresh snow in Utah's Solitude Mountain Resort at the weekend come to a sudden halt when the unexpectedly discover a skier trapped in soft snow created by a tree well.
In his video, which you can watch on YouTube, Alex Turner of Boards Bikes and Hikes shows the entire rescue, which acts as a sober warning of the dangers of tree wells and why you should never ski or snowboard through trees alone. The guy here wasn't in life-threatening danger, but things could have easily been so much worse.
"In this video," says Turner, "we'd been lapping this section of trees all day and came across a solo skier who was stuck. Now no i don't think he was in a life-threatening scenario but we definitely made his life much easier helping him dig his way out."
The trapped guy has his left leg stuck in the air but his right leg is buried, and the weight of the snow means he's unable to lift it out. Alex and Daniel scrape away at the snow, as the clearly embarrassed skier cringes, "Oh God… this is… sorry… yeah." But it's lucky that only his pride has been bruised and things weren't more serious.
"I absolutely LOVE snowboarding in the trees!" says Turner. "Hands down to me, on a day with fresh snow, there's no better place to be. HOWEVER! DO NOT RIDE THE TREES ALONE. Always go with a buddy, stay semi-close to one another, within eyesight ideally, and we yell back and forth every so often just to make sure each others okay. Tree wells can be dangerous so you want to take some some precautions."
Beware tree wells
Tree wells are areas of less compacted snow that can form around the base of any tree, and are extremely dangerous. In January, a skier in Colorado sadly died after falling into a well at the Steamboat Resort.
One way to avoid tree wells is to stick to groomed runs. If you choose to venture out into the backcountry, always go with a partner, and keep them in sight. Avoid getting close to trees, and be prepared for emergencies with a whistle, shovel, emergency beacon, and probe.
All the latest inspiration, tips and guides to help you plan your next Advnture!