Tenchfishers hope to rescue Skywell Reservoir
Tenchfishers raise funds for the famous tenchvenue.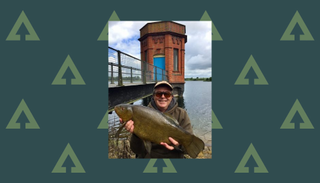 (Image credit: Angler's Mail)
Welcome to Advnture, the new home of AnglersMail.co.uk
As Tenchfishers know, Sywell was the most noted tench venue in the UK in the 1990s.
The Northamptonshire water's former heady days could be set for a return thanks to the Tenchfishers.
Some 30 anglers took part in the David Watson Memorial Project at the £8 a day, 67 acre venue.
Sywell gave some fine rewards including a top fish of 10 lb 3 oz (pictured above). The beauty, seen by the venue's iconic tower, fell to Ade Holmes from top shop Fosters of Birmingham, a sponsor of the tench anglers' organisation.
Other notably successful anglers were Mark Simmonds with four fish to 8 lb 11 oz (pictured below). And Rich Hall landed three tench to 8 lb 8 oz.
Working to boost Sywell stocks
Tenchfishers press officer Phil Jackson said: "The fish-in was to commemorate David, a well-respected group member.
"David had recognised the rapidly declining tench stocks in the Edwardian reservoir from around the turn of the millennium. He had taken the initiative to work with the EA in 2012.
"This was the first anniversary of his death on June 9, 2016. Profits from the day are to finance further stocking of the reservoir.
Phil added: "In February 2017, around 2,000 tench averaging 6 oz were stocked.
"More tench larger fish in the 1 lb bracket are scheduled for early 2018 sourced from Arron Standing – a well-known tench breeder."
Aim to reach Reservoir's former glory
Tenchfishers chairman Ian Peacock added: "The hope is to bring Sywell back to something approaching its former glory.
"There is no telling how successful we will be but we are determined to try."
In the 1990s, Sywell was also famous for having a legering ban. Heavy weed made the technique unviable on the fish but the ban has since been lifted.
All the latest inspiration, tips and guides to help you plan your next Advnture!