Three-year-old summits 3,300-metre Alpine peak
Internationally renowned climber, Berghaus athlete and proud father Leo Houlding celebrates his 40th birthday with a family jaunt… up Piz Badile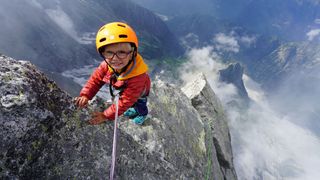 (Image credit: Leo Houlding)
The climbing community is well used to seeing images of Berghaus legend and professional adventurer Leo Houlding exploring ultra remote regions and standing atop towering technical peaks and crags – from the Old Man of Hoy to Everest – but last week he introduced a new generation of Houldings to the high life.
To mark his 40th birthday, Leo spent four days climbing the north ridge of Piz Badile, a famous 3,308-metre (10,853ft) peak on the border of Switzerland and Italy. Nothing remarkable about that you might think – not by Leo's standards, anyway – except this time he was accompanied by his wife Jessica and their two young children: seven-year-old Freya and three-year-old Jackson.
The group carried all their equipment and supplies, and overnighted in alpine huts and bivouac shelters. Freya, who only turned seven the week previously, climbed Piz Badile herself, unaided, becoming the youngest person to ever do so. Her baby brother Jackson was carried for some of the way by his mountaineer mum in a backpack, but 'broke free' for a few pitches. He is now, surely, the youngest person to have ever stood atop the peak.
Lake District-based Leo has himself been climbing since he was 10 years old. At 11 he became the youngest person to scale the Old Man of Hoy on Orkney, Scotland, and in 2014, he again scaled the famous sea stack – this time with Sir Chris Bonington, the first person to ever climb it, to mark Bonington's 80th birthday.
Berghaus began sponsoring Houlding when he was 17, and a year later he became the first Briton to free climb El Capitan in Yosemite Valley. He has since climbed many of the world's notable big walls and led expeditions to the summit of some of the most remote mountains on the planet, including a 35-day first ascent of Ulvetanna's Northeast ridge in Antarctica, Mount Asgard on Baffin Island on the edge of the Arctic, and the Prow of Roraima in rainforest-clad Guyana in South America. An experienced BASE jumper, he is a pioneer of Para-Alpinism (climbing up mountains and then flying down).
During his adventures, Leo has field tested all the latest Berghaus products available at the time, feeding back to the MtnHaus innovation team and playing a key role in the development of major innovations in the Extrem range.
"I'm so fortunate to have been able to feed my appetite for adventure almost constantly since I was a child," says Leo. "It's been a huge privilege and my relationship with Berghaus, and its people and products, has played a massive role in making that possible.
"I have always encouraged everyone to engage with adventure at any level and I'm very proud to be a trustee of the Outward Bound Trust, which last year introduced 30,000 young people from mainly underprivileged, urban backgrounds to the joy of outdoor action. As I've matured a bit and with a good deal of experience, I'm enjoying taking a mentoring role and sharing some of what I've learned with the next generation of adventure climbers, and of course my own kids."
Like many other people, Leo and Jess had to change their original holiday plans because of the Covid-19 pandemic.
"We were planning an excursion into the wilderness of the Wind River Range, Wyoming this summer but due to USA travel restrictions we changed plans to a campervan trip around the Alps," he says.
"The north ridge of the Piz Badile is unique in its astounding quality, great length and lack of objectives hazards. I was confident that if we had a stable weather window, we could make a family ascent and lucked out that the good spell saw us summit on my 40th birthday. Watching the dawn above the clouds, surrounded by everything I love the most was magical. It was a very special family adventure – as important and memorable as anything that I have done before."
All the latest inspiration, tips and guides to help you plan your next Advnture!
Author of Caving, Canyoning, Coasteering…, a recently released book about all kinds of outdoor adventures around Britain, Pat has spent 20 years pursuing stories involving boots, bikes, boats, beers and bruises. En route he's canoed Canada's Yukon River, climbed Mont Blanc and Kilimanjaro, skied and mountain biked through the Norwegian Alps, run an ultra across the roof of Mauritius, and set short-lived records for trail-running Australia's highest peaks and New Zealand's Great Walks. He's authored walking guides to Devon and Dorset, and once wrote a whole book about Toilets for Lonely Planet. Follow Pat's escapades on Strava here and instagram here.