Two-thirds of runners DNF during 'hottest' Montane Dragon's Back Race
High temperatures make world's toughest multi-stage mountain race even more challenging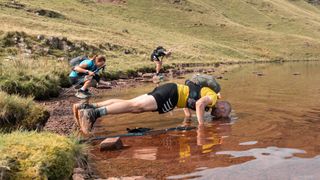 (Image credit: No Limits Photography)
A 380km ultra running event that is widely regarded as the world's toughest multi-stage mountain race lived up to its billing when fewer than a third of participants made it to the finish line at the weekend.
The rough and rugged terrain of the Wales-based Montane Dragon's Back Race – with a total ascent of close to twice the height of Everest (17,400m) – would have been hard enough, but weather conditions described as "extreme" and "suffocating" only added to the challenging nature of the event.
Temperatures rose to high 20s, reaching 28°C (82°F) on some days, and with little or no breeze for many hours at a time that further punished the athletes, who were representing 25 nations from around the world.
Runners reported that natural water sources were few and far between and many had dried out in the unseasonal September weather.
Of the 298 runners on the start line, only 87 – a total of 69 men and 18 women – finished, having completed six days of at least 60km daily distance along the gnarly spine of Wales, from Conwy in the north, to Cardiff in the south.
Hugh and Robyn win Montane Dragon's Back Race
The eventual winner was British athlete Hugh Chatfield, with Robyn Cassidy, also British, the fastest female, in third place overall. Polish runner Jakub Wolski claimed second place.
Hugh, from Hertfordshire, finished in a time of 47 hours, 38 minutes and 44 seconds. Jakub clocked 51:11:04 , while Robyn's time was 54:25:05.
Fourth overall was Tristan Stephenson (56:36:25), followed by Welshman Owen Rees (57:54:51) and Iain Best (58:41:47). The USA's Alyssa Clark was seventh overall and second in the women's race in 59:15:03, while Spain's Silvia Ainhoa Trigueros was third woman and eighth overall in 61:31:42. The top ten was completed by Robert Woolley (63:15:22) and fourth woman Holly Wootten (64:50:50).
Hugh, 28, who works for a social enterprise, said: "I was told at the start that you've got to have your 'why' when you take on this race, because you'll go through highs and you'll go through lows. Everyone who makes it here, whatever distance they've come, has had to draw on that at some point.
"At the end of day four, I had a cry on the road section when I saw my parents. If you haven't cried, I don't think you've run it properly.
"Kudos to Jakub who has never even seen these mountains. Thanks to everyone for the support."
Physiotherapist Robyn, 35, who is originally from Somerset, said: "There are no words to describe this moment. It's been the hardest, hardest, most emotional week.
"I've met the most amazing people and amazing runners. The team are incredible and the volunteers make it one big family. Absolutely nothing else can compare to the week."
"The heat was extreme with no let up"
As early as day one, it became clear that the freak spell of UK hot weather after a summer of generally much lower temperatures, would adversely affect many participants in the Montane Dragon's Back Race 2023.
Numerous runners did not complete the first day, which comprised a 49km mountain route with some 3800m of ascent. Those that couldn't finish were able to move to what was known as a "Hatchling" course, with the option to complete half days for the rest of the race.
After day two, with another 59km and 3400m of ascent, yet more runners had joined the Hatchlings, while some had retired completely.
By day six, just 134 Hatchlings had finished and the list of those who had retired was 74.
Organisers, Ourea Events, took action to try to mitigate some of the potential for heat-related health issues, including dehydration, sunburn and heatstroke.
The amount of water that the runners must carry each daily was increased to three litres, while extra water stops were brought in.
On some days, runners were given extra time to complete the route in a race where cut-off times are closely observed.
Participants were also give time out of the race to take on water and cool down at support and water stops.
Catherine Bunn, from Inverness, Scottish Highlands, completed the first two days but was timed out by just six minutes at checkpoint nine, some 10 hours into day three. She went on to complete the Hatchlings course.
Catherine said: "It was around 28°C on a daily basis during the race but it felt so much hotter. There was very little wind and we were often out in hot sunshine with no shade for many hours at a time.
"As the race progressed, we moved from mountains, where there was a bit of relief from a breeze at times, to lower routes in the valleys and bracken and it was even hotter.
"It felt scorching and to add to this many of the fresh water sources were dried out, so you couldn't even soak clothes or hats for some cold water relief. The heat was often extreme with no let up."
Catherine, 43, was happy the organisers did all they could to keep runners safe. She said: "I was impressed by the organising team and how they added extra time for runners to have more water stops.
"There was plenty of emergency help when anyone needed it, too. So many people suffered heat stroke and there were medics ready with their support throughout the race.
"The organisers also had to cope with many more Hatchlings doing the race than they had imagined and this was a logistical challenge but they managed to handle it.
"I suffered with heatstroke on the evening of day one and I managed to get through until CP9 on day three. I am very happy to have completed the Hatchling course after that.
"I am not good in very hot weather and sunshine. There was no way I could have trained in Scotland for these sorts of conditions and the people who managed to finish the full race were those that could cope better with the sun and heat.
"The Dragon's Back Race is a tough undertaking for anyone, but running in a heatwave wasn't something we predicted."
Race director: "We did all we could to get as many runners to the finish"
Race director Shane Ohly, of Ourea Events, said: "We've had to manage the race during spells of hot weather before, but not for the whole week.
"In 2021, the first three days were very warm and in the end, fewer than 25 per cent of starters completed the full course. This year, it was hot all week and just under 30 per cent of participants completed the race. So, I think that the extra measures that we put in place worked really well.
"Everyone who enters the Montane Dragon's Back Race does so knowing that there is peril in taking on the challenge, from the front runners to those who are chasing cut-offs most days.
"It's the nature of this event and we would never want to alter that. In that context, we'd certainly prefer to not change any of the parameters during the race, but the welfare of our athletes – and our own team – is a top priority, so we didn't hesitate to introduce the measures that we did this year.
"We were delighted that so many participants decided to stay with us and complete their journey through Wales on the Hatchling. That certainly presented us with some additional logistical challenges, but our team coped really well and I hope that every runner who was with us in Wales had a memorable and positive experience."
All the latest inspiration, tips and guides to help you plan your next Advnture!
Fiona Russell is a widely published adventure journalist and blogger, who is better known as Fiona Outdoors. She is based in Scotland and is an all-round outdoors enthusiast with favourite activities including trail running, mountain walking, mountain biking, road cycling, triathlon and skiing, both downhill and back country. Her target for 2021 is to finish the final nine summits in her first round of all 282 Munros, the Scottish mountains of more than 3,000ft high. Aside from being outdoors, Fiona's biggest aim is to inspire others to enjoy the great outdoors, especially through her writing. She is also rarely seen without a running skort! Find out more at Fiona Outdoors.