What are the signs of dehydration?
Hydration on the trail can be a matter of life and death – here's how to spot dehydration symptoms and reduce the risk factors on long runs and hikes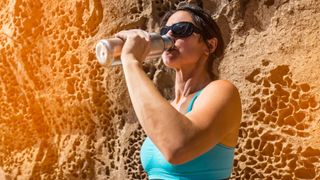 (Image credit: Getty)
At around 7:45 a.m. on August 2021, Jonathan Gerrish and Ellen Chung set off on a hike near Hites Cove just outside of Yosemite National Park with their one-year-old daughter and dog. By noon, all four were dead, and the tragedy kicked off a hailstorm of theories about what had happened to them, with a prevailing hypothesis that they had succumbed to toxic gasses from nearby mines. The truth wouldn't be discovered until two months later and it was far less mysterious – it was a blisteringly hot day, the party didn't have enough water and they died of dehydration and hyperthermia.
Sadly, stories along these lines appear in the news with some regularity, but often involve desert hiking or running where you'd expect extreme conditions. But Hites Cove is an area I've hiked many times – it's a great spot to see wildflowers in the spring – and I've always just hopped on the trail on my way into or out of the park with whatever water bottle is rolling around in my car and little other preparation. It's not a particularly remote or challenging hike after all. So learning that an entire family perished here, not all that far along the trail, was a wake up call for me to be better about carrying plenty of water and recognizing the signs and symptoms of dehydration. Is it just thirst, or is there more to spotting it when I'm out on a long hike or trail run?
Read on to discover the signs of dehydration, the risk factors for when you're out on the trail, and preventative measures you can take to stay safe on your adventures.
What is dehydration?
Dehydration is a condition where your body doesn't have enough fluids to carry out its normal functions, according to the Mayo Clinic. This can occur when you're losing excessive fluids, as in with certain illnesses, or when you're using up more fluids than you're taking in, for example if you're on a long trail run or hike and not drinking enough water.
Needless to say, hot and humid weather can contribute to dehydration, since you'll be sweating more on a hike or run than you usually would and need to replace fluids at a faster pace. Particularly if it's humid, your body temperature will remain high since your sweat can't evaporate off your skin. Dehydration in turn could lead to hyperthermia, the opposite of hypothermia, where your body overheats.
Even if it's not summer, you're not necessarily off the hook – dehydration can occur in any weather if the conditions are right. A few examples of factors that can increase your likelihood of developing dehydration on a hike even when it's not hot out include:
You're dehydrated to start with
You're hiking for a long time or on a strenuous trail
You're not carrying enough water
You're hiking at high altitude
Most of us have felt thirsty on a hike, run or even in daily life, and guessed that we're low on fluids, but it can be serious if you leave it untreated and keep pushing yourself – extreme dehydration can lead to further life-threatening complications such as heat stroke, seizure and low blood volume drop, where the amount of oxygen in your body decreases.
What are signs that you are dehydrated?
If you feel thirsty on a hike, you should drink water since thirst is an indication that your body needs fluids. However, many of us don't feel thirsty until we are already dehydrated and it's important to know the other signs and symptoms of dehydration so that you can spot them in yourself, or your hiking or running partner:
Less frequent urination
Dark-colored urine
Fatigue
Dizziness
Confusion
Once you or anyone in your party experiences these symptoms, you should consider it a medical emergency, stop hiking and focus on getting fluids. Water is the best medicine, though you can add electrolytes to replace salts lost through sweat, too. If you've taken a break from hiking or running to hydrate, once you have rested and rehydrated, you should slowly and carefully return to the trailhead and keep hydrating when you get home.
Depending on the severity of the situation, however, you may need help from mountain rescue to get to safety and you shouldn't be afraid to reach out for help. Though the family in Hites Cove did make several attempts to get help via phone messages and calls, they didn't attempt to call 911, which could have saved their lives.
As with just about everything in life, prevention is the best cure for dehydration. In other words, don't let things get out of hand before you start thinking about hydration. Follow these simple steps before you head out on the trail – regardless of the weather conditions – and you can avoid a potentially life-threatening situation.
Pre-hydrate by drinking lots of water before you set off
Carry enough lots of water in water bottles or in a hydration bladder and sip frequently
Carry a filter so you can safely source water in the wild
Carry a first aid kit with electrolytes
Hike within your abilities and avoid hiking or running in very hot weather
Finally, though many of us are wary about drinking water from a stream, and there are nasty viruses and parasites you could pick up, most doctors agree that if you're on a day hike, it's worth risking the bacteria and drinking the water as it might keep you alive until you can get help. On a longer expedition, make sure you have a water filter or purification tablets so that you can stay hydrated and avoid any potentially nasty tummy troubles when you're far from civilization.
All the latest inspiration, tips and guides to help you plan your next Advnture!
Julia Clarke is a staff writer for Advnture.com and the author of the book Restorative Yoga for Beginners. She loves to explore mountains on foot, bike, skis and belay and then recover on the the yoga mat. Julia graduated with a degree in journalism in 2004 and spent eight years working as a radio presenter in Kansas City, Vermont, Boston and New York City before discovering the joys of the Rocky Mountains. She then detoured west to Colorado and enjoyed 11 years teaching yoga in Vail before returning to her hometown of Glasgow, Scotland in 2020 to focus on family and writing.