Ultra runner sets new record on iconic 268-mile long-distance trail
Anna Troup battles 'awful' weather, injury and sickness for women's Fastest Known Time (FKT) on the Pennine Way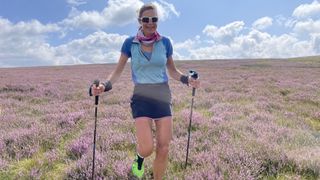 (Image credit: Richard Straite)
An ultra runner has set a new women's record for the 268-mile long-distance trail, the Pennine Way.
Anna Troup, 51, of Henley-on-Thames, ran north from Edale, in England, to Kirk Yetholm, in Scotland, in a time of 72 hours, 46 minutes.
Her finish time this week was more than 1.5 hours faster than the previous female fastest time set by Sabrina Verjee last September.
After her record run on Britain's national trail, Anna, who is mum to two teenagers, said: "I am absolutely thrilled."
However, she suggested there is still unfinished business with this route after an injury caused her to slow with 60 miles still to go.
She said: "My quad started to play up and that made my knee swell. It was very painful to descend after that and I had to slow right down.
"I think it is possible to run a faster time for the Pennine Way but, to be honest, with long-distance runs like these anything can happen or go wrong and so who knows what is possible.
"I think I might want to do it again though."
Anna was also aiming for the record run less than two month after winning and setting a new course record for the Montane Summer Spine Race 2021 in 80 hours and 28 minutes.
She also had only weeks to recover from the Montane Lakeland 10, too, where she was the winning female.
Anna, who trains and races with her partner Richard Staite, said: "Deciding to do the Pennine Way FKT was all a bit rushed. There was a window of opportunity around holidays and other commitments and we only had about two weeks to plan.
"I guess I was probably not properly recovered form the races but I just decided to do it anyway."
Highs and lows of new Pennine Way FKT
As well as the injury that plagued the final stages of the endurance run, Anna reports that the weather was awful.
She said: "It was wet, windy and claggy and there was only about two hours of sunshine. I found that hard because I prefer the sun. It was also really cold on the higher fells."
Anna believes she ended up over-eating early on. She said: "I started slowly and I think I must have eaten too much in the earlier stages because I suffered with an upset stomach and felt nauseous.
"Around 30 miles in I stopped for a quick sleep and I stopped eating for a bit and that helped.
"I felt okay again after that and then I just trusted myself to eat when I was hungry."
In total, Anna, who started ultra running in her 40s, took about 40 minutes of sleep broken into short naps. She finished on Tuesday August 17 at 12.45pm.
She said: "It wasn't really sleeping but more like lying down and closing my eyes. Somehow I can keep going with these sorts of long-distance runs."
Then highlights for Anna were the people who supported her. She said: "We kept it quite low key and I didn't have a large team of runners. In fact, I had two small teams who ran with me like a relay.
"They did about 15 miles, then had a rest for 30 miles, then did 15 miles more and so on. Each runner did about 40 to 50 miles in total with me. Richard did about 70 miles.
"It was great to see how happy people were to be running with me and to be part of my FKT."
Anna was buoyed by the kindness of strangers, too. She said: "People popped up all along the run to support me and it was amazing of them to do this. It really was a highlight to have so many kind people supporting me."
The secret of success on a long-distance run
Anna combines hiking and running in her training schedule. She said: "I do more hiking than running because these sorts endurance runs require a lot of hiking.
"If I can't get outside, I'll use the turbo for cycling or run on a treadmill. I also do plenty of strength and conditioning and weights training."
But she believes she is simply good at "consistency" and "keeping going". She said: "I can keep going for a very long time. It think it comes down to my personal physiology. I don't actually think I am a good runner."
The overall fastest time for running the Pennine Way is held by John Kelly, who in May completed the route in 58 hours, 4 minutes and 53 seconds, which was 3 hours 30 minutes faster than Damian Hall's time in 2020.
All the latest inspiration, tips and guides to help you plan your next Advnture!
Fiona Russell is a widely published adventure journalist and blogger, who is better known as Fiona Outdoors. She is based in Scotland and is an all-round outdoors enthusiast with favourite activities including trail running, mountain walking, mountain biking, road cycling, triathlon and skiing, both downhill and back country. Her target for 2021 is to finish the final nine summits in her first round of all 282 Munros, the Scottish mountains of more than 3,000ft high. Aside from being outdoors, Fiona's biggest aim is to inspire others to enjoy the great outdoors, especially through her writing. She is also rarely seen without a running skort! Find out more at Fiona Outdoors.