Urban fishing challenge – is this the ultimate angling mission?
An angler is on a 12-month challenge to catch a fish from every London borough – and all by using public transport.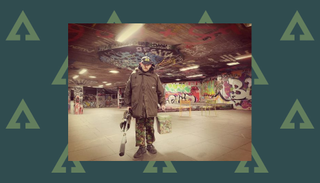 (Image credit: Angler's Mail)
Welcome to Advnture, the new home of AnglersMail.co.uk
Urban angling enthusiast Shaun Luke is well on his way to cracking his target.
Shaun reached 22 of the 33 locations when we caught up with him… as he trawls England's capital city for fish of any shape or size.
The 50-year-old gardener, from Plumstead, South East London, told us all about his incessant urban angling adventures.
"It is not easy holding down a day job and fishing every opportunity," noted Shaun.
"My mission is to catch a fish in all 32 London boroughs plus The City Of London.
"I'm back out tomorrow on the River Crane, in yet another attempt to catch in the borough of Hounslow.
"It is getting very tough now, tougher than ever and I can have numerous blanks.
"There's still no sign of a fish opposite the Houses Of Parliament on the Thames – but I will keep trying.
"Sometimes I'll visit two different venues in the same day as it has got into my blood," added the intrepid urban angling fan.
Shaun continued: "I've never blanked so many times in over 40 years of angling.
"It took five attempts on the Regent's Canal to finally catch.
"On the last trip I kept saying 'last cast, last cast', and I was literally about to pack up after eight hours with not so much as a sniff.
"I was using possibly the smallest float I could find in the box, taking just two No. 10 shot, light hooklengh, and a 26 hook.
"There was not a single sign of fish movement, or activity. Then, to my shock, the float went under.
"I almost fell off the stool as I whipped a little roach out… as quickly as grease lightning!"
Shaun added: "I'm not giving up by any means. I will book another week's holiday if need be.
"Being without a car has not helped, resulting in hundreds of hours traveling by public transport.
"It's been an eye-opener up to now – most enjoyable in parts, but tedious, and a struggle in others.
"I've met some truly wonderful people along the way.
"People can follow my quest on my Facebook page 'Angling with Shaun'," added the urban fishing ace.
All the latest inspiration, tips and guides to help you plan your next Advnture!
Running from 1964 until 2020, Angler's Mail was the UK's leading weekly magazine devoted to coarse fishing, telling readers everything they needed to know about which fish to catch, where to catch them, and what kit they needed to do it. Now, loads of the magazine's expert advice can be found on Advnture.com, as a helpful resource for angling newcomers and experts alike.