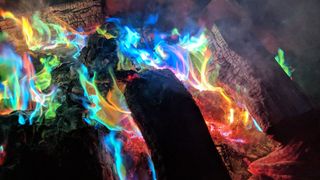 (Image credit: Amazon)
Open fires are magical as anyone who's spent an evening gazing into their flames will tell you. But to take your fire to the next level, you should get some magic flames. These small packets of fire colorant chemicals will make the flames burn in incredible colors, from bright yellows and oranges to deep, vibrant hues like green, blue and purple. The effect is stunning and will make your fire the focus of many excited "oohs" and "ahhs" from onlookers.
Easy to use, you simply throw two or three packets into the flames, they will last anywhere up to an hour. Great for campfires and wood-burning fires at home, particularly for Christmas and birthday celebrations. Here are the fire colorant packets we would recommend.
Best overall
Burns with rainbow colors for over an hour
Create colorful flames for your campfire, indoor fireplace, or backyard fire pit with one to three of these easy-to-use pouches. You toss them into the flames unopened and enjoy the vibrant, rainbow-colored flames for over an hour. The flames turn from basic yellows and oranges to deep, vibrant greens, blues, and purples for a magical display.
Best colors
Change flame colors on any wood fire
You can use these sachets on any wood-burning fire. Use between three and five unopened packets to transform the flames into a long-lasting array of rainbow colors. Expect to see green, blues, yellows, and purples as you gaze into the flames whether it's a campfire, fire pit or indoor fireplace.
Best value
Magical flames come in a pack of 12
This 12 pack of magical color-changing additives will make any fire look incredible. Toss an unopened pouch into the fire for a display of colors that can last over an hour. Kids will love it and adults will enjoy seeing the vibrant mystical flames.
Best blue flames
Transform your fire with blue flames
For a cooler fire experience, these fireplace colorant packets create exclusively blue flames. Use three packets on any wood-burning fire and your party will be treated to a mystical display of blue flames that lasts around 45 minutes.
Bottom line
Make your campfires even more magical by throwing some of these colorant packets into the flames. They look stunning and will delight your family and friends. Plus they look striking in photographs. We recommend Magical Flames as our favorite example of this product. They create amazing colors and last for a good amount of time, long enough to leave your family and friends entranced.
If you want to have a single color change to your fire rather than a whole rainbow, the Mystical Fire Blue Campfire Fireplace Colorant Packets are a good option. They burn in shades of blue, making them ideal for themed parties and events.
All the latest inspiration, tips and guides to help you plan your next Advnture!
Launched in July 2020, Advnture is the ideal destination for anyone who loves the great outdoors. Whether you're into epic hikes through the wilderness, camping trips with the family, climbing with your friends, or looking for a trail running personal best, our team of experts will point you in the right direction, with top buying advice and in-depth guides to help you get the most of your time in the backcountry.