The best multitools 2023: for camping, hiking and other outdoor adventures
The best multitool – compact and robust, but packing all the implements to do simple jobs and intricate tasks – will be your best friend in the backcountry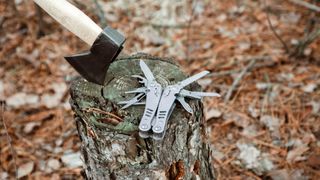 (Image credit: Getty)
The best multitool can be vital when you're out on an adventure because you never know what you're going to encounter next.
You can pack all of the right gear and clothing, but you still need to dig, scratch, pound, cut and poke stuff once you get out there. Sometimes some of your gear or clothing needs adjustments. Some stuff breaks and needs repairing. It's just how it is out in the wild – even if that 'wild' refers to the car-camping trip you're taking with your kids just 30 minutes from your house.
For all of those reasons and more, you need tools when you're out there. But because you can't carry an entire tool box with multiple implements, you need to carry a good, multifaceted multitool that's appropriate for the tasks you might need as part of your everyday carry essentials. The best multitools have knives and pliers. Some have screwdriver heads, a bottle opener, ruler and a small pair of scissors.
To determine the best multitool for your purposes, you need to consider how you'll be using it most of the time. Are you primarily hiking and camping? Or do you frequent hunt and fish too? Do you travel light and fast, or do you tend to carry a bigger pack with more gear? In all of those cases, consider a multitool that can handle sport-specific tasks and common challenges the you often encounter. Ultimately, you'll have to consider a number of factors, including the types of features, versatility, durability, weight and price.
The best multitools
1. CRKT Guppie
Small, innovative and unique, the Guppie is a hard-working carabiner-style multitool with dozens of uses
Specifications
Blades:
One 2-inch (5.1cm) straight blade
Material:
Stainless steel / plastic
Closed length:
3.5in / 88.9mm
Open length:
5.5in / 139.7mm
Reasons to buy
+
Compact, easily portable design
+
Unique set of practical tools
+
Manages small screws, bolts with ease
Reasons to avoid
-
Only one small knife blade
-
Palm-sized shape can be challenging to handle
-
Bit driver set is connected only by magnets
At first glance, the Guppie looks awkward and perhaps too small to be a significant player in the best multitool category. But looks can be deceiving, because the Guppie is one of the most versatile and smartly designed multifunction tools on the market. It has a surprising number of tools and uses and it's easily stowed or carried via a durable aluminum clip and carabiner. (Note: this is not rated as a weight-bearing carabiner for climbing purposes.)
Besides a 2-inch (5.1cm) straight blade, the Guppie also includes an adjustable wrench, a four-piece bit driver set and a built-in LED light. The mouth of the wrench opens to 0.5 inch (1.27cm) for light repairs and assembly work. The carabiner clip doubles as a bottle opener, while the aluminum flange clip can double as a money clip when tucked into a pocket.
Why is it called the Guppie? Because when the wrench is fully open, it resembles a small fish with a big mouth.
2. Geekey Multi-Tool
Inside this seemingly simple design is an ingenious array of functional tools and apparatuses
Reasons to buy
+
Small, lightweight, easy to pack or carry
+
Numerous functions and uses
+
Rugged, durable design
Reasons to avoid
-
Lacks any knife blade for cutting
-
Can drive bits, but bits aren't included
-
Doesn't function as a true multitool
This novelty tool made from industrial strength aluminum looks like a key, but that's about the only thing it isn't. Covertly designed into this small, lightweight gizmo are a multi-head screwdriver tip, wire stripper, small serrated edge, can opener, bottle opener, protractor, file, scoring edge and small metric and imperial rulers. There's also a 0.25-inch (6.35mm) open wrench, a dual-sided closed wrench capable of handling six imperial and six metric sizes of bolts, a notch that doubles as a wire bender or bicycle spoke key and two small hex-shaped cut-out sections, one for driving bits and the other capable of being a fire-starting aid or smoking pipe.
The Geekey Mutli-Tool is an everyday life hack that should always be strapped to your pack or tucked in your pocket. It's super versatile and could no doubt come in handy on a day hike, mountain bike ride or camping trip. But because it has no true cutting blade (the small serrated edge can snap twine in a pinch but it cannot be used as a knife), it means you'll always want to carry an additional multitool. The affordable price and versatility of the Geekey make it possible to have both.
3. Gerber Center Drive
A versatile multitool that offers full-length tools with optimal functionality
Specifications
Blades:
One 3.25-in / 8.3cm straight blade, one 2.5in / 6.4cm serrated blade
Material:
Stainless steel / aluminum
Closed length:
4.7in / 12cm
Open length:
6.6in / 17cm
Reasons to buy
+
Longer primary knife blade than most multitools
+
Smartly designed, center-axis drive system
+
Dual plier functionality is exceptional
Reasons to avoid
-
Thumb-operating opening button sticks a bit
The Center Drive has upgraded the definition of a best multitool with its longer tools and a center-axis driver system that uses standard bits. That design allows for the same maximal torque and handling as traditional tools. It has a full-size (3.25-in blade) outboard knife, an extended bit driver, standard pliers, spring-loaded needle nose pliers, a fine/coarse file, serrated blade, awl, pry bar, nail puller, ruler, bottle opener and wire cutters.
It's as good as an accessory tool for a craftsman as it is for a camper. There's no skimping on tool size or functionality with the Center Drive. It packs down to a compact design in the closed position, but it comes to life with a single-button, thumb-operated opening system. That opening/closing system isn't as smooth as the switch-blade action touted in the company video, but it's the only real flaw we discovered in our extensive testing.
4. Gerber Dime
A small, lightweight, 12-in-1 multitool at an affordable price
Specifications
Blades:
One 1.25in / 3.8cm straight blade
Material:
Stainless steel
Closed length:
2.75in / 7cm
Open length:
4.25in / 10.8cm
Reasons to buy
+
Small, lightweight
+
Extremely affordable
Reasons to avoid
-
One small, non-locking knife blade
-
Limited backcountry usefulness
-
Small size makes it difficult to apply torque
If you're looking for a budget best multitool that offers a few key features, the Dime is one you should consider. It's lightweight and small enough to stow just about anywhere – a pocket, a pack, dashboard – but strong and sturdy enough to execute a lot of basic cutting, crimping, opening and adjusting tasks. It doesn't do everything, but what it does do, it does well. And while the price is unfathomably low, it feels much more solid compared to other multitools in this price range.
Aside from the small straight blade, spring-loaded pliers and traditional pliers, its most handy features are the removable tweezers and small scissors. It also has two flathead drivers, a bottle opener, box cutter, file and wire cutters. That's about it, but that's enough for an everyday multitool and one that can be helpful in a pinch on short camping trips and hiking excursions.
5. Gerber Truss
The Truss is a 17-tool device with a compact, butterfly-design frame and an affordable price
Specifications
Blades:
One 2.25in / 5.7cm straight blade, one 2.25in / 5.7cm serrated blade, one 2.25in / 5.7cm saw blade
Material:
Stainless steel
Closed length:
4.35in / 11cm
Open length:
6.5in / 16.5cm
Reasons to buy
+
Features a complete set of tools, including scissors and a saw
+
Blades are medium-length but sturdy
+
Affordable price for what it offers
Reasons to avoid
-
Slightly heavier than some multitools
This classic, butterfly-design multitool is loaded with tools and functionality in a compact, palm-sized designed. In addition to wire cutters, traditional pliers and spring-loaded needle-nosed pliers, the Truss has three sturdy, medium-sized blades – straight, serrated and a saw – in its tool kit. Throw in small-, medium- and large-sized flathead drivers, a cross-head driver, awl, wire stripper and scissors and there isn't any implement it doesn't have. A file, ruler, can opener and bottle opener round out the robust mix.
If you're looking for a complete adventure-oriented multitool, the Truss is a good one to bring along on your backcountry adventures. If you take this one, you won't need another knife or any other accessory gizmo.
6. Leatherman Charge+ TTi
A premium version of one of the original modern multitool designs with do-everything functionality
Specifications
Blades:
One 3in / 7.6cm straight blade; one 3in / 7.6cm serrated blade, one 3in / 7.6cm saw
Material:
Stainless steel / titanium
Closed length:
4in / 10.2cm
Open length:
6.25 in / 15.8cm
Reasons to buy
+
Premium materials and design
+
Complete set of tools and blades
+
Every tool and knife locks into place
Reasons to avoid
-
Scissors are tiny and limited in functionality
-
Loftier price tag compared to other tools
If you want to start from the top of the category, the Leatherman Charge+ TTi is a versatile, best-in-class multitool that's well worth the relatively high price tag it carries. The design, materials and 19-tool functionality are hard to beat, starting with the medium-length straight, serrated and saw blades that lock into place for safety. There are also needle-nose and tradition pliers, scissors, bit driers, screw drivers, a two-sided file wire cutters, wire crimpers and a wire stripper, a cutting hook, can opener, bottle opener and an 8-inch (19cm) ruler.
If you want to invest in one multitool for your backcountry hiking and camping needs, Leatherman Charge+ TTi should be the only one you ever need. It has a sturdy, durable feel that should last a long time. Aside from the limited functionality of the tiny, frail scissors, there aren't any real drawbacks. Truly one of the best multitools
7. Leatherman Surge
A heavy-duty, full-size multitool with loads of functionality and purpose-driven devices
Specifications
Blades:
One 3.1in / 8cm straight blade, one 3.5in / 9cm serrated blade, one 3in / 7.6cm saw
Material:
Stainless steel
Closed length:
4.5in / 11.5cm
Reasons to buy
+
Full-size functionality, ergonomics
+
Sturdy, durable construction
+
Comes with sheath and lanyard
Reasons to avoid
-
Heavier than many multitools
-
Pricey
The Leatherman Surge is something you'll want to keep in a toolbox during the week and in your backpack on weekends. With a 21-tool array, it's got just about everything you can cram into a multitool. There's no skimping on size, quality or sturdiness either. The blades, scissors, file and pliers are all full-size implements and it has exceptional, best-in-class ergonomics for big and small tasks. It has two wire cutters, a wire crimper, needle-nose and traditional pliers, a proprietary bit driver, two flat-head drivers, a removable two-sided file, an awl, can opener and bottle opener.
The downside to the Surge, of course, is that it's heavy and bulky. It's so big that it feels cumbersome carrying it in your pocket when you're hiking (although it does come with a sheath, so it can be attached to a belt). That's what you get when you invest in a heavy-duty tool, but the mid-range price makes sense if you'll be using it for odd jobs around the house too.
8. Nite Ize Doohickey
Small, simple and slim, this key tool is a helpful accessory to clip to a backpack zipper
Specifications
Material:
Stainless steel
Reasons to buy
+
A lightweight but sturdy accessory
+
A nice, little add-on tool
+
Very affordable
Reasons to avoid
-
No cutting blades, limited tools and functionality
The Nite Ize Doohickey has a box cutter, bottle opener, ruler, three-dimension open wrench (1/2in, 5/16in, 3/8in), a flathead driver head and a carabiner-style latching clip. OK, let's face it, this is just an accessory, but its price and compact size make it a no-brainer for hikers, campers, trail runners and other human-powered adventurers. This accessory probably won't save your life and it can't fix your tent, but it offers just enough functionality to be a worthy add-on purchase. If nothing else, it shows that good things come in small packages.
9. RoverTac Multitool Hatchet
A slightly larger, powerful multitool that offers functions that pocket-sized multitools don't
Specifications
Blades:
One 3.1in / 8cm straight blade, one 3.1in / 9cm serrated blade, one 3.3in / 8.4cm saw
Material:
Stainless steel
Color:
Back & red or black & yellow
Closed length:
6.9in / 17.5cm
Open length:
9.9in / 25cm
Reasons to buy
+
Unique tools and functionality
+
Offers moderate hammering and chopping capabilities
+
Best stowed on belt with case
Reasons to avoid
-
Heavier than most multitools
-
Lacks needle-nose pliers
This is a heavy-duty, moderate-sized multitool chock full of big-task functionality. While it has several blades, wrenches and screwdrivers, the key to this piece's place in any best multitools selection is the hammer, axe and pliers. Though not full-sized compared to individual tools, they're big enough to provide moderate power and precision to chopping, hammering and squeezing operations.
There's also a handful of other accessories – bottle opener, file, assorted hex wrenches and even a fish descaler – but the real reason to invest in this is for the hammer and hatchet. Typically, it's easy enough to find a rock for any pounding needs and most dried branches can be broken into smaller pieces with a little elbow grease. This might be one of those tools you stash in your vehicle or gear box when you go car camping, but one you leave at home when you're backpacking.
10. SOG PowerLitre
The PowerLitre is a miniature multitool that delivers considerable utility and functionality
Specifications
Blades:
One 2.75in / 7cm straight blade
Material:
Stainless steel
Closed length:
3.3in / 8.4cm
Open length:
5.1in / 13cm
Reasons to buy
+
Compact, lightweight design
+
Includes a corkscrew for a bottle of bubbly
Reasons to avoid
-
Only one knife blade
-
Limited to low-torque tasks
The PowerLitre is a miniature tool that fits nicely in the palm of your hand, tucks into a shirt pocket or stores easily in a side pouch of your backpack. But let's face it, a small multitool means it has small implements that are best for smallish tasks.
It has all of the standard stuff of some of the bigger best multitools – a knife blade, needle-nose pliers, screwdriver, scissors, a can opener, wire cutter – but the one element that is enormous in stature is the corkscrew. If you're camping out in the wild and you want to open a bottle of wine, you'll be smart to pack this nifty multitool. (If you want to make yourself crazy, try to remove the cork of a wine bottle with a small straight blade or any other device of your multitool that isn't sharp and curly. It will be an act of self-destruction!)
Otherwise, the PowerLitre is nice gadget for light-duty tinkering but not bigger jobs.
11. Victorinox SwissCard Lite
A small, lightweight, novelty multitool with a surprisingly amount of functionality
Specifications
Blades:
One 1.4in / 8cm straight blade
Material:
Stainless steel / plastic
Color:
Red, blue or black
Reasons to buy
+
Compact, lightweight, easy to stow
+
Unique tools for intricate tasks
Reasons to avoid
-
Tiny blade isn't really a viable cutting tool
-
Not very durable compared to other mulitools
Believe it or not, this small, flat, wallet-sized tool can provide 13 unique functions in a pinch. It's about half the size of a passport and about the same thickness. There's a miniature pair of scissors, a 3mm screwdriver, a small, straight blade, a magnifying glass, tweezers, pin, ruler and tiny, pressurized ballpoint pen.
The tools are tiny, so they can't take on larger tasks that require much torque at all. The blade doesn't have a sharp edge, so it's not really a cutting tool but more of a glorified letter opener. Perhaps the best aspect of this novelty tool is the LED light, which can come in handy at times when you're not carrying your phone or one of our best flashlights. This is a limited tool and not entirely durable, but for what it is it's practical and purposeful.
12. Victorinox SwissTool Spirit X
A high-quality mid-range multitool built for the fusion of functionality, quality and elegance
Specifications
Blades:
One 3in / 7.6cm straight blade, one 2.1in / 5.3cm metal saw, one 3in / 7.6cm wood saw
Material:
Stainless steel
Closed length:
4.1in / 10.4cm
Open length:
6.2in / 15.8 cm
Reasons to buy
+
Clean, modern design
+
Modest functionality
Reasons to avoid
-
Heavier than many multitools
-
Lacks the ability for high-power, heavy torque jobs
There's a huge assortment of implements and tools in this slick-looking multitool – 24 according to Victorinox – but most are appropriate for small, low-power tasks. In other words, it's not very rugged or durable.
Ultimately, it's an everyday, low-duty tool you can use at home, in your car or in your backpack with moderate functionality, unless maybe you're working on craft projects to kill time at your campsite. The best aspect of it is its versatility for how it tackles a specific job. After all, there are five different screwdriver heads, a wood saw, a metal saw, two wire cutters, a wire bender, a small chisel/scraper, a ream/punch tool and a multipurpose hook.
13. Tyger Auto Shovel
For trips when you really need a good shovel, this large, durable multi-function shovel device serves up loads of versatility
Specifications
Blades:
Two straight blades, two serrated blades
Material:
Steel or aluminum
Closed length:
12in / 30.5cm
Open length:
36.6in / 92.9cm
Reasons to buy
+
Ingenious, versatile and super functional
+
Sturdy and durable construction
+
Easily changes into different shovel sizes and other tools
Reasons to avoid
-
Heavier than most things you'll carry
-
Maybe more than you'll need for simple backpacking
While probably most practical for car camping and road trips, the Tyger Auto Shovel offers a lot of versatility as a 16-in-1 multitool and it's fairly light relative to all that it offers. First of all, it's a reliable shovel capable of digging small and large holes, displacing dirt, digging into the snow, digging rocks out of a river or digging into rocky ground to create a level tent site. It can be configured into three different sizes based on handle length – 24.4 inches (62.0 cm), 30.5 inches (77.5 cm) and 36.6 inches (92.9 cm) – for just about any kind of digging jog you can imagine. The 8.7-inch x 6.6-inch (22.1cm x 16.7cm) shovel blade is made from military-grade carbon steel, while screw-together handle extension tubes are made from aerospace grade anodized aluminum.
The shovel blade can be retracted 90 degrees to take the shape of a hoe or 45 degrees to serve as a hook. It's strong enough to be used as a hammer or pounding tool when it's fully open or fully retracted. The tip of the shovel blade has a sharp point to effectively dig through a variety of surfaces, while one left side is a semi-sharp straight blade for chopping and the right side is a serrated blade for sawing.
A wire cutter is built into the retracting hinge, while a small ruler is engraved on the face of the shovel blade. Hidden inside the threaded tubes are several other tools including a chipping awl, bottle opener, ice pick, hacksaw, dual-sided knife blade, sparking igniter, screwdriver set, emergency whistle and sewing needle.
Although light for what it is – a versatile adventure shovel – it's still one of the heavier things you'll pack on a backpacking trip. But it's not cumbersome, as the entire kit packs into an 8-inch x 12-inch (20cm x 30cm) nylon carrying case.
Choosing the best multitool for you
The thing about tackling obscure tasks at a campsite or in the backcountry is that you don't know what kind of tool you need until you actually need it. Fortunately, there are plenty of versatile, multifaceted multitools that can accomplish a lot of basic, intricate and seemingly random jobs. Ultimately, you'll want to buy the best multitool that gives you a lot of options, but you'll probably need plenty of ingenuity and craftiness too.
Knife Blades
Almost every one of the best multitools has at least one knife blade, but the best multitools have several. Some have large straight blades, small straight blades, serrated blades and other task-specific blades. It comes down to what kind of activities you'll be getting up to on a regular basis and whether or not you'll be carrying another knife for bigger cutting tasks. Do you plan to cut meat? A tomato? A piece of fabric? Do you want to saw up small branches into kindling? Do you think you'll need to cut duct tape for repairs? Once you consider those needs, you'll be able to make decisions about whether you need a basic straight blade, a serrated blade or a saw blade – or all three.
Pliers
Almost all of the best multitools have a pair of pliers, but they're not all the same. Some have large, sturdy jaws for big-squeeze holding jobs while others have small/narrow jaws for nimble tasks. Are you planning to tie fishing flies? Or will you need pliers to fix gear, carry hot items off of the fire or remove a splinter?
Scissors
Not all multitools have scissors and some that do are tiny and weak, capable only of cutting paper. Do you really need scissors most of the time? Or can you get by with just a knife blade? If the multitools you're considering don't have scissors – and even some of the best multitools don't – it's probably not the end of the world, unless you know you'll specifically use them to cut fishing line, do crafts with kids or some other unique use. A knife blade with a sharp tip can cover most of your needs, even if it's not as convenient or neat in how it gets the job done.
Size/weight
If you're going on an ultralight fastpacking trip, you might not even carry a traditional multitool. Is it comfortable and compact enough to carry it in a pocket when you hike? Or does it need to be stowed away? Keep in mind a lot of ultralight backpackers carry nothing but a razor blade as a knife, some duct tape and not much more. But if you're going out for a longer trip and carrying a bigger pack, taking a multitool is worth carrying a sturdy piece that weighs a few extra ounces.
Durability/strength
Unfortunately, you won't know the limits of a multitool's durability or strength until you surpass those limits and it fails or breaks. But you should be able to get an idea by the overall weight, the materials it's made from and how it feels in your hand. The best mutlitools should never feel flimsy or fragile. When in doubt, opt for stainless steel tools that are long-lasting and can function well in all types of different weather conditions.
Other tools
No two multitools are created equally and almost none have identical implement assortments. Some have multiple screwdrivers, some have saw blades, some have rulers, some have bit driver capabilities. And a few have corkscrews, LED lights and other specialist accessories. If you know you need or really want something as part of your multitool, you'd better search specifically for that first and foremost.
Price
Price is one of the most important considerations when it comes to determining the best multitool for you, but it's also one with the greatest variability. Without too much looking around, you can find 12-in-1 multitool devices for as little as $20 / £15 at a gas station and as much as $150 / £108 at a high-end outdoor retail shop. But the overall design detail, durability and overall quality will vary greatly. If you skimp on price, you might be OK when it comes to getting basic tasks accomplished, but the pliers might also fall apart in your hands when you're trying to use them to fix a bent tent zipper during a rainstorm. How much can you afford to invest for what you hope will be at least a 10-year lifespan? If you know that number, that's what you should justify spending.
All the latest inspiration, tips and guides to help you plan your next Advnture!
Brian is an award-winning journalist, photographer and podcaster who has written for Runner's World, The Times, Outside, Men's Journal, Trail Runner, Triathlete and Red Bulletin. He's also the author of several books, including Kicksology: The Hype, Science, Culture and Cool of Running Shoes. He lives in Boulder, Colorado, and loves to run, bike, hike, camp, ski and climb mountains. He has wear-tested more than 1,500 pairs of running shoes, completed four Ironman triathlons, as well as numerous marathons and ultra-distance running races.