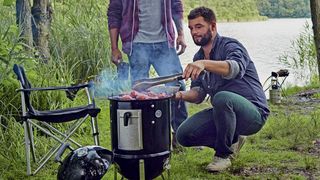 (Image credit: Amazon)
Everyone loves the taste of barbecued food. But to take your outdoor cooking to the next level, you need an outdoor smoker. These units help you achieve the low temperatures and extended cooking times that make for succulent, fall-off-the-bone meat and tasty, flavor-infused veg.
There are several types of smoker to help you reach low and slow barbecuing nirvana. Offset smokers typically have two chambers with doors to keep smoke flowing between. Vertical smokers use charcoal to heat water pans and create a moist smoky environment. If you don't want the hassle of charcoal which takes a while to come up to temperature, propane and electric smokers are also available. Here are the outdoor smokers we recommend.
Best overall
Two grates and very controllable
This smoker from barbecue legends Weber has two cooking grates for smoking multiple items at once. Reaching around 190°F inside, you can adjust the heat with dampers to give your ribs time to fall off the bone. Made to last a lifetime with plated steel and a porcelain-enameled bowl, it includes a built-in lid thermometer and a large charcoal chamber.
Best for big groups
Feast-sized and dual-purpose
With 800 square inches of cooking area, this grill and offset smoker will feed a crowd. An access door and air vent on the side let you tend to the charcoal and keep it burning hot. Includes a smokestack, temperature gauge and a scald-proof handle plus wheels to help with transport. A new black coating can withstand temperatures up to 400°F without peeling.
Best value
Robust with lots of hanging room
Two-piece cooking grids, a crossbar and four hangers give a total of 453 square inches of cooking space inside this smoker and barbecue. It has a latch locking system and two access doors, the upper one for food and the lower to add charcoal. There's a built-in temperature gauge and adjustable lid vent plus a porcelain-enameled water pan and charcoal pan.
Best gas smoker
Gas-powered convenience
A spacious 5.45 square feet interior means there's plenty of smoking room inside this propane-fueled model. It has four stainless steel shelves for veg or remove them to fit large birds or cuts of meat in there. An adjustable gas supply gives control over heat and you can optimize the amount of smoke with a rear vent and two doors.
Bottom line
Using a dedicated smoker will take your barbecue to the next level. Cuts of meat, whole chickens and veg will all be even more delicious if cooked low and slow in a good smoker. We recommend the Weber Smokey Mountain Cooker for most people. You'd expect barbecue icons Weber to deliver a high-quality smoker and they don't disappoint. This cooker is well made, easy to use and has a good capacity. The control vents give it excellent temperature control that helps you get the temperatures you need to master smoking.
Although charcoal is hard to beat for creating a smoky flavor, it can be inconvenient and needs time before it can be cooked with. Opting for a Cuisinart COS-244 Vertical 36" Propane Smoker makes the whole process easier, quicker and more controllable. The food will still taste great.
All the latest inspiration, tips and guides to help you plan your next Advnture!
Launched in July 2020, Advnture is the ideal destination for anyone who loves the great outdoors. Whether you're into epic hikes through the wilderness, camping trips with the family, climbing with your friends, or looking for a trail running personal best, our team of experts will point you in the right direction, with top buying advice and in-depth guides to help you get the most of your time in the backcountry.