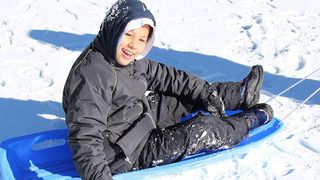 (Image credit: Amazon)
Few childhood experiences match zooming down a steep, snow-blanketed slope on a sled. And few adult anxieties compare to seeing that the snow is falling but you don't have anything for your kids to slide around on it with. Every family who might get snow near them needs a sled and if you get a good one, there's no reason why the young at heart can't enjoy a ride on it too. 
Strength and durability is a key consideration when buying a sled. Many rides end in a tumble of limbs and snow and a broken sled is always a sad sight to see. But it also needs to be light enough to be dragged back up the hill after each go. There are different designs of sleds to think about when making your choice from traditional wooden models to inflatable ice dragons. Here are the ones we'd recommend.
Best overall
Durable plastic with a good design
Made with high-impact plastic to handle tobogganing tumbles and so it won't crack in low temperatures, the Airhead Classic is a single rider sled measuring 35"x17"x5". There are molded plastic handles to cling to and a lanyard to tow it to the top of the hill.
Best inflatable
Fun snow inflatable that kids will love
If you want to be seen on the slopes and put a smile on spectator's faces, this 45" wide ice dragon inflatable is hard to miss. Made from thick plastic, it has a rapid inflation valve that will let you blow it up and start sledding in no time. It's comfortable and fun for adults and kids. Repair patch included. 
Best classic sled
Stylish vintage sled with steering bar
Sleds don't get much more classic than this wooden model with powder-coated steel runners. It's large enough for adults and children to ride and a steering bar gives you control whether seated or lying down. Flexible Flyer has been producing sleds since 1889 and this wooden and metal beauty will last for countless seasons.
Bottom line
When the snow starts falling you need to be ready to pull out a sled for you and your family to jump on and enjoy it. The thrill and fun of hurtling down a snowy hill is a timeless childhood memory that you need a good sled to create. The sled we would recommend to most people is the Airhead Classic. It's a good design, made from durable plastic that should survive many a season. It's not too heavy for children to pull back up the hill but big enough for adults to have a go too.
If you want a vintage-style sled that will look great on photographs and easily take adults and children riding together, the Flexible Flyer Metal Runner Sled is hard to beat. It's a classic model, made from quality natural materials that you'll be proud to own.
All the latest inspiration, tips and guides to help you plan your next Advnture!
Thank you for signing up to Advnture. You will receive a verification email shortly.
There was a problem. Please refresh the page and try again.