Friday 5: Interview with Anna Blackwell
We catch up with adventurer Anna Blackwell for our regular quick-fire interview feature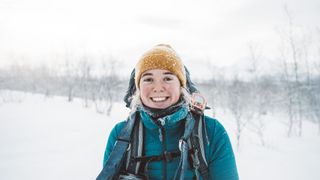 (Image credit: Anna Blackwell)
Today, we're having a quick chat with Anna Blackwell. You know the drill: we have five rapid-fire questions that are a mix of gear chat and a fun story or two! With out further ado, let's begin...
Anna Blackwell is an adventurer, writer, speaker and photographer. Over the last few years she has completed a number of adventures including trekking 1,000km across the wilderness of Arctic and Northern Scandinavia with just reindeer for company, kayaking across Europe and walking 1,600km across France and Spain solo. She has recently completed her Masters thesis on how self-supported adventures and expeditions shape resilience.
1. If you could only keep one item out of all your outdoor gear, which would you keep and why?
Probably my Hilleberg Akto tent. I've never trusted a tent as much as I trust that one, I'm pretty much guaranteed a good night's sleep in any conditions – and sleep is very important to me!
2. What's your pet peeve in the outdoors or adventure space?
Outdoors brands that only do women's gear in purple and pink or with flowers and "pretty" patterns all over it. I much prefer deeper, subtler colours but it used to be so hard to find gear in colours I actually liked! Thankfully that's changing a lot now.
3. If you could be instantly transported to the start of any adventure, what would it be, where and why?
A long-distance ski-touring adventure in Arctic Scandinavia. I only got into Nordic ski-touring earlier this year but I'm hooked - it's a way to experience my favourite part of the world in the grips of winter and spring! Hopefully I'll be back up in Lapland in March for a few weeks of skiing and camping with a few friends, towing all our gear in pulks...
4. We're sitting round a campfire. Tell us a funny or entertaining story about one of your adventures.
In 2018 my friend Kate and I kayaked 4,000km across Europe. It was a bit of an epic and took five months, but during that time we were incredibly lucky with the weather and conditions... Right up until the last few weeks. We'd made it to Serbia, our ninth of eleven countries, when the wind picked up. Each morning as we packed down our tents and put Benji the kayak on the river, we were hit by strong headwinds that halved our pace and whipped up borderline surfable waves in the Danube.
One morning the wind was so strong I'm pretty sure we were actually getting blown backwards. There were a few fishermen on the bank who were watching our lack of progress with amusement on their faces. Eventually, they beckoned us over and helped us secure our kayak before giving us a hand out. Once on terra firma, they invited us to join them for a breakfast feast of bacon eggs, tomatoes, fresh bread and rakja, a local homebrewed spirit that saw Kate, me and the Serbian fisherman all rather tipsy at 10am.
5. Is there any gear that's on your shopping list at the moment?
Skis for long-distance touring in the Arctic. Think I need a few more trips under my belt before I can justify buying rather than renting though...
You can find out more about Anna and her adventures on annablackwell.co.uk
All the latest inspiration, tips and guides to help you plan your next Advnture!
An adventure writer based on Dartmoor, England, Emily is an active member of Mountain Rescue and a summer Mountain Leader, but loves all things adventure – before her third birthday she had lived on three continents. Founder of Intrepid magazine, she works to help break stereotypes about women in the outdoors. Her expeditions have included walking all Dartmoor's 119 tors in a single two-week outing, cycling to Switzerland and back, and riding the Rhine from source to sea.