Camping axe vs hatchet: what's best for building a campfire?
We take on the debate over camping axe vs hatchet to see how the two stack up against each other when it comes to getting firewood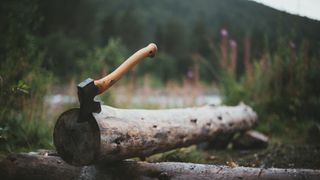 (Image credit: Fabian Heigel / EyeEm)
Gathering sticks to build a campfire certainly beats turning the central heating on but it's got nothing on swinging a giant axe over your shoulder and chopping your own wood, which you've probably been fantasizing about since you first read Jack and the beanstalk.
If you're planning on spending some time in the woods and want to build more impressive campfires good for cooking over as well as warming your hands, you might be wondering if you can finally get your hands on that axe of your dreams, or is a hatchet more suitable? In this article, we take on the debate over camping axe vs hatchet to help you determine which you need for building a winning fire.
What is the difference between a hatchet and a camp axe?
First off, what is the difference between these two tools and is it enough to matter? A camping axe has a long wooden handle (typically around 20 inches long) and a steel head with a double beveled wedge for cutting wood. A camping hatchet has a shorter handle, sometimes less than half the length of a camping axe, that can be made from wood but is more often made using synthetic materials and covered with plastic or rubber for grip. The steel head has the same double beveled edge as the axe, but the other end is flat and can be used as a hammer.
Now that we've got that out of the way, let's see how the two stack up against each other when it comes to criteria like weight, striking power, versatility and ease of use.
Camping axe vs hatchet: weight
As we've established, a camping axe is bigger than a hatchet, which is smaller and usually made using synthetic materials, so it should come as no surprise that the axe is the heavier of the two. Of course, there are lots of models of both types of tool, but you can generally expect a camping axe to weigh between 2lbs and 4lbs whereas a camping hatchet will likely come in around 1.5lbs.
In a time when ultralight camping is all the rage, that might suggest that the hatchet is the best choice, and certainly if you're hiking, you can just strap it to your backpack so in that scenario, the hatchet does seem like the clear winner. However, the difference in weight means the two are actually better suited to different purposes, so let's take a look at those before you make your decision.
Camping axe vs hatchet: striking power
That added weight of the camping axe that makes it a bit more burdensome for carrying also means that it's better suited to chopping through larger pieces of wood (think: tree trunks) because it comes down harder, and also for larger volumes of wood. Meanwhile, the camping hatchet doesn't have as much power behind each swing so it's better suited for splitting smaller pieces of kindling and not a great match for larger pieces of wood, and you'll get far more tired if you have to chop a lot of wood. So, if you're expecting lots of larger logs or just planning on camping for an extended period of time and will need to do lots of chopping, the camping axe wins this round. If you know you just want to take care of some smaller branches, a hatchet job should do the trick.
Camping axe vs hatchet: ease of use
Next up is the question of how easy each tool is to use. The camping axe's extra weight and length means two hands are required to wield it, however that also means you have more accuracy with your axe. Plus, even though the camping axe is heavier, that means that once you start swinging, it comes down more easily and you actually have to put less elbow grease into it. The hatchet can be used single handedly and requires a smaller chopping motion.
But there's another variable that affects how easy these two are to use, and that's how much space you have available. Due to the axe's larger size, you do need quite a bit of space around you to swing it properly, so if you're camping around lots of other people and children, or chopping in a dense forest where the branches are low and the trees are tight, the axe will be more difficult to swing. The hatchet is easier to use in tight quarters, so this one might again come down to where you're going.
Camping axe vs hatchet: versatility
Finally, there's the question of versatility. The camping axe has one job and it does it well – chopping through large pieces of wood. Other than that, it's not really got any other purpose. The hatchet, on the other hand, has that flat edge on the other side of the head which can be used as a hammer too, meaning you have a bit of a multi tool for driving in steel tent stakes, hammering dents out of your camping pots and pans, breaking things open and anything else you might need a bit of blunt force for.
Swipe to scroll horizontally
Camping axe vs hatchet

| Header Cell - Column 0 | Camping axe | Camping hatchet |
| --- | --- | --- |
| Weight | Longer handle and steel head mean these weigh in between 2-4lbs | Smaller size and synthetic materials mean these are usually under 2lbs |
| Striking power | Heavier means better for cutting through larger logs and chopping lots of wood | Smaller size means better for smaller kindling and not so good for lots of chopping |
| Ease of use | Requires two hands which means more accuracy and needs lots of space, but less effort required thanks to the weight of the axe | One handed wielding and easier to use in tight quarters |
| Versatility | Only functions as an axe | Chops wood and double as a hammer |
Camping axe vs hatchet: the verdict
So, will it be the heavier, more accurate camping axe or the smaller, lighter and more versatile camping hatchet for you? Ultimately, it comes down to what type of camping you're doing and what types of trees and kindling are available. If you're car camping and plan to be doing lots of chopping, or expecting large pieces of wood, load up your axe and you won't be disappointed. However, if you're hiking in with your gear, you'll almost certainly be happier with a camping hatchet. And if you're doing a bit of both? More and more hybrid-type models are appearing on the market that have all the benefits of an axe with a slightly lighter weight and the versatility of the hatchet.
All the latest inspiration, tips and guides to help you plan your next Advnture!
Julia Clarke is a staff writer for Advnture.com and the author of the book Restorative Yoga for Beginners. She loves to explore mountains on foot, bike, skis and belay and then recover on the the yoga mat. Julia graduated with a degree in journalism in 2004 and spent eight years working as a radio presenter in Kansas City, Vermont, Boston and New York City before discovering the joys of the Rocky Mountains. She then detoured west to Colorado and enjoyed 11 years teaching yoga in Vail before returning to her hometown of Glasgow, Scotland in 2020 to focus on family and writing.