Ultralight camping: 12 ways to lighten your load
Learn how to go ultralight camping with our advice on shedding some weight to enjoy more comfortable and faster paced adventures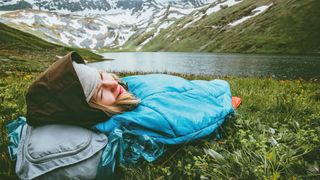 (Image credit: Everste)
These days, it seems like all adventure sports are becoming ultra. Marathons are growing ultra long, slacklining is becoming ultra death-defying and now camping, which used to involve a car full of gear, is coming in ultra light options. So what is ultralight camping, exactly, and why would you want to do it? Read on for all the details plus some practical tips for shedding some serious weight on your backpacking expeditions.
What is considered ultralight camping?
Ultralight camping is camping with a very light base weight load and takes place on backpacking trips where you're hiking or running with your pack as opposed to car camping where you can load up with your best double burner camping stove and family sized tent.
Your base weight is the total weight of all your camping gear excluding items like food, water and fuel that you will consume or use along the way. Your base weight therefore includes the weight of your backpack, tent, best sleeping bag and sleeping pad, camping stove, water bottle, any extra clothing and items like your headlamp, first aid kit and knife.
That's quite a list of essential items and as you can imagine, the average backpacking base weight is usually around 30lbs. The ultralight camping base weight isn't officially defined, but in the outdoors community it's generally agreed to be any base weight under 10lbs.
Why go ultralight camping?
Needless to say, the lighter your pack, the easier it is to cover long distances on foot. The more challenging the terrain, the happier you will be to have less weight on your back. With a light pack, you can say goodbye to achy shoulders and back at the end of the day. That said, cutting down on your pack weight does mean making a lot of sacrifices, and you may find that what you gain in terms of comfort when you're on the trail, you lose when you get to camp. It's a fine balance between minimalism and straight up suffering, but with a little finesse, you can definitely lighten your load.
How do you camp ultralight?
In order to shed two thirds of your pack weight, you're going to have to get to work. First of all, you'll need the lightest possible gear in terms of your backpack, sleeping pad, sleeping bag and camping stove.
Next up, you'll want to make some substitutions in terms of what you carry with you. Though not all of these will be possible, the following are a few suggestions to help get you started shedding some poundage:
1. Trade your tent for a bivy sack
A bivy sack might be as light as six or seven ounces and pack down to impressive dimensions no bigger than your camping mug. In comparison, even a lightweight one-person tent is more likely to weigh in at a couple of pounds, and pack down something more like the size of a hardback dictionary.
2. Learn how to build a shelter
If you're feeling extra rugged, you could forgo carrying your own sleep shelter altogether and build your own shelter using natural materials or using a tarp held up by your hiking poles.
3. Ditch your tent stakes
If you must use a tent, you can leave your tent stakes at home and tie onto nearby rocks instead.
4. Buy a down sleeping bag
Down insulation weighs less than synthetic, so as long as you're not expecting very wet conditions, this will be your best option. Down doesn't perform when wet so check the forecast before you make your decision.
5. Use a camping quilt instead of a sleeping bag
You can lighten your load even further by investing in a camping quilt, which is about half the size of a sleeping bag.
6. Only pack the clothes you need
At maximum, bring only the clothes on your body and a dry set for hanging out at camp, but if you can get away with it, don't bring any spare clothes at all and instead just bring rain protection such as a waterproof jacket to keep the ones you're wearing dry. Make sure all your clothes are made from fast drying material such as wool since wet clothes weigh more.
7. Trade your backpack cover for a trash bag
We already said it – wet things weigh more and the last thing you want is your stuff getting soaked in a downpour. Instead of carrying a rain cover for your pack, you can pack all of the contents inside a trash bag, which is lighter, just as effective and means you don't have to stop and fish out the cover if the heavens open.
8. Filter water
Water is life, so it's the last thing you should think about sacrificing, but it's also heavy and there are ways to lighten your load. First of all, if there are going to be water sources, bring a small water filter like the Lifestraw to cut down on the amount you have to carry. You can also drink extra at camp before you set off in the morning and carry less on the trail.
9. Ditch your devices
Okay, maybe not all of them, but a phone, your best GPS watch and a camera? That's a lot of extra weight. Pick one out of three and consider a light map and compass for navigation.
10. Use your jacket for a pillow at night
There are lots of nice camping pillows around these days, but you can easily just roll up your fleece jacket when it's time to hit the hay.
11. Leave your bowl at home
Your food and camping stove already add weight, so leave your camping bowl at home and eat directly from your camping pot using a spork.
12. Plan a lightweight menu
Meal planning for backpacking is as important as having the right gear and knowing your route – you have to bring food that is easy to carry and non-perishable, but also provides you with enough energy and nutrition to keep you going on the trail. Use our meal planning for backpacking guide to help you measure exactly how much to bring, and what to leave behind.
All the latest inspiration, tips and guides to help you plan your next Advnture!
Julia Clarke is a staff writer for Advnture.com and the author of the book Restorative Yoga for Beginners. She loves to explore mountains on foot, bike, skis and belay and then recover on the the yoga mat. Julia graduated with a degree in journalism in 2004 and spent eight years working as a radio presenter in Kansas City, Vermont, Boston and New York City before discovering the joys of the Rocky Mountains. She then detoured west to Colorado and enjoyed 11 years teaching yoga in Vail before returning to her hometown of Glasgow, Scotland in 2020 to focus on family and writing.